Now, this is just a script drawn up in a fit of chart geek fancy, but why should I become irritated with this pig? It is simply doing what it is supposed to do if the H&S top scenario will come to be.

A baby inverted H&S-like object has formed with an upside target of 1090, and this must be factored. Although I would prefer that the bump terminate at the noted 62% Fib retrace, which coincides with a nice cluster of lateral resistance.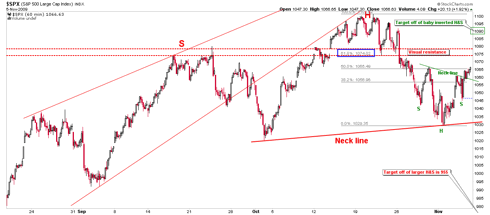 Again, new highs mean the pig man lives on, and I guess I'll get pissed off at that. But it is hard to be too upset when your gold stocks keep your portfolios at new highs and the market is only doing what the charts said it might.

This is the most patient I have ever been in holding bearish positions against floating hope. Maybe it will even pay off one day if we can begin rounding into a right shoulder next week.