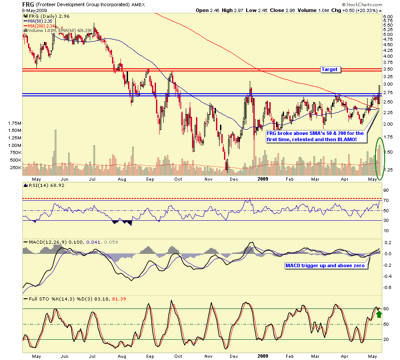 Yes, I am the guy talking about risk perhaps more than some readers may want. But I am also the guy with accounts now fully recovered to pre-Q4 2008 levels and a speculative trading account now 39% above the NFTRH 'baseline' (account level at NFTRH1). So this caution is not coming from some corner of cyber space that missed the rally and bitterly sits around micromanaging its demise.

I am the guy with the newsletter that will seek to have its subscribers consider buying things like Fronteer Development Group (FRG) well before the goons and wise guys show up. They are beginning to pile into many NFTRH holdings now, but FRG has been a core holding of NFTRH since the dark days of Armageddon '08. Target is noted. This is not a recommendation, NFTRH bought much lower. But this chart that has been of interest to this bottom feeder all along, is now getting very interesting.
 As a side note, you can check out my regular blog for more posts during the week that I sometimes do not have time to reproduce here.