Stock promoters do not want you to look at this chart... the government does not want you to look at this chart... As risk rises, the t-bill generally rises (its yield declines) and well, there ain't no 'less than zero' involved and if there was, it would seek it out. You know, frightened money might actually pay for perceived safety.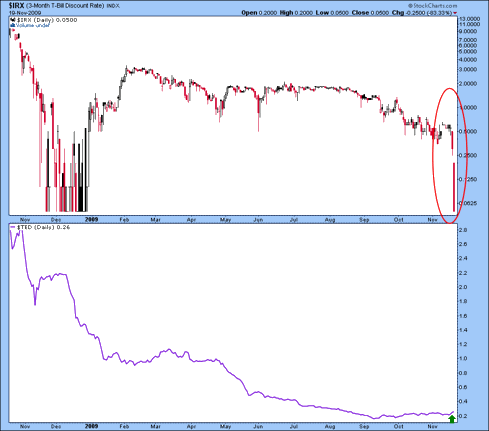 Click to enlarge

Each time the Fed has met (and pretended to have a decision to make) during the supposed recovery, I have posted an updating chart of the t-bill yield ($IRX) with its implications stating that there is no decision to make. There is no real recovery either.

Unfortunately, all too many just go with the flow. They are the dumb money and that money is dumb for a reason.

I would like to know who, in this grand rally and economic recovery environment, is so scared they have just got to get themselves more t-bills? The lower panel is the TED spread, between t-bills and eurodollars which NFTRH used as a bullish indicator back in Q4, 08. Now, it is turning up and that squares with the message of the nominal t-bill.