Looking through old chart lists, I just found this one in NFTRH114's. When it was produced in December of 2010, Cu had not yet surmounted the noted resistance level. That level must be taken once again or broad asset market bulls are in trouble.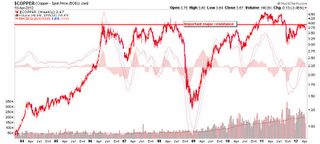 This is a really awful looking chart and I am not trying to use hyperbole. We have been following Cu of late in NFTRH to manage the coming of the correction that I believe is now in force. But this 8 year view is just epic and all the more reason that RPG (real price of gold, and yes it's yet another one of the cute little nicknames I give these indicators and market events) is front and center.
The market is displaying some bull relief today, but this 'copper roof' combined with signals from the real, US manufacturing economy I am getting (decelerating, as opposed to perking up as they were coming out of the October low) makes for a nasty picture.
The QE3 cultists will be beating drums soon enough. It remains to be seen when or if those drums will be acknowledged. I have learned not to try to out think policy makers. Just follow the breadcrumbs. They're all over the place.
Okay sorry, a regular TA post got a little weird again.