Conspiracy theorists should try to get over the conviction that Bernanke and Geithner are buying S&P futures (or whatever) and controlling markets in an upward direction to promote agenda.

Leading indicators like the Russell 2000 index of small caps state that it is just mass sentiment getting whooped up once again - perhaps with a feeling of 'in Ben we trust (to inflate)' - but none the less, it is wild eye speculators taking the RUT and a host of other speculative leading markets (China notably excepted) and froth indicators higher.

Here is a micro view of the RUT showing an interesting candle that 'could' hint at a short term top. The opposite of a hammer (bullish) is a Hanging Man and he ain't bullish. If confirmed, he will have come at the end of a short term (up) trend and he will lead to some south side exploration of support levels. We note a couple gaps lower for good measure.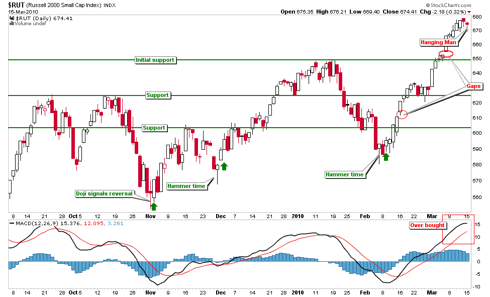 Click to enlarge

I am typically not a candlestick micro manager, but it will be interesting to see if the day traders see what I see and turn the party down a notch.


Disclosure: No position