HUI-SPX has broken the downtrend by daily chart after breaking above the EMA 50 and going AROON up. Although it is a bit over bought at the moment.
It's all about leadership my friends. Downside leadership to ignominy and now? Potentially something quite different as the d Boys and bears hold sway and try to convince us how bad everything is.
Like with Terrifying Visions of Endgames and such. We KNOW it's bad; but it was really bad a couple months ago with the market at new recovery highs too.
Wash, rinse...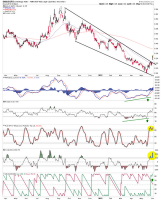 http://www.biiwii.blogspot.com
http://www.biiwii.com
Sign up for your free eNewsletter:
http://www.biiwii.com/NFTRH/eletter.htm