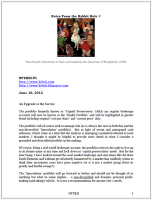 As the screenshot of page 1 indicates, more definition is being added to the weekly highlight of my regular brokerage account, which is changing labels from 'Capital Preservation' to 'Model' portfolio.
This is done in an effort to give readers a view of what one little market participant is doing with a 'sensible' group of holdings (incl. cash) against any given macro market backdrop. Performance of individual positions will be tracked from inception until closing of the trade.
The general intent is to hold a diversified group of positions for intermediate swings as opposed to the more frequent trading that occurs in the non-diversified speculative portfolio.
Meanwhile, NFTRH191 continues on with a macro theme that involves inflation expectations (or more accurately, lack thereof), an election year and policy makers sensitive about not being perceived as chronic inflators.
There is lots of other good stuff in there too, like a spotlight on a highly strategic sector that has been hammered down with the general commodity sector.
NFTRH191 out now.
http://www.biiwii.blogspot.com
http://www.biiwii.com