I am not touting anything here because being a poor momo manager, I sold too soon in the 1.40's (on no news - yet).  I did however, buy back at 1.70 and wrote the below in last week's letter while the higher of the two flags was still intact.  Here is the updated chart.  Ugh.  The buying opportunity beginning at 1.80 obviously never materialized.

I guess this is a good argument for closing your eyes and designating some quality items as holds no matter what, as long as the macro picture remains bullish.  Hence, things like FRG & XAU.to, among several others.  As a trader I have outsmarted myself too often where quality stocks are concerned.  The key is in ID'ing quality.

Have a great weekend!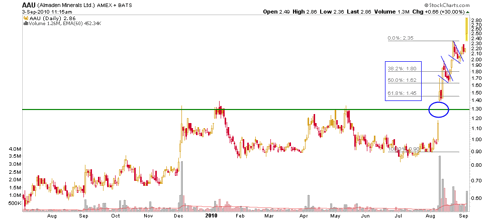 "AAU is beginning to take on the look of Sabina (SBB.to) with the upsurges, followed by bullish flags. Two statements I recall making about Sabina in this regard: "do you want to see a bull stock, here it is" and in response to SBB's persistent strength in not allowing a significant correction for buying opportunity "I am not going to play that game". As you know, SBB was added back to the Speculation Portfolio despite my personal bottom feeder orientation. That was 63% ago.

So the lesson is well in mind on AAU and even after buying at 1.70, I want to add more.  My mental state is solid with this because Almaden owes me nothing after trading it up from the .50 area and because I am familiar and comfortable with the company. So, they have had a great bit of news on an early stage discovery, but NFTRH is not calling this investment grade. Not like FRG. But I do wish to keep it as part of the core and hope to continue to undo my mistake in selling it out in the mid 1.40's. 1.80 through 1.45 look like the potential buy levels, with 1.30 as a 'load up' area. As things stand, I don't expect the gap to be filled any time soon. "


Disclosure: Long AAU