This 'bullish' summer - and it has been bullish since May - has been the most grinding, annoying and outright volatile bullish phase I can remember. I wrote an article about the 'dumb money' selling in May and have actually at times felt bad about that, because how dumb is it to have just thrown up your hands and said 'enough, I've had it!' in the face of all this noise?
While on vacation last week, I popped out an abbreviated summary version of NFTRH, which included this view of the broad US market after the grinding rally made its most recent 'higher high'.
"SPX maintained a higher low on Tuesday [July 24] and is now at another higher high [as of July 28]. It is still on course to the bullish plan and if things stay as they have been, could react lower again within this uptrend. However, if the presidential cycle is indeed in effect, recall that at some point there is an acceleration upward that would break the steady upward grind of the 'higher highs, higher lows' rally we have had thus far. This per the Ned Davis Research graph included in last week's letter (197)."
Today we have the QQQ trying for a breakout and one wonders if this thing, despite all the bearish fundamentals and sentiment out there, could actually stick to the election year script and begin to accelerate in an election year extravaganza that sees the anti-market, the USD, take a dump per the implications of the previous post.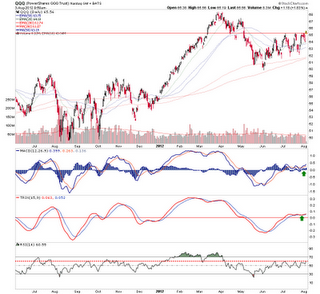 http://www.biiwii.blogspot.com
http://www.biiwii.com/analysis.htm
Subscribe to NFTRH or
Subscribe to the free eLetter
Disclosure: I have no positions in any stocks mentioned, and no plans to initiate any positions within the next 72 hours.