According to this chart, the XAU-Au ratio has made a lower low to the 2008 low and thus has massive resistance above.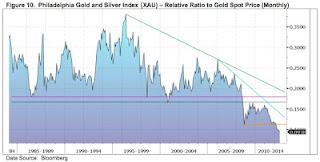 Okay, but in the spirit of truth in advertising, maybe an area chart is not the best way to go as it does not show the actual low to which the ratio declined in 2008.
A monthly candlestick chart shows the situation we have been operating to for many - too many - months now, since the the nominal gold stock indexes broke down from a bear flag and lost support last winter/spring.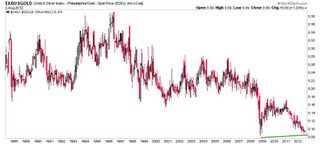 See? No loss of support and no reason for hysterics as a long as the higher low is in place.
http://www.biiwii.blogspot.com
http://www.biiwii.com/analysis.htm