Availability of quality infrastructure is a pre-requisite to achieve broad based and inclusive growth on a sustained basis. In order to have sustained 7-10% GDP growth in India over next 20 years, highways sector will have to be a main contributory sector, with at least 30-40% capacity addition in near term (2013-18), and thereafter a sustained growth of 20-30% over next 15 years.
The XII Five Year Plan (2012-2017) has an ambitious target of infrastructure investment and is envisaged at USD 1 trillion (or about INR 41 lakh crore, about 10 per cent of GDP). This projected investment is about twice the investment envisaged in the XI Plan and 27 per cent of the gross domestic savings.
Given the enormity of the investment requirements and the limited availability of public resources for investment in physical infrastructure, it is imperative to seriously tap avenues for increasing investment in infrastructure through a combination of public investment, Public Private Partnerships (PPPs) and occasionally, exclusive private investment wherever feasible. The adjoining figure shows the increasing investment by private sector in different plan periods.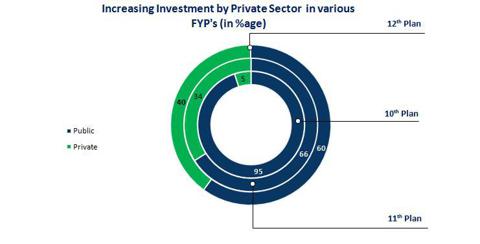 Around 18637 km of expressways have been identified by the Government for development in phased manner till 2022.The value of total roads and bridges in India is expected to grow at a CAGR of 17.4 percent over 12th plan to reach USD 19 billion shown in the figure below: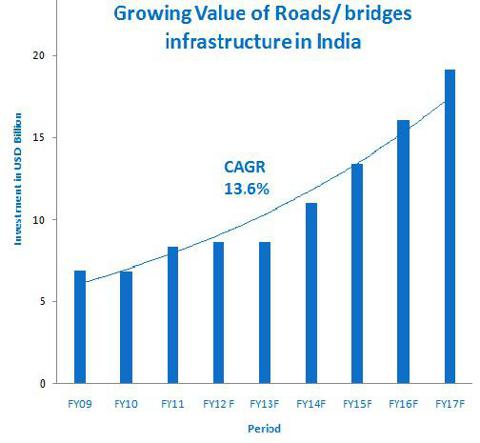 Present statistics of PPP (across various sectors or only roads sector) in India shows that 758 projects costing INR 3, 833 billion have been awarded so far. Under this arrangement Concessionaire bears the risks for operation, construction, technical and maintenance and other vital risks related to traffic risk and toll collection threat are assigned to the sanctioned highway authority in the PPP mode.
Risk sharing Model for PPP projects

Mode of development

Development risk

Financing risk

Traffic risk and accrual of toll fee collection

Net cash outflow for the government

BOT-Toll-Premium

Concessionaire

Concessionaire

Concessionaire

No

BOT-Toll- Grant

Concessionaire

Concessionaire

Concessionaire

Yes

BOT-Annuity

Concessionaire

Concessionaire

Authority

Mostly Yes. Net payment to be made is the difference between the toll collection and the annuity payable. The annuity payments to be made to the developer mostly exceed the toll collections.

OMT

No development except in case of paved shoulders

Concessionaire

Concessionaire

No
Lack of good quality infrastructure is the biggest impediment to India's growth story. To overcome this situation, development of roads and highways is the priority for the authorities. The roads sector has witnessed slowdown in construction activities recently. Government of India ambitious target of constructing 20 km of highway per day hit a roadblock as it was able to award only 1100 km of road against the target of 8800 km in 2012-2013(key reasons for this- policy issues, bureaucracy issues etc)
The sector is witnessing many issues and challenges. It was observed from recent past that some of the BOT highways projects are delayed up to 36 months and beyond for various reasons such as poor performance by some contracts and constraints faced by some contractors, environment and forest clearances, land acquisition, clearance of railways for ROB designs, shifting of utilities, arbitration matters etc.
For the concerns raised by major industry stalwarts like GMR and GVK the Prime Minister has appointed C Rangarajan committee to recommend reduction and deferment of premium to be paid to NHAI. The panel is likely to recommend for six- laning projects the reduction of 25 percent annual premium payment to NHAI and postpone 50 percent in the coming years.
According to Infraline research, the investment in BOT (Toll) mode would be around 68 percent, 8 percent in Annuity and 24 Percent in EPC mode. This trend of investment clearly indicates the level of private participation would be increasing over the period of time. The private sector is expected to contribute at least half of the over $1 trillion dollar (Rs. 41 lakh crore) investment planned in infrastructure in the XII plan (2012-17).