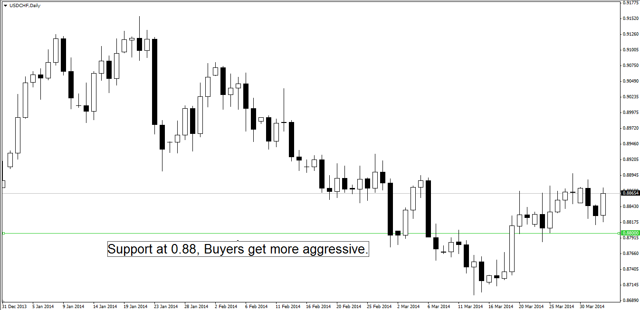 I'm one of those people, who manage never to lose sight of USDCHF. The pair fascinates me as it keeps the highest percentage of inverse relationship to EURUSD. Whenever I'm looking for a confirmation on Euro selling or buying position, the pair is the first one I check.
I developed this relationship, as in mid 2012, I drew accidentally three trend lines, colored yellow, and I was still experimenting with such a technical analysis indicator. To my amazement, the pair respected such lines and behaved accordingly. At once, I understood this pair is quite interesting.
The Dollar/Swiss franc has come to such a price, quite terrestrial. Let's first examine current price action, which is trading at a bargain price.
$CHF Price Action, April 2014
$CHF at 0.88 has been manifesting signs of an oversold market, since December 2013. The pair has found it quite difficult to proceed below, as sellers tried to close down on $CHF 0.875. The early March 2014 plunge towards $chf 0.870 was not a success. Let a lone, buyers are getting more and more aggressive with each failure to take out support.
Euro Swiss franc, EURUCHF, $EUR is also providing similar signs. As the pair remains semi- oversold near the 1.21 level. The bounce will further weaken the Swiss franc weighted index and boost the Dollar performance against the Swiss Franc $CHF. Currently, as of writing this article EURCHF is trading at 1.2204. The daily chart suggests any decent buyers ahead of EURCHF at 1. 215x
Fundamental wise, The dollar 2014 position is better.
In comparison, the Dollar outlook for 2014 against 2013 outlooks is much better. In the article " A 2013 DÉJÀ VU" the 2013 timeline of development happened against the Dollar, still the Green buck managed to appreciate 3% in much worse circumstances. It also serves as a reminder, of the Euro Swiss franc floor installed by the Swiss national bank to arrest further appreciation of their own currency. Nevertheless, the current data of the united states is much better than 2013. An effort in " A Dollar, A Euro and Swiss Francs" was to compare both American data against 2013. On average, the data shows improvement of at least 10%, overall performance.
January's 2014 factory orders have increased by 1.8% since 2013. The Jobs market has been scoring above the five years average, for the last six months also on average. The Philly index nearly tripled since January 2013.
The Dollar outlook, is making a clear case of a 2014 outperforming currency against Swiss franc.
Deutsche's Markets Research also Noticed.
To me astonishment, a 27th of February market updates by Deutsche's markets research made an interesting reference. They pointed to an overwhelming markets' sentiment toward risk currency, Swiss franc in particular. The report noted, " "This seems the unanimous chorus from Bloomberg analysts judging by the forecasts on FXFC and ECFC , respectively. There is no analyst believe Canadian Dollar; Swiss New Zealand Dollar will finish 2014 below 1-year forward."Out of 50 analysts survey by Bloomberg. The report note only one thought the Swiss Franc would finish 2014 lower. However, in an alarming tone - the same report warns of the risk when too many smart people seem to agree on one thing.