$PG or better known as "The Procter & Gamble Company" has just about broke even for the year. $PG opened the year at $81.73 took an escalator off a cliff near the beginning of February and climbed its way back up to $82-83. With its current price as of 7/31 of $77 This equates to a 4% decline YTD.
PG, and Consumer staples in general have faced investor selling off shares near the beginning of May, and has drastically continued after the middle of July. I will not analyze XLP during this short and brief article because I do not want to overturn any rocks that could cause a longer, more in depth analysis, which is not the objective of this post.
(click to enlarge)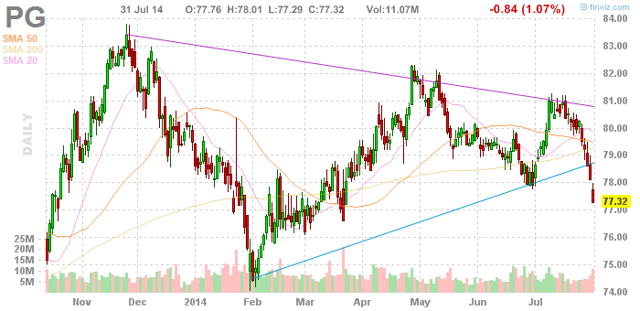 Earnings will be released tomorrow Aug 01, 2014, and with the recent upsurge in consumer confidence and spending, I would say that PG has a fairly good chance of beating estimates and making some gains.
(Source: MoneyCNN)

Here is a look at PG YTD. The lighter blue line represents the trend of COnsumer Non-Durables as an Industry. Also, note that the PEG ratio for the Industry is 3.01 while the PEG for PG is at 2.27 showing better growth to industry. Also, for very simplistic valuation purposes, the industry sits at an average P/E of 41.88 while PG sits at 20.58 PE(ttm) as of 7/31/2014.

As stated on NASDAQ and CNN, average projected price for year-end sits at 88.00 with a range from 79.00 to 97.00 which equates to a return from 2.2% to 25.5%.
I see minimal risk in entering into such a stock at this very sell off.
I place my price target at $85.00 given forward P/E of 17.64 ((17.14+(17.14+1))/2) and expected earnings of $4.38/year
With my price target, I can expect a 9.9% upside.
I place a downside potential range of 70-71 where major weekly support exists. This would mean an expected 8.8% downside potential. Given that PG has a low Sharpe ratio, I would be cautious about a good entry, and hedge for possible downside. (Possibly with married puts?)
I would also like to add a volatility analysis and Sharpe ratio quick-peak
9.9% Expected return with a 1.5% rf
 
Sharpe Ratioefficiency
Returnprojected annual
Volatilityannual stdev
 
PG
0.57
10.2%
15.26
Disclosure: The author has no positions in any stocks mentioned, but may initiate a long position in PG over the next 72 hours.