This is a quick rant about my view on technical analysis. As most people know. I love technical analysis, I find it a great way to judge when to enter a fundamentally savvy investment vehicle; however, the downside of being a technical supporter is that you have to assume that the problems created in the market place are free of untransperant information and or misguidance. The simple causation for price fluctuation or appreciation is relative to the relationship of supply and demand, and as a demand for a security increases, so will the price. The problem with technical analysis is that what you really are is trying to be an informed gambler backed by basic economic theory and chart analysis. When a security hits resistance for instance. For instance, have a look see here at $XLE. It hit a trendline resistance at around 100.00, and an uninformed technical guru might of said, oh look, there is support, along with a morning star bull candle. This trend will find support and continue a climb; however that technician would have forgotten something... NEWS...both POLITICAL...and ECONOMICAL
also on a later note...earnings.
(click to enlarge)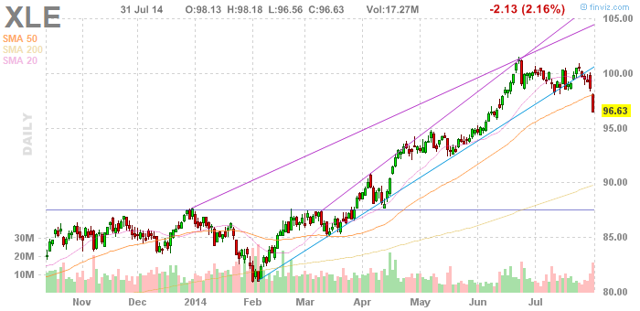 Click to enlarge
There are two ways someone could have played XLE. For the first, they could have been a technician and noticed an engulfing bear candle on july 28th and sold positions or hedged with put options, or they would have noticed the geopoliticial tensions rising and that Argentina may probably default on their bonds.
Technical analysis really is very psychologically based. If one has the mindset, closest to a computer only looking for profit and not looking to hold onto a "good" stock which has fundamentally backers, then they can succeed as a technical trader, but if emotions come into play and they buy the loser, or hold onto a loser, then losses could be substantial before they realize they should have exited when there was a MA crossover or a MACD divergence.
Disclosure: The author has no positions in any stocks mentioned, and no plans to initiate any positions within the next 72 hours.