Background and Company Overview
PBF Energy, to some, is a fairly new public company with its recent IPO in December of 2012. Since its IPO date, shares saw a lot of positive volume up until March of 2013 where it topped out at $41.98. Recently, PBF has been channeling 2% to 3% deviations from its IPO price of 26.00.
The chart below may be overwhelming, but I'm going to try and explain their business process and arrangements in the most simplistic terms in order to better understand how they operate.
To start, PBF Energy is a holding company. They have equity interest in PBF LLC. As of the end of 2013, Blackstone, First Reserve, and management had control over PBF Energy, of which was the sole managing member of PBF LLC. PBF Energy's top-line and bottom-line are entirely dependent on the operational function and turnover of PBF LLC.
As of 2013, PBF Energy had about 40.9% economic interest in PBF LLC, but since then, PBF Energy has had 3 more public offering of shares, in which Blackstone, First Reserve exchanged 48 million Series A Units of PBF LLC for an equivalent amount of PBF Cass A common stock that PBF energy offered in 2014 bring PBF Energy's economic interest in PBF LLC to 90.5% as of June, 2014.
PBF Energy has three refineries located in Toledo, Ohio, Delaware City, Delaware and Paulsboro, New Jersey. With all of these refineries together, there is a total capacity of 540,000 bdp and weighted NCI (Nelson Complexity Index) of 11.3.
Chart is from 2013 10-K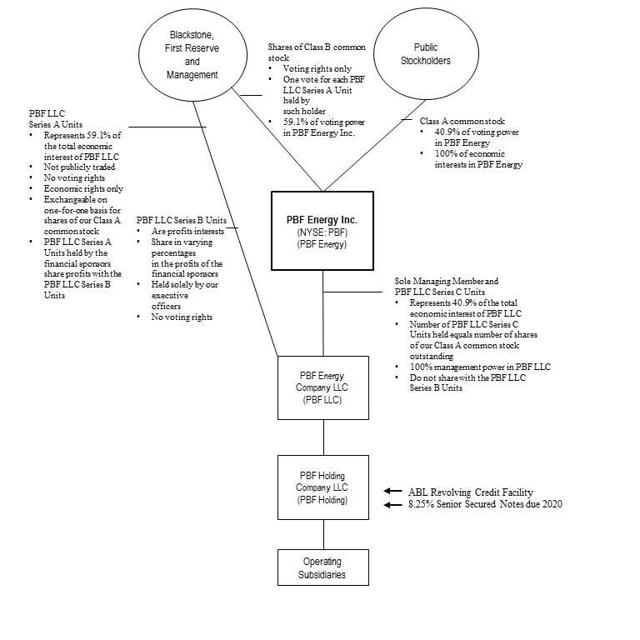 YTD Earnings: Upbeat, with small worries.
PBF energy posted Revenues (6 months ended June 30) that were 6% higher y/y. EPS respectively sat at $1.55, up %38.9.
If we add back in minority interest less adjusted tax, and assume complete conversion of remaining PBF LLC series A Unites for 2013, and 2014, we come to an adjusted pro forma net income of 118,166,174,952 respectively, which equates to EPS growth of 48.8% from 1.21 to 1.80.
Furthermore, PBF Energy announced a quarterly dividend payable to shareholders, $0.30 a quarter, totaling $1.20/year equating to a dividend yield of 4.7%.
The flipside: PBF Energy reported earnings that were way below the consensus estimate for the quarter. Given that consensus was $0.68 eps, PBF Energy churned out an unimpressive $0.35 eps; a 48.53% miss.
PBF Energy notes that gross margins were hurt mainly due to higher cost of sales attributable to lower crack spreads.
(Table created independently with information from 2014 10-Q for Q2)

With Brent Crude currently priced at 101.82, and WTI at 96.76, PBF should see for favorable crack spreads this upcoming quarter, and into the end of the year. This is not to totally dismiss geopolitical concerns, and the possible fluctuation in prices which may lead us to conclude that although it may leave crude oil prices unpredictable, seasonally for the past 30 years, crude prices tend to see a declinefrom October to Mid-December.
I predict that with higher crack spreads, PBF should be able to deliver some eye-popping results. Given that PBF Energy benefits from the lower cost of crude, their crack spread should see expansion
Projections and Sensitivity
Here is my personal projection of PBF's income statement given the growth rates listed below. I've also included the pro forma eps and net income to better represent the totality of PBF given that it is merely a holding company with increasing equity interest in PBF LLC and subsidiaries.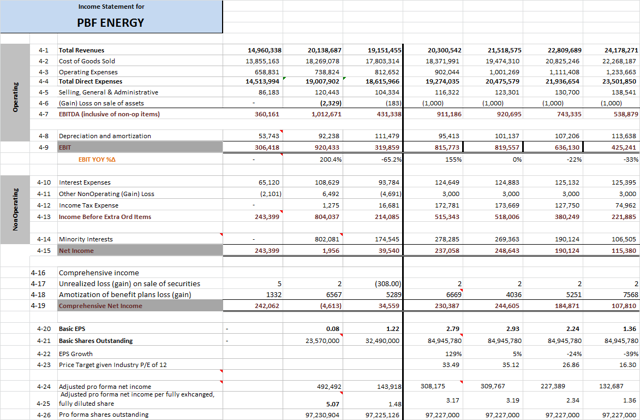 Here is my sensitivity analysis on both EPS and expected share price for FY14 based on P/E. Keep in mind this is given an expected revenue growth rate of 6%. Pbf has delivered 6% Y/Y growth as of 6 months ended, June 30th 2014, and I'm going to stick with this figure to remain conservative since PBF Energy is a fairly fresh public company with little history.
I am also expecting and EBIT margin of 4.02%. This leaves us with an expected price target of $33.48.
Furthermore, given current analyst estimates of $2.68, and my expected P/E of 12, that places PBF's energy expected year-end price at $32.16.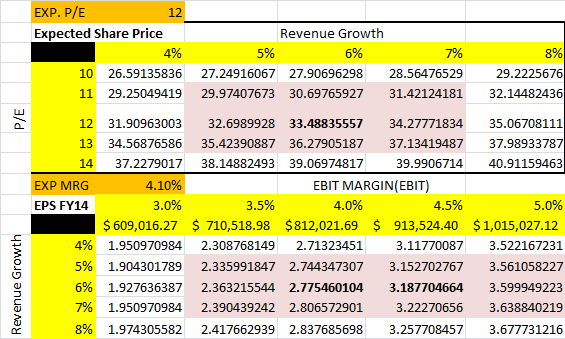 Fundamental Downside Risk
Downside risk can be attributed to the top left corner of every both sensitivity tables, given a EBIT Margin range from 3% to my expected margin of 4.10%. For downside risk, we will assume lowest possible revenue growth, EBIT margin, and P/E, given the table above.
With that said, we are looking at an EPS on the low end of the range at about $1.95 to $2.66, and a market share price anywhere from $19.50 to $26.60 with assumptions of the worst case given the sensitivity tables above.
Risks
I see three major industry and PBF focused risks that could effect PBF's near term future.
The first major risk to PBF Energy would be that of commodity prices, particularly crude oil. While oil exploration companies look for higher prices in order to turn over better margins, a downstream company like PBF looks to capitalize on lower energy prices and better margins from higher crack spreads. From the look of projections by the U.S. Energy Information Administration, the short-term future looks promising for downstream oil companies.
Price Summary
 
2012
2013
2014
2015
 
WTI Crude Oila
(dollars per barrel)
94.12
97.91
100.45
96.08
Brent Crude Oil
(dollars per barrel)
111.65
108.64
108.11
105.00
The second would be interest rate risks. Interest rate risk directly affects the cost of debt, and this affects the bottom line by either increasing interest expense or decreasing interest expense.
Regarding PBF, there are some interest rate exposures that should be highlighted given that rates are expected to rise before the latter half of FY2015. PBF states in their 10-Q for 2Q FY2014 that...
"During 2014, we entered into the PBFX Revolving Credit Facility and the PBFX Term Loan which bears interest at a variable rate and exposes us to interest rate risk. A 1.0% change in the interest rate associated with the borrowings outstanding under these facilities would result in a $4.9 million change in our interest expense, assuming we were to borrow all $275.0 million under our PBFX Revolving Credit Facility and the outstanding balance of our PBFX Term Loan was $300.0 million"
and furthermore,
"In addition, we entered into the Rail Facility in 2014 which bears interest at a variable rate and exposes us to interest rate risk. A 1.0% change in the interest rate associated with the borrowings outstanding under this facility would result in a $2.5 million change in our interest expense, assuming the $250.0 million available under the Rail Facility were fully drawn"
The third would be foreign risk. This particular risk emphasizes on the recent talks of a federal ruling concerning the exporting of oil for refining purposes. This could lead to a further compression of crack spreads, weakening the ability for companies like PBF to have favorable earnings growth.
Recent News
PBF Energy announces credit facility upsizing to $2.5 billion. Like the CFO of PBF Energy states, "The increase to our ABL Facility provides our company with increased financial flexibility to grow our existing business and is reflective of our financing partners' commitment to PBF".
This would give PBF energy more cash for working capital purposes, and may even assist with the development of an oil-by-rail facility at Ohio refinary.
Institutional Ownership
Although there are both pros and cons to relying on institutional ownership as a gauge to future performance, it must be noted that institutional ownership of PBF Energy is high. This percentage given shares outstanding is 99.43% as of 6/30/2014. However, with the price sell-off after 6/30, I would expect that some institutional owners may have exited their positions (think what you may). The previous filing period was when PBF was floating around highs for the year.
Source (J3SG)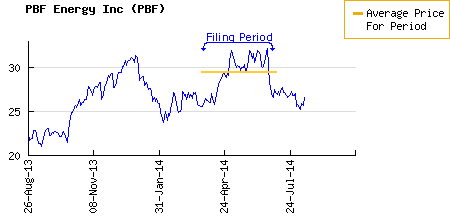 Source(Yahoo! Finance)
Top Institutional Holders
| Holder | Shares | % Out | Value* | Reported |
| --- | --- | --- | --- | --- |
| JP Morgan Chase & Company | 6,458,110 | 7.36 | 172,108,631 | Jun 30, 2014 |
| Baupost Group, Inc,.(The) LLC | 5,595,286 | 6.38 | 149,114,371 | Jun 30, 2014 |
| Vanguard Group, Inc. (The) | 5,192,024 | 5.92 | 138,367,439 | Jun 30, 2014 |
| Select Equity Group, Inc. | 4,110,135 | 4.68 | 109,535,097 | Jun 30, 2014 |
| Systematic Financial Management, L.P. | 3,574,958 | 4.07 | 95,272,630 | Jun 30, 2014 |
| Blackstone Group L.P. | 3,210,988 | 3.66 | 85,572,830 | Jun 30, 2014 |
| Blue Ridge Capital LLC | 3,160,000 | 3.60 | 84,214,000 | Jun 30, 2014 |
| Snow Capital Management LP | 3,143,292 | 3.58 | 83,768,731 | Jun 30, 2014 |
| BlackRock Institutional Trust Company, N.A. | 2,899,974 | 3.30 | 77,284,307 | Jun 30, 2014 |
| Shaw D.E. & Co., Inc. | 2,686,014 | 3.06 | 71,582,273 | Jun 30, 2014 |
Options
Investor Sentiment, with respect to options, point at a price between 30.00, and 35.00, but with more of an emphasis towards the 30.00 price target. Once again, although there are pros and cons to using options, it does provide a good gauge of current expectations regarding price movement for year end. Currently, the put/call ratio is at .53.
Source (Yahoo! Finance)
| | |
| --- | --- |
| Call Options | Expire at close Saturday, December 20, 2014 |
Conclusion
PBF Energy may be more attractive in the short term, they have room to expand and grow. Although they were hit with lower crack spreads Q2 of FY2014, costs should be on their side for the remainder of the year, and into the former half of next year before interest rates rise and borrowing becomes more expensive. With a dividend yield of 4.7%, PBF only looks more attractive.