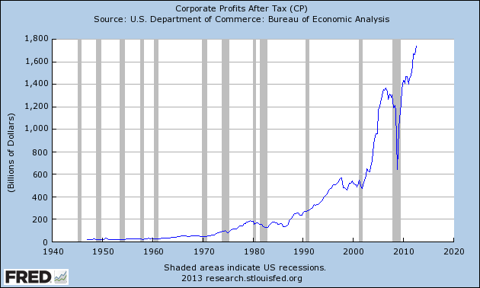 This series of U.S. corporate profits after tax has made headlines for the last few quarters, and is partially responsible for driving U.S. equity markets higher. Among the reasons for the climb: companies have been able to drive productivity through cost cutting measures (bottom line), whereas average revenue growth has been flat (top line). [See link to Sageworks Private Company Indicator for 12-month and 5-year charts on average annual sales growth.] Is this sustainable, given rising tax rates, regulatory costs, government spending and inflation? The Fed has targeted higher inflation through monetary stimulus, which has in turn throttled the U.S. equity markets higher. Verdict: Unsustainable, unless companies can grow the topline, but this will likely require a rollback of tax rates, regulatory costs and crowding out government spending, not to mention a non-punitive modification to the corporate repatriation tax.
I'd add that wages/GDP is at a multi-decade low, after peaking in 1970: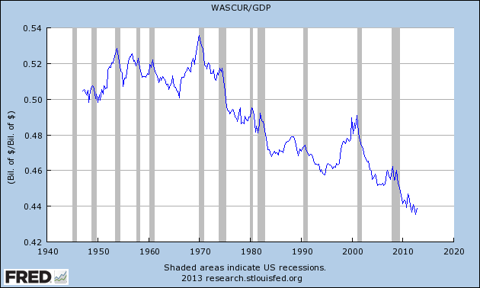 It is no surprise why this has occurred: wages are suppressed by ever increasing government fiscal, regulatory and labor policies and the inflation caused by the monetary policies that "provide cover."