Airbus Group (OTCPK:EADSF)(OTCPK:EADSY) has a lot of consortia, joint ventures, equity interest which are consolidated in the results.
(click to enlarge)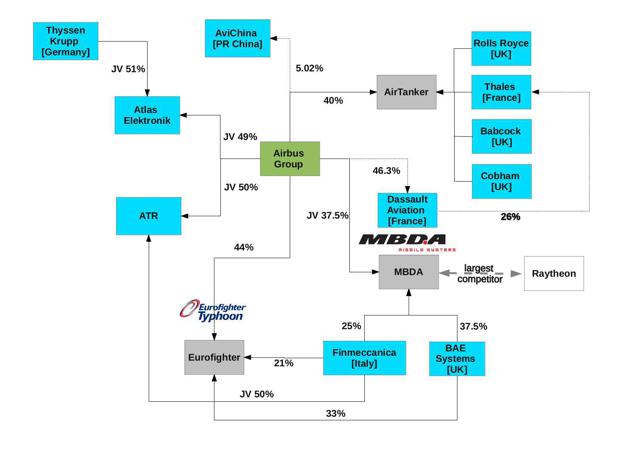 Click to enlarge
More details on the companies in the chart can be found in the following articles on the aerospace industry.
Boeing And Airbus: The Battle For Leadership In The Aerospace Industry (NYSE:BA)
(AviChina in) United Technologies And China: Time To Buy? (NYSE:UTX)
BAE Systems: Competition For Lockheed Martin And Northrop Grumman (OTCPK:BAESF)(OTCPK:BAESF)
Rolls-Royce: A 'Powerful' Buy (OTCPK:RYCEF)(OTCPK:RYCEY)
Thales: Sampling The Gordian Knot Of European Aerospace And Defense Industry (OTCPK:THLEF)(OTC:THLEY)
Dassault Aviation: Purveyor Of France (OTC:DUAVF)
Finmeccanica: Empire Building At A Price (OTCPK:FINMF)(OTCPK:FINMY)
AirTanker
AirTanker is a consortium that provides tanker and cargo capabilities exclusively to the British Royal Air Force. The aircraft used is the A330MRTT [multi-role tanker transport aircraft]
MBDA
MBDA Missile Systems is Raytheon's (NYSE:RTN) largest competitor. MBDA also sells missile systems from Safran (OTCPK:SAFRF) and has a Joint Venture with Safran. Safran is one of the worlds largest aerospace engine manufacturers and is described more detailed in Safran: The French Connection
Eurofighter Typhoon
The Eurofighter Typhoon consortium developed, builds and maintains the Eurofighter Typhoon which is used by the British, German, Italian, Spanish, Austrian and Saudi Arabian Air Forces.
(click to enlarge. Source: Confero)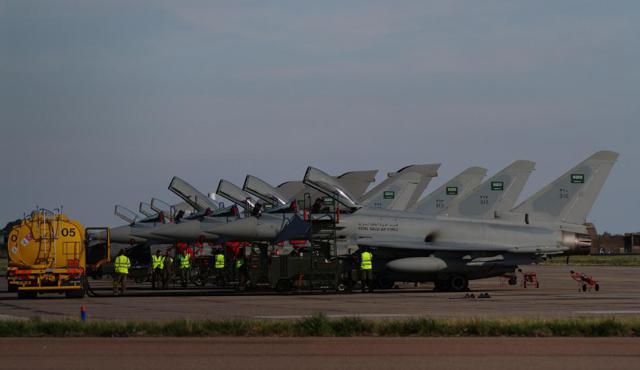 Click to enlarge
Disclosure: I have no positions in any stocks mentioned, and no plans to initiate any positions within the next 72 hours.