Here(price 3.82 NG X13, UNG : 19.51) is nice place to quit from gas is my model opinion. The fair price for this moment has been taken and higher grow in this season (OCTOBER) with out extreme factors that can drive price a not reasonable.
I think that gas is a little bit overpriced on the moment because my own pricing model gave me result that gas will cost 3.75 upper band for the spot price in the settlement date, and will decline in next few days before expiry to get to the "fair value".
I closed futures and only spread combinations left till expiry.
The UNG can not track full exposure because quite high tracking error with Natural gas prices = fees, rolling costs, commissions, slippage etc.
But the model portfolio increased on 9.2% from starting this blog. And I think that my MBA research will be quite objective with public track. Because real trades from my account are quite complex options combinations that are non linear and in especially in the cases of sold spreads against the market trend will give not 2 realizations but 3. When model bets on the LONG NATURAL GAS (NYSEMKT:HH), I short the bear spread. And in the case when I guessed correct market direction I win and get the premium. In the case when market stayed same price I get again the premium, and in the case when market price of gas declines I got some losses. 2Win/1loss and relationship are non linear because I play some bets with volatility for natural gas. That's why I want to replicate the model with UNG and other ETF's. To get the objective model "prediction force" in linear to the market. I do not trade personally UNG only derivatives.
Here is the snapshot from http://portfolio.marketocracy.com/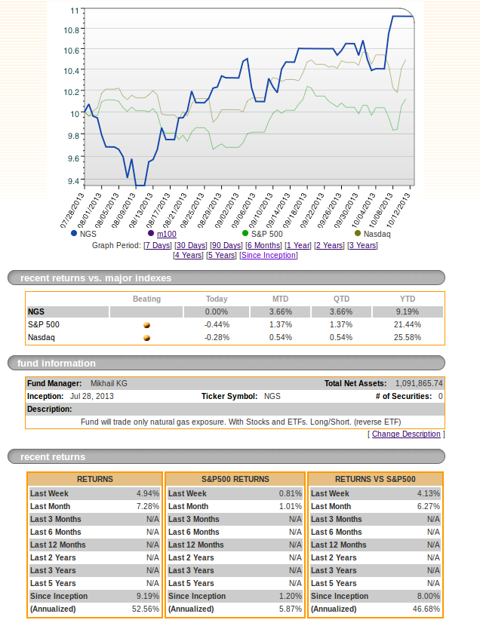 Now do not have any signals and no positions open in natural gas ETF's and natural gas derivatives.
Disclosure: I am long UNG.
Additional disclosure: Trade natural gas exposure only with derivatives.