Based on the last data report I'v added to my model http://www.cftc.gov/MarketReports/CommitmentsofTraders/HistoricalCompressed/index.htm
The uncertainty in current market direction is just increased,
Because the market COT's report sentiment based on the last week positions data is non bearish but market continue to decrease. Even the 1 week lag but no pattern for massive short selling.
So I decided to close all positions in natural gas and stay out of the market.
The price is 4.472 on the June futures contract.
Also I will liquidate DGAZ longs in my virtual portfolio on the limit order price above 3.15 USD/share.
The average buy price was near 2.92-2.93 and its enough profit taken.
(click to enlarge)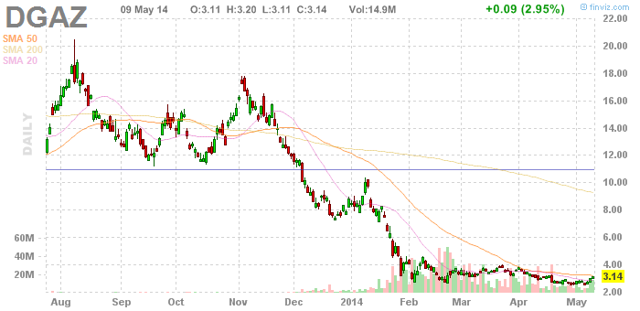 Click to enlarge
PS:
I'v got some messages in private, with different variation question "I follow you and is your model enough good for increasing size of my position 2/3 times".
The answer is NO!
Do not follow me. Because this is academical research and I do it public for adding my boring study some action. ))) Because when you do research in parallel to your job and need to pass tons of time near desk with formulas and spreadsheets of data. Just need to add some fun in this.
I do not monetize this blog and do not want somebody lost money because of me.
Disclosure: I have no positions in any stocks mentioned, and no plans to initiate any positions within the next 72 hours.