I scan for stocks based on hundreds of patterns discovered through years of data mining. These patterns are then grouped together to rank and score all 500 S&P stocks. Depending on which patterns are matched, I then produce a 5 day expectancy of where the stock is headed based on historical results. For more information on my methods as well as an expanded list of signals visit my blog at: www.mystockanalysis.com
Today's scan has produced 3 interesting shorting opportunities for tomorrow:
1. XL Group plc (XL):
The 5 day expectancy for XL is -1.8% from tomorrow's closing price. The chart shows resistance around the $22 area. I will be watching throughout the day looking for signs of weakness that may help verify the signal. Earnings are not due out until May 8th, which provides plenty of time considering only a 5 day holding period.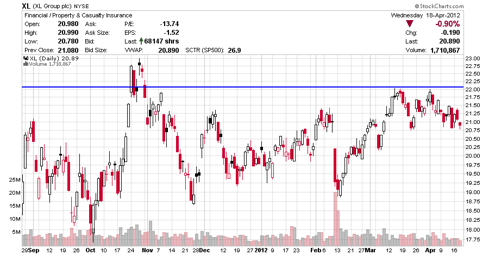 2. Masco Corporation (MAS):
The 5 day expectancy for MAS is -1.7% from tomorrow's closing price. Earnings are only 12 calendar days away, which means I will need to be extra diligent in sticking with a 5 day hold. I like the $14 area for a stop, however this does not produce a good risk/reward considering only a -1.7% expectancy. I will be looking for a tighter stop location.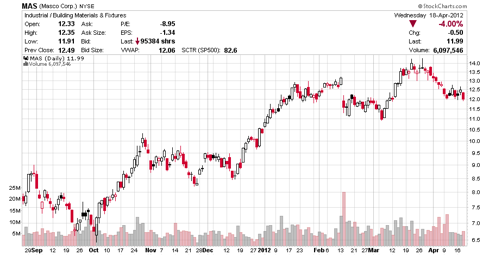 3. Air Products & Chemicals Inc. (APD):
The 5 day expectancy for APD is -1.7% from tomorrow's closing price. One attractive aspect of this trade is the ability to place a very tight stop just above the high from yesterday. Unfortunately, APD is set to release earnings on April 24th. This does not leave enough room for my typical 5 day hold. However, a shorter term trade with a tight stop is doable.
Current Holdings:
Long: (HPQ),(EIX),(HRS),(FAST),(NTAP),(APOL)
Disclosure: I have no positions in any stocks mentioned, but may initiate a short position in APD, MAS, XL over the next 72 hours.