Tesla Motors (NASDAQ:TSLA) Elon Musk is the headline speaker at this year's offshore oil and gas drilling convention here in Northern Europe's oil drilling capitol, Stavanger Norway. Their website claims: "ONS is one of the leading energy meeting places and brings together the international energy industry for a conference, exhibition and festival. ONS celebrates its 40th anniversary in 2014."
Here's a snapshot: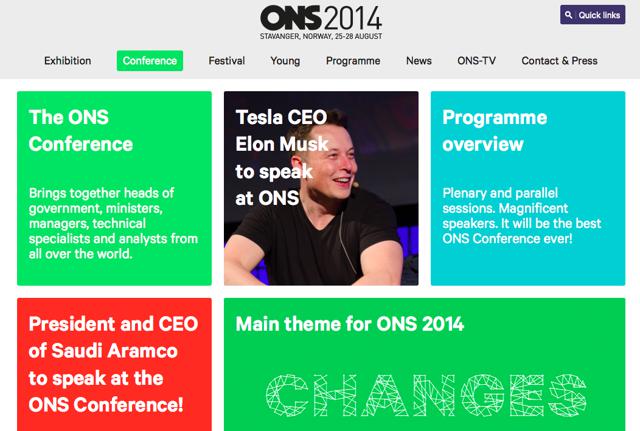 We have written about the popularity of the Tesla S model here in Norway. It is worth noting that other electric vehicles, known here as "Elbils" identified with license plates starting with EL, are also gaining traction in Norway. In fact Nissan's Leaf is Norway's most popular EL vehicle. Here is a breakdown from website gronnbil.no in an article titled "EV-sales did not take summer vacation in July":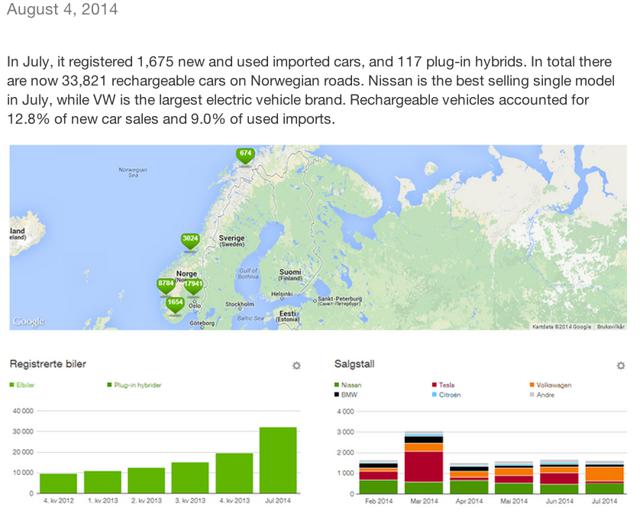 This is a big deal as many Norwegians do in fact take July and early August off for summer holidays and general business activity drops along with this period.
With close to 34,000 Elbils (a small percentage are plug in hybrids) on the road here in Norway and sales momentum still rising, Norway seems ripe for being a leader for support infrastructure for Elbils. With many of the Elbils not having the same range as the Tesla S, a non- home charging solution seems to us here at Stavcap to be something worth pursuing. Therefore, Stavcap has obtained the rights from SunTrux L.P. for its solution of a mobile charging network that is built in a standard sized trailer and is powered by a combination of power sources including solar panels on the trailer. While SunTrux focus is building the solution in the Americas, Stavcap believes that the popularity of Elbils here in Norway is fertile ground for a mobile charging network in order to address range anxiety for those who are contemplating the purchase of an Elbil. Here is a drawing from the Suntrux.com website: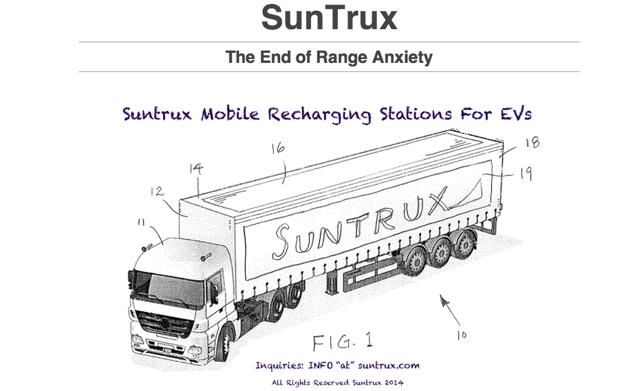 The initial plan will be locating 10 SunTrux along the most traveled highways in Norway concentrating the emphasis on the Oslo and Stavanger regions. Members of the SunTrux network will pay a yearly subscription fee which gives them unlimited use of the network.
Range Anxiety seems to be the number one concern of would be buyers of EVs or Elbils. According to a recent article about Range Anxiety in Canada,
"It's a major concern, especially as we head into the summer driving season. But with thousands of Canadians investing in these eco-friendly automobiles, more and more companies are installing charging stations to ensure a stress-free ride for EV drivers.
As of the end of April, there were around 6,600 plug-in cars driving on the roads in Canada. That doesn't include hybrid cars, according to statistics collected by Matthew Klippenstein of the web site GreenCarReports."
As the first licensee of the SunTrux solution, Stavcap has been given many liberties in implementing the mobile charging infrastructure. For example, Stavcap is authorized to seek an independent relationship with a battery maker of its own choice as well as solar panel manufacturers. General design specs have been licensed and the concept is to have the charging capacity of two Tesla Supercharging units in one trailer capacity. In fact, the SunTrux solution resembles a data center in a trailer much like the one pictured here by Sequel Data: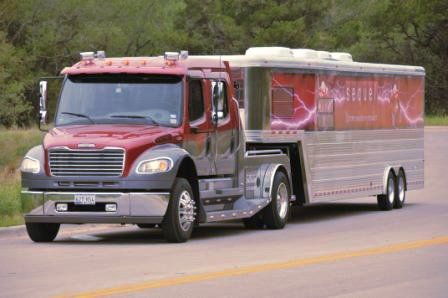 Stavcap will also seek out cooperation from the car manufacturers for co-marketing their EV car owners. The mobile charging station can also be used for advertising the EVs it can service. In fact, there is a possibility of a mobile wireless hot-spot that will be housed on the SunTrux installation, giving way to another connection point for network members.
Stavcap is a true believer in the changing the world through renewable energy and supports the innovative spirit that ONS is highlighting in its 40th anniversary conference. Stavcap believes that the Norway EV phenomenon is not a "flash in the pan" and can be built upon to show renewable energy can be cost effective and help stop climate change. It is important to note that this past winter and this summer Norway experienced record highs in temperature. Here is a quote from this winter article:
Just a month ago, no one would have said there was a threat of brushfires in Trøndelag at this time of year," noted Dagfinn Kalheim, director of the Norwegian fire prevention association. Now, they've experienced three of their worst fires on record during winter. Unfortunately, in the context of a warming globe and related human-caused changes to the atmosphere, land and sea, locations around the world and especially around the Arctic Circle are under the gun to experience ever-worsening fires."
In conclusion, ONS 2014 is dedicated to "change" and Norway is committed to renewable, environmentally friendly energy. All this is happening with the backdrop of Norway's burgeoning sovereign wealth fund topping the globe at $890 billion. According to this article:
"...that's $178,000 for every Norwegian. And the fund holds around 1% of all the stocks and bonds in the world."
Ironically, $890 billion is the equivalent to the combined value of Exxon (NYSE:XOM), Shell (NYSE:RDS.A) and Chevron (NYSE:CVX). Can Norway be the place where change happens? We certainly believe it is.
Disclosure: The author has no positions in any stocks mentioned, and no plans to initiate any positions within the next 72 hours.
The author wrote this article themselves, and it expresses their own opinions. The author is not receiving compensation for it. The author has no business relationship with any company whose stock is mentioned in this article.
Additional disclosure: Stavcap owns the rights to SunTrux technology for Norway.