My name is YJ Draiman and I am running for Mayor of Los Angeles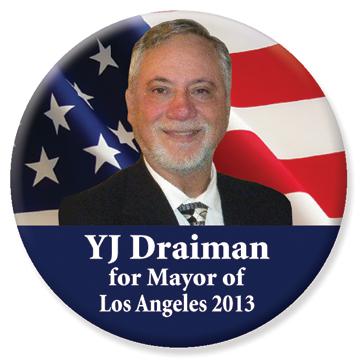 Our current economic crisis is the number one concern of every American. It is time we exercise our constitutional right.
It is a government by the people for the people. It makes no difference whether you are a Democrat, Republican, Libertarian or any other political affiliation, and it is time America's citizens take control of their country starting from the city government to the county, state and the federal government. All elected officials must be accountable to their community and its residents. Our current budget crisis was brought about by the current administration - do you want this to continue and lose city services. I am a soldier in the battle to restore fiscal sanity for our district and our city, improve the economic well being of the district and the welfare of all residents.
Capitalism has not failed. The people in charge of the economy have failed Capitalism!!!!! Capitalism has been hijacked by career politicians, who disguise themselves as representatives of the people.
Enough is enough; we need to replace as many incumbents as possible, business as usual must stop here and now, government treasury should not be the personal piggy bank of the politicians.
We need new representatives in our government, representatives whose allegiance is to the residents of their district, representatives who care about Los Angeles surviving the current economic crisis and becoming better for it.
We must reduce big government - The bigger the government the less efficient it is.
Our energy consumption is growing rapidly; we must produce a hundred percent of our energy needs in our own country.
We have the manpower and technology, let us utilize it.
We must encourage new businesses, create more jobs and stabilize the economy.
Government cannot create jobs. Government should be reduced by at least fifty percent, streamline government, enact laws, rules, regulations and taxation that are friendly to small business. Encourage investment in our economy and workforce.
This economic crisis is a national emergency. People are losing their jobs and homes, and we must establish a mechanism similar to the Manhattan project of World War 2, with an all out genuine national effort to resolve the current economic crisis which threatens to destroy our country.
Transparency and accountability is my motto
YJ Draiman for Mayor of Los Angeles 2013
(March 5, 2013 Election)
Contact: YJdraimanformayor@yjdraiman.org