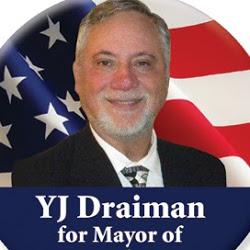 YJ Draiman for Mayor of LA Opening Statement - 2013
I stand before you today at a time when our city's is in dire financial and economic crisis
I have lived for over 6 decades and have experienced many economic crises, but this is the worst.
In my humble opinion as the people of the city of Los Angeles, you have the right and are entitled to know the truth, the whole truth and nothing but the truth about your government and the true state of the city's financial and economic crisis.
In order to solve a problem, you have to admit that there is a problem and the extent of the problem; otherwise, you will not be able to address the problem with a proper and dignified solution.
No politician to date has informed the people of Los Angeles how dire and critical is our financial and economic situation. The politicians are trying to minimize the extent of our fiscal crisis.
Let me tell you it is far worse than anyone can imagine. If the people of LA were to be shown all the true financial figures with realistic potential revenue generation and the future increased expenses.
The city of Los Angeles would have a deficit of at least 4 billion dollars over the next 5 years, starting fiscal year 2013.
That means if the people of Los Angeles feel a reduction in core services now, the situation will get much worse over the next 5 years with a real potential of Municipal Bankruptcy.
LA is larger than many countries and has a greater number of people.
I propose a solution to start the day I take office as a mayor on July 1, 2013.