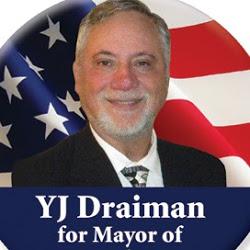 Los Angeles Economic Recovery is not increased taxes - YJ Draiman
In short, the key to Los Angeles economic recovery is not an increase in taxes and fees. Rather, true long-term recovery will rely on the increase of efficiency and productivity; the reduction of bureaucracy; and the promotion of businesses and employment. All of which will instill confidence in our economy, generate greater revenues for the city of Los Angeles and other governmental entities.
American confidence in government is at an all time low. We no longer have the same level of faith in our institutions and leaders that we once had. Consequently, we are seeing a continued erosion of our outlook on the future. This outlook must change by initiating a massive and sound education program that produces innovation and technology.
We have an opportunity to jumpstart our economy, protect our environment and put our city on the path toward energy security through greater use of our domestic energy production such as natural gas. Our domestic energy production can serve as a foundation for our energy and economic independence. This path will enable us to develop the required innovation and production of other forms of energy sources.
To realize a course toward energy and economic security we must do what is necessary to instill confidence in the responsible development of our energy sources. We can use natural gas as a solid foundation on which to develop extensive R&D in renewable energy sources, and the efficient means to operate and maintain the mechanisms needed for such use.
Improving our educational system is the key to our economic survival. In a global, knowledge-driven economy, there is a direct correlation between engineering education and innovative progress. Our success or failure as a city will be measured by how well we do in providing the needed educational tools to promote innovation in all fields.
Leadership is not a birthright. Despite what many Americans believe, our city does not possess an innate knack for greatness. Greatness must be worked for and won by each new generation. Right now that is not happening. However, we still have time. If we place the emphasis we should on education, research and innovation, we can lead the world in the decades to come. Nevertheless, the only way to ensure we remain great tomorrow is to increase our investment in science and engineering today. In addition, we must invest in trade schools to train our future workers in the new and old technology.
We have to learn how to balance the need of the people vs. the need to protect the environment. Any extreme to either side is not good.
In today's fast moving technologies, government as well as companies must learn to adjust and maneuver quickly to keep pace, or they will be out of business or incur deteriorating revenues and infrastructure. We must learn how to stay competitive and resourceful to survive and thrive economically.
I submit: Leadership by example. I plan to cut waste, maximize productivity, reduce bureaucracy, increase efficiency and conservation in all city departments and assets, eliminate duplicating tasks and reward excellent performance and innovative methods of job performance. In addition, we have to use the Neighborhood Council's more effectively; they are the eyes and ears of all the communities in Los Angeles. These are hard economic times; we must all put our shoulder to the task.
We must put all our differences aside and work together in harmony for the good of the people and the city of Los Angeles. Your vote for me will be one more step in this positive direction and it will be a win for all the people in LA.
YJ Draiman for Mayor
http://www.smartvoter.org/2013/03/05/ca/la/vote/draiman_y/
http://bit.ly/draimanformayor2013 youtube
"In the course of history, there comes a time when humanity is called to shift to a new level of consciousness, to reach a higher moral ground. A time when we have to shed our fear and give hope to each other. That time is now."
"Voter apathy was, and will remain the greatest threat to democracy."