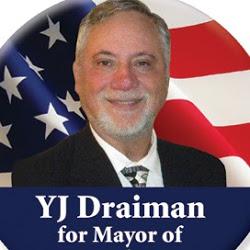 Mayoral Candidate YJ Draiman and City Council Candidates announce a Press Conference to be held on March 1, 2013 at 12 noon in South LA.
Los Angeles Mayoral Candidate YJ Draiman and Six LA's City Council Candidates to Make Major Announcement in a Joint Media Conference Regarding Tuesday's March 5, 2013 LA's Primary Election.
Calling a joint press conference tomorrow morning at 12 noon, Mayoral Candidate Yehuda "YJ" Draiman and several City Council candidates will present a joint statement
These Candidates holding different political views on other subjects can all agree on this unifying issue.
For more information and to add your support contact: via email: yjdraimanformayor@yjdraiman.org or Tel. 818-366-6999.
YJ Draiman for Mayor of Los Angeles 2013
http://draimanformayor2013.com
http://www.smartvoter.org/2013/03/05/ca/la/vote/draiman_y/