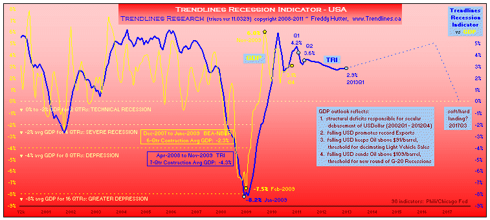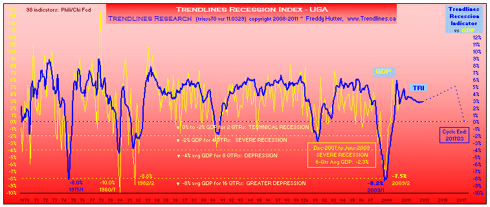 TRI infers USA GDP slips to 4.2% in March (Q1)
June 30 2011 delayed public FreeVenue release of March 29th guidance @ the TRENDLines MemberVenue ~ The Trendlines Recession Indicator continues to reveal a stable economic recovery - one partly founded on fiscal stimulus ... and the remainder a rejuvenation of the normal business cycle.  March's (Q1) GDP growth rate is gauged at 4.2% pace, down from 4.8% in February.  The TRI's leading indicators are presently projecting 3.6% Real GDP in Q2 & 3.5% for Q3.  All observations are higher than last month.  Similarly, BEA on Friday upward revised Q4's Real GDP annualized growth rate to 3.1% (TRI = 4.3%).
In the realm of unintended consequences, it is increasingly apparent the failure by Congress to extinguish the Bush Tax Cuts has met a terrible reception by international investors.  Together with the Obama Administration's decision to unveil a record $1.5 trillion Deficit (9.7% of GDP), these measures have been construed as a signal there is little will to address the USA's looming structural deficits.  This failure in fiscal management has caused a resumption of the secular decline of the USDollar.
This debasement commenced in January 2002 and is today responsible for a $17/barrel component in the pricing of crude oil.  While the falling USDollar will have beneficial effects on the export sector, crude continues to be in breach of the Oil/GDP ratio (marked today by the $91/barrel threshold) which in the past has decimated Light Vehicle Sales.  Similarly, a new round of G-20 Recessions can be expected upon sustained crude prices over the $109/barrel mark.
 

GDP Targets  (2011/3/29)

 

 

 
 
 

2010Q4

4.3 %

 
 

2011Q1

4.2 %

 
 

2011Q2

3.6 %

 
 

2011Q3

3.5 %

 
 

2011Q4

3.4 %

 
 

2012Q1

3.2 %

 
 

2012Q2

3.0 %

 
 

2012Q3

2.8

%

 
 

2012Q4

2.9 %

 
 

2013Q1

2.9 %

 
 

-

-

 
 

2017Q3

end of cycle

 
 
 
 
 
TRI has a fuzzy horizon of 8 quarters.  The view of the future is dynamic and is subject to and guided by current/future mitigation activity by the Fed & Treasury Secretary via monetary/fiscal policy, geopolitical and weather related events.  Today's outlook reveals most of 2012 has deteriorated by over 1% due to the dampening effects on the economy of protracted high petroleum prices.  At this time, TRI is projecting a GDP target of only 2.9% in 2013Q1 and an absence of the normal 6% cresting on the medium term.  Finally, Monetary Policy enacted by the Fed & the Treasury Secretary's guidance to Congress with respect to Fiscal Policy will determine whether the current cycle's contraction bottom in 2017Q3 will be a hard or soft landing.