(click to enlarge)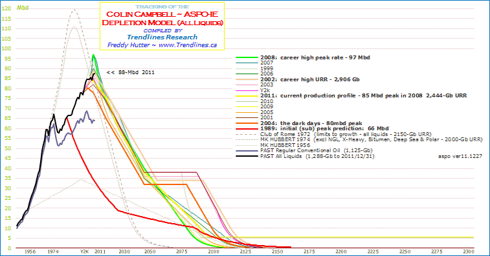 Click to enlarge
Historic Tracking of (ASPO-IE) Colin Campbell Depletion Model: 1989-2011
March 28 2012 delayed FreeVenue public release of Dec 27th website MemberVenue guidance ~ Today's update adds Colin Campbell's May/2011 Outlook. It re-confirms his position All Liquids peaked @ 85-mbd in 2008 (despite EIA data to the contrary) and is founded on a 2,52334-Gb URR (up 89-Gb from last year). The chart tracks all the production profile revisions over his career. Its forecasts of Peak Year have ranged from 1989 to 2012. In fact, December marks the 22nd anniversary of Campbell's initial All Liquids declaration that oil had indeed peaked. To be accurate ... a sub-peak. In Dec/1989, he declared All Liquids production had reached its physical limits @ 66-mbd and would never again attain the 67-Mbd Peak back in 1979.
Campbell's estimates for Peak Rate span from that virgin call of a 66 Mbd sub-peak in 1989 to his 2008 forecast of a 97 Mbd peak in 2010. His underlying All Liquids URR estimates range from 1575-Gb (1989) to 2900-Gb (2002). TRENDLiners may have notice my last three annual chart revisions have excluded Campbell's 1991, 1996, 1997 & 1998 projections. I determined those studies forecast Regular Conventional Oil ... not All Liquids, and only led to unnecessary confusion. His current (2011) forecast for RCO can be compared to the only three other such projections for light sweet crude at my Scenarios venue.
The highlighted years of distinction are: 2008 (highest peak 97-Mbd), 2002 (2900-Gb URR high), 2011 (current update), 2004 (Colin Campbell's dark days call: 80-Mbd peak coming in 2006) & 1989 (Campbell's initial 66-Mbd scenario which declared that All Liquids would never breach its 1979 record). Because the Depletion Model newsletter graphic ends in 2050, it was not readily apparent that five of Campbell's early All Liquids projections failed to exhaust his designated URR. The 300-yr outlook resolution view of this chart exposes the errant methodology of the Depletion Model in 1999, Y2k, 2002, 2003 & 2004. These profiles have been corrected via compensating plateaus or "doglegs".
See how the 2010 ASPO Depletion Model measures up against other failed outlooks in our Invalidated Scenarios presentation & compared agin Tier-1 URR estimates.
click here to see how the latest (2011) Campbell Depletion Model measures up against the only other three studies addressing Regular Conventional Oil (light sweet crude)
Disclosure: I have no positions in any stocks mentioned, and no plans to initiate any positions within the next 72 hours.