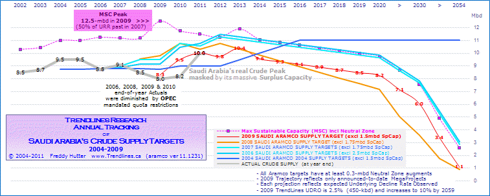 Saudi Arabia MSC & Supply Outlook ... an update
March 31 2012 delayed FreeVenue public release of Dec 31st MemberVenue guidance ~ Guidance from the Kingdom and/or Saudi Aramco with respect to MegaProjects & Surplus Capacity has been limited to fine-tuning over the past three years. OPEC mandated quota restrictions had kept Supply below national targets in 2008, 2009 & 2010, but geopolitical issues surrounding Libya & Iran drew KSA from its reluctant role as swing producer. Saudi Arabia set new monthly/quarterly/annual production records in 2011.
In 2009 I predicted that year would prove to be the Kingdom's Peak Year for Maximum Sustainable Capacity (NYSEARCA:MSC). Today it appears the 12.5-Mbd high will be unchallenged and high idle capacity (2.0-Mbd) continues to hide this milestone event. Last week's URR Linearization update re-confirms the Kingdom appears to be inflating their total resource base. In 2009 I revealed their claim of 900-Gb was more like 212-Gb. Nothing has changed.
All the announced MegaProjects are still underway. Due to the subdued Demand growth since the Great Recession, final commissioning of Manifa will be stretched out to 2014. The preservation of Surplus Capacity reconciled with new construction indicates the Underlying Decline Rate Observed (UDRO) for regular conventional oil has climbed from 2.5% to to 3.6% per annum over the past two years. RCO extraction should remain above 8.0-Mbd 'til 2021.

Update of legacy Saudi Arabia Crude Production Forecasts by Husseini & theOilDrum
Here's my annual look-see at how the legacy predictions by Sadad al Husseini and theOilDrum's Stuart Staniford & Ace (Joker) have performed against facts on the ground. Admittedly, all efforts have been stymied to some degree by OPEC mandated quota restrictions. This is exactly why it was decided back in Feb/2009 to depict my Peak Scenario-2500's as Maximum Sustainable Capacity ... not Production.
The PS-2500 continues to project 2009 as Peak Year for MSC. The Kingdom's 3.6% Underlying Decline Rate Observed (UDRO) for regular conventional oil makes it almost impossible for any future announced megaprojects to have sufficient magnitude necessary to breach 2009's 12.5-Mbd high. Based on last week's Linearization update, my estimate of KSA URR nudges up slightly to 211-Gb.
The Husseini Outlook takes a similar view with its production high (2023) of only 11-Mbd. The Ace (joker?) over @ TOD forecasts extraction going south after 2011. Meanwhile, the infamous high-case worst-case scenarios by theOilDrum's Stuart Staniford continue to be emblematic of the agenda-driven rhetoric, fabrication of data, misinformation and mass hysteria at that place. Since 2002, McPeakster websites & pundits have been the best thing to ever have come along for oil sector shareholders & NOCs since the invention of the automobile. The dozens of alarmist "news feeds" disseminated by McPeaksters each week contribute directly to the bottom line of Producers via windfall profits.
Disclosure: I have no positions in any stocks mentioned, and no plans to initiate any positions within the next 72 hours.