I know 500%, whatever. But the back testing is what it is. No guarantee of future performance, of course... but let's discuss. This is more of a learning exercise than anything else. A "let's see what happens" discussion.
This is a system for trading VXX options that has back tested remarkably well since VXX launched in 2009. I want to post the signals here going forward so I can establish the system in real time.
(For those of you who don't know, VXX is an exchange-traded note related to the short term futures of the VIX volatility index. If you didn't already know what the VXX or the VIX is, I would caution you against trading this system until you learn more about volatility trading.)
The principle of this system is simple: every Friday, you check to see if the VXX is trading relatively high compared to its recent performance. If so, you buy weekly VXX put options at the money only if the option is not too expensive. Roll the option until the VXX has fallen to a relatively low level or until the options are too expensive. In between these trades, we invest in SSO.
The formulae for determining when the VXX is high and low and when the options are expensive are my secret sauce. Also secret sauce is the strike price of the options and how much of the portfolio to invest in the options (i.e. the money management side).
I'm sure many of you will be thinking that I've done a lot of curve fitting here. But I know the dangers of curve fitting and I do my best to steer clear. The formulae for the VXX valuations are very simple. Some of you may even be able to figure them out. Also, when the parameters are changed (hint, there's an EMA in there somewhere), the returns are still outrageous, even if not optimal.
Using some middle-of-the road parameters, the returns since 1/30/2009 are astounding:
| | |
| --- | --- |
| Total | 13758.61 |
| CAGR | 572.54% |
| Stdev | 144.7% |
| Sharpe | 3.96 |
| Max DD | 44.80% |
| CAGR/DD | 12.780 |
| Linearity | 35.450% |
| Growth R | 16.150 |
| Win % | 61.86% |
| Trades | 97 |
(Linearity and growth R are metrics described in some of my other blog posts and articles.)
These are not the best values that can be obtained, but the desire to avoid curve fitting led me to follow the simplest system that provided the most robust returns. Did I run a multi-dim analysis on this? I did not. Through trial and error, I tried to find a set of parameters whereby the total returns and Sharpe ratio were least affected by changes in those parameters.
The total returns using my baseline parameters are shown on a log graph below. Note this is not percent... that is 10,000 times the original investment.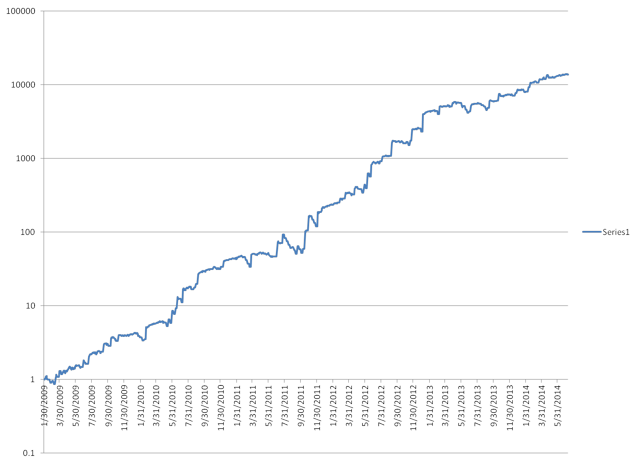 Sure, that's all a little nuts, but the numbers are what they are.
Anyway, I will be posting signals here and we can all see what happens.
Some recent history:
The system had us buy VXX puts on 3/28/2014 at the close (43.55). We sold them a week later at the close (41.84) for a profit of around 4%. The numbers in ( ) above reflect the VXX price -- the options themselves obviously were different, on the order of about $1.50 per contract.
The system had us buy VXX puts on 4/11/2014 at the close (44.75) and a week later VXX was at 41.71. We rolled the puts for a tidy profit of 14% and sold them another week later at the money for a loss of about 9%.
In between these two trades, we held SSO for a loss of 3.2%.
Since the last VXX trade closed on 4/25/2014, we have been long SSO. This open position is currently seeing a gain of 12.5% (including today).
Thus, since 3/28/2014, we have seen a net gain of about 18% (counting today).
Since 1/2/2014, the system is up about 65%. There have been 6 VXX trades this year of: 16% (1/31), 14% (2/7), 14% (4/11), 11% (3/14), 4% (3/28), and -9% (4/17). That's a net gain of 58%. The rest is from being in SSO between VXX positions.
Currently the VXX is well below the trigger value, so we may have some more time yet before another VXX trade is signaled. In the meantime we hold SSO and pray.
Stay tuned for more signals and discussion...
Disclosure: The author has no positions in any stocks mentioned, and no plans to initiate any positions within the next 72 hours.