By Dr. Bart DiLiddo, VectorVest Founder
The current bull market celebrated its fifth birthday last month and brings up the question (again) as to how long it will last. In order to answer this question, we would need to know when the next bear market begins. VectorVest did it in 2007. Can we do it again?
A bear market is defined as a 20% drop in a major index, e.g., DJIA or SPX, which lasts at least two months. The last bear market began on October 10, 2007 when the DJIA and SPX closed at bull market highs. The Price of VectorVest's Market Index Composite closed at an all-time high of $31.44 on July 13, 2007; then it hit an intraday high of $31.84 on October 11, 2007. VectorVest issued a Confirmed Down (C/Dn) signal on November 1, 2007 and I wrote an essay on Contra ETFs on November 2, 2007. As a post script, I wrote:
"The Confirmed Down signal that we received yesterday could be the entrée to a long Bear Market. We aren't there yet because earnings are still rising according to our method of analysis. Yet, we no longer appear to have the support of an accommodative Fed and that can make things very bad for the stock market. So don't be deceived by the endless parade of experts who will appear on TV and other places telling you to buy stocks. This is not the time to buy stocks. Just follow our Market Timing System and it will tell us when to go long again. At that time, we should be getting some wonderful bargains."
Wonderful was an understatement. We got the buying opportunity of a lifetime when stock prices exploded on March 10, 2009. So where are we now?
The Price of the VectorVest's Market Composite Index (NYSE:VVC) closed at an all-time high of $37.73 on March 6, 2014 then promptly reversed direction, moving lower week-over-week for two consecutive weeks.
This drawdown prompted a barrage of opinions on where the market is heading. Recently, I watched Mr. Steven Liesman, CNBC Senior Economics Reporter, present a point-by-point declaration on why we shouldn't worry about stock prices. Following him, however, was Mr. Marc Faber, editor of the "Gloom, Boom and Doom" report, who said U.S. stocks could drop 30 to 40 percent.
You can argue the effects of economic and geopolitical events on the market all you want, but it won't help you predict when a bear market will occur. The only thing that counts is whether the trend of forecasted earnings is going up or down. This information is presented each week in VectorVest's Market Climate Report. This report is focused on the three factors driving the market - earnings, interest and inflation. This information is also presented graphically in VectorVest's Market Climate Graph shown below.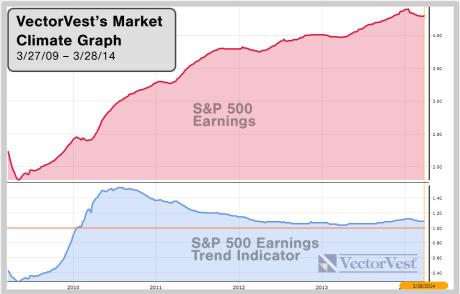 This graph gives us a sense of timing because we can watch it move up or down. A bullish stock market scenario will prevail as long as the Forecasted Earnings Trending Indicator is above 1.00. Currently, the Climate Graph is showing us that this indicator was essentially flat, at 1.06, from August 24, 2012 to August 30, 2013. Then, much to my surprise, it trended higher up to 1.12 on January 3, 2014 and stayed at that level until January 31, 2014. Now it's trending lower and is down to 1.09.
Yes, analysts are reducing their forecasts and that's not good. But it's too early to worry. The EPS trend indicator moves slowly, so we won't be caught off guard when it goes below 1.00. Just as it did in 2007, VectorVest's Market Timing System and Market Climate Report will give investors an early warning of the imminent arrival of The Next Bear Market. A warning that we'll be sure to pass along to our readers.