As a former stockbroker, I always sold my clients on a stock recommendation with a well thought out story as to why they should buy into what I was selling.
Telling a story isn't hard; you just add up a bunch of reasons why this particular stock is liked by a certain group of people or why this upcoming FDA decision should go in this company's favor or even why this new gadget is going to revolutionize a particular industry. The story has to have enough sizzle and potential reality in order to convince others to jump on in and participate. I got so good at it that I would allow other broker friends to use my scripts to get their clients to buy in as well.
Really though, when you think about it; isn't that what making money in the market is really all about? Having an enticing enough story that others will buy into after you?
If I were a broker again, I'd certainly be building my clientele with an interesting little company that I have been following for the past 3 years; Star Scientific Inc. (CIGX) I will refer to Star as CIGX for the rest of this article to make things simpler.
CIGX is one of those stocks that has been around the block a few times, not always with the best of results and not always with the best reputation. I have been speaking to brokers and a few money managers over the years about CIGX and I have found 2 distinct types of reactions to the CIGX story; either people love the potential outcomes of the story or they hate/disbelieve the whole story, the management involved and the validity of their products and patents. Love em' or hate em' is actually a very good thing as it turns out.
I'll keep the story short here as I lay out some of the aspects of why this company has interesting potential, being that I am better as a technical analyst and chartist than I am at gathering lengthy details. What I will do though in being due diligent is that I will refer to some of Seeking Alpha's better authors on CIGX as I go forward:
"Nuke John" wrote a great article a week or so ago on May 16th titled "Top 10 reasons Star Scientific is headed higher" He takes the time to go into the many reasons (mini stories) as to why CIGX should move higher.
He also authored another article entitled "Star Scientific may be one up on Wall Street" where the details of the benefits of Anatabloc are discussed.
I also couldn't leave out Dr. John Faessel's Instablog post from Monday May 14th entitled: Report From The Harvard Club Meeting Re CIGX - Snowballing Progress which I found very exciting for future progress on the Pharma front for CIGX as well as for potential M&A action too.
Of the many reasons investors could get excited for CIGX, I like to seize on the few that I think matter most:
1. The litigation/mediation on CIGX's curing process for Tobacco that is far better than existing methods when you factor in the cancer causing agents that are left OUT in CIGX's process. There has been a court ordered mediation between CIGX and Reynolds tobacco (this summer) that some have said could result in royalties "in the Billions".
To give creedence to the "In the Billions" potential of possible mediation/licensing outcomes I refer to the interview of Patrick Cox by the Life Sciences Report today May 31st where he states:
"About six months ago Star got word from the U.S. Patent Office that its prior claim to the method of tobacco curing that reduces tobacco-specific nitrosamine carcinogens by about 80% belongs to Star. Just recently, the judge ordered R. J. Reynolds to begin settlement discussions with Star. That is potentially a multibillion-dollar award."
For a company with a market cap (at today's close of $3.88) of $565 Million, a settlement of say $1.5 Billion is almost 3x the current value of CIGX. So if there is that type of scenario to play out, wouldn't it be better to buy the company in its entirety than pay the billions and receive to further value? I think so.
2. The big buzz now and in all the recent articles you read on CIGX has to do with their Nutraceutical product called Anatabloc that has been developed that supposedly neutralizes inflammation in the body. Many major diseases/maladies that people experience are a byproduct of inflammatory problems. With so many diseases/maladies that this "supposedly" affects in a positive way, seems destined for a large percent of the population to try this product and if it does work well could generate serious sales, word of mouth and eventually; Profits.
Studies at the Roskamp Institute showed that anatabine / (RCP-006) / now marketed by Star as Anatabloc™ is more than four (4) times more effective than either Celebrex or Voltarol in reducing inflammation and was shown to be more than three (3) times more effective than Lipitor in reducing inflammation in whole human blood. These are drugs that require prescriptions from a physician and their sales in the mega billions. Lipitor sales in 2010 alone were $10.7 billion. Let's note that the Roskamp Institute is funded by the National Institutes of Health and private donations.
From Dr. Faessel's report at the Harvard club, Dr. Wilson mentioned that conditions that raise CRP such as coronary artery disease, cancers, autoimmune diseases allergies, thyroiditis, arthritis, asthma, macular degeneration, Crones, ulcerative disease of the bowel, fibromyalgia, lupus, ulcers, neurodegenerative disease such as Alzheimer's disease, multiple sclerosis and Parkinson's disease, and many other medical conditions are candidates for treatment with anatabine.
Dale A. Wilson MD practices obstetrics & gynecology in Flint, Michigan and is one of the principal investigators in the clinical trials being conducted in the Flint area
As of May 31st, I am updating this article with the new interview of Patrick Cox by the magazine; The Life Sciences Report in their article entitled: Biotech Ideas That Will Change The World
I was transfixed as I read the final part of this article where 6 companies were highlighted/discussed with Star Scientific (CIGX) being the final and perhaps the "best for last".
Here is where Mr Cox not only admits to using the Anatabloc product, he even states that "I have nightmares where the FDA has banned it, and I've run out. It has changed my life". He further, in context that I could readily understand but ashamedly can't reproduce for you here as to how Anatabloc works, why it works and that, he quotes "this is a world-changing technology".
Here are a few other facts/superlatives he mentions: "Johns Hopkins is doing thyroid studies. Somebody will take on studies on multiple sclerosis. The product is already widely used by tens of thousands of people. It has been one of the bestsellers on the GNC website for some time now because word is getting out. Patients with irritable bowel syndrome are reporting complete recovery."
This is major news, this is having a major impact in peoples lives and as Mr. Cox states; "word is just getting out."
3. A major push by General Nutrition Corp known as GNC to sell this product at all of their stores (over 7,000) and was recently the #4 item (out of four) that they pushed on their main website banner. With Fred Couples, the famous golfer as one of their spokespersons as well as many Doctors starting to see the results in their patients and starting to do studies of their own, this is just starting to get a serious buzz in both the wellness community AND the financial community.
In fact over 71 reviews by customers of Anatabloc (see link above) were overwhelmingly positive in their praise for this product.
I could go on and on with so many other stories all related to the benefits of Anatabloc or even their smoking cessation product called CigRX or the products they are researching from Tobacco that has the Roskamp Institute so interested that they took a nice stake in CIGX and are partnering in multiple studies for various special diseases where the monetary payback could be wildly profitable "If and When" it becomes apparent that these products and future ones are safe and effective.
From the Seeking Alpha article last July by The Street Sweeper; Star Scientific: Blowing Smoke While Investors Choke? I took these few sentences to show you some of the superlatives being thrown around:
"From there I talked to a friend who manages money who gave it to his biz partners mom who was suffering from a fatal form of arthritis and guess what? She is basically cured. The results were amazing. On top of this J. Williams thinks that Cigrx cured his wife of thyroid disease. Roskamp purchased the stock because of rcp-006's ability to regulate inflammation - not just for the treatment of alzheimers. RCP-006 could be bigger than Celebrex"
Bigger than Celebrex? Hello, Cha-ching!
Here are a few charts (ahh, here is where I shine) that also show why the long term picture could be rosy:
(click to enlarge)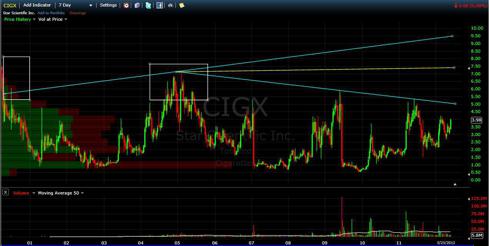 Click to enlarge
You will notice the 1st "box" that I drew on the extreme left of the chart. This is showing that there are hardly and bars with "length" to them showing "volume at price". VAP is an analysis tool to show volume from the side of a chart that was traded at various prices over time. For example you will see a very large green/red bar near the bottom of the chart on the left that shows that a lot of volume was traded between $.75 and $1.20 over time.
I point out that 1st box as it relates to the 2nd box that highlights a lot of the trading action that took place between the 1st quarter of 2004 to the 3rd quarter of 2005. Almost all of the action was over $5.50 to $7 but in later years hardly ever ventured there again.
When stocks go to new highs or near them, often those that had bought "high" in the past may be sellers near that price as they can now get out even. But in the event that many years have gone by, most times those with a loss have already taken it and now, there may be no "supply" to sell the next time a stock approaches new highs again.
Look also to the above chart and you will see 2 trendlines in light blue otherwise called Cyan. The bottom trendline is connecting 3 highs from the past 7 years. Notice how they line up and how the angle of the lines relates to the yellow trendline which is a horizontal representation of the highs of $7.10 from the 2004-2005 timeframe.
The other Cyan trendline seems to make the same angle above the yellow trendline as the previous trendline did below it. This is where I think CIGX will go over the next 6 months; To break out above the 1st Cyan trendline around $5 and run to the yellow trendline around $7-7.25. From there I believe it breaks to all time highs and runs to about $9.50 to $10 as Short covering starts taking place along the way and as analysts and prognosticators start throwing around the huge potential revenues that Anatabloc and CigRx will have across the world and the court case potential settlement/licensing numbers which I have heard run anywhere from $5 a share in cash to as much as $15 a share, in CASH, to CIGX...
When the story starts to get multiple "legs" and the reality from the stories starts hitting the news where not only the Hedge Fund honchos and their minions get in and then the Doctors and their friends get in and start buying; the general public gets wind of this that the frenzy really gets going... I have seen this before my friends. the willingness to get in at any price, especially as it crosses $5 and under $10 "it is still cheap" is what they will be saying...
It generates excitement, a shortage of shares and the willingness for others to pay more to "get in the game" fuels the short covering and who knows how high this could run?
Here is a shorter term picture using an RSI 2 as one of my TA tools:
(click to enlarge)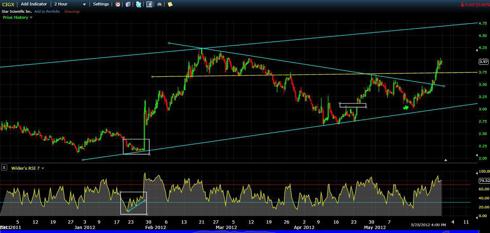 Click to enlarge
What I want you to pay attention to is very important and can be useful to you for ANY stock in the future. It is called a "Divergence". There are positive divergences and negative ones. Each can be used to profit in trading if you know which direction to trade in. Here is the example on this chart.
See where the 2 boxes are on the left of the chart? one is over the prices from late Jan 2012 when CIGX was trading around $2.25 per share. Notice the stock went sideways to down over that time period, BUT, the box underneath, showing Relative Strength (over a 7 period timeframe) showed a distinct upward bias. See it? I drew a Cyan colored line to show it. That is a positive divergence of Relative strength over price. I happen to use this a lot in my trading.
It doesn't always give you the exact day or time to buy (or sell if it is a negative divergence) but it does start to indicate you should be on one side of the market or the other pretty soon.
In that example there was a $2 rise in CIGX within a 3 week period which is a very nice percentage run of 88%
Moving to the right of the chart where most of the recent action has been, you will see that there was a nice little gap up Tuesday the 24th of April from $3.02 to $3.18 which wasn't "filled" til just recently at the end of the day Tuesday the 15th and you will notice quite a strong reading on the RSI 7 that lets me know that there was a strong bottom there and the subsequent rally went right through 2 trendlines and is in Bull run mode in my opinion.
In summation (Jeez I could go on and on about CIGX) I expect some sort of shallow pullback/profit taking along the way here and there but from what I am seeing PR wise with their Anatabloc product, the impending mediation/settlement & eventual licensing of their Tobacco curing process and a whole new set of CIGX "believers" coming to the party, especially from the Hedge Fund side, I see nothing but blue "Cyan" skies ahead as this "Story" unfolds into one with many happy endings and investors (as well as clients of the product too) riding into the sunset with their gains... Again, like any potential great story, there are always possibilities of bumps in the road like potential delays in the settlement process on the tobacco lawsuits, and the short sellers that have their point of view that Anatabloc isn't a drug and that if it IS so effective maybe it should be regulated, things like that.
But to me, with my many years of experience and seeing companies like this rise from the ashes and finally make it big AND make a difference in the health & well being of people, well, that's the kind of story I want to hear and be part of.
Disclosure: I am long CIGX.
Additional disclosure: I am long a small (23 lot) option position on CIGX as well