by The Little Deal Clincher on February 24, 2014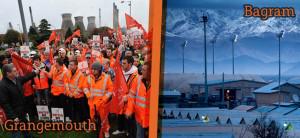 2014 following on from 2013 has the continuing debate on Scottish independence and with the referendum this September. However, the industrial action at the Grangemouth refinery near Falkirk, Scotland last autumn an issue came to mind involving the global view of possible US security and economic interests with friends and allies.
Scotland as part of the UK is or used to be considered a reliable military ally of some years standing. The Royal Navy's Vanguard class Trident armed nuclear submarines are based at Faslane/Coulport, Clyde, Scotland (RN, 2014). Recently former US defence Secretary Robert Gates has published his memoirs were he questions (Gates, 2014), arguably due to the defence spending cuts, that UK isn't a reliable global defence partner due to the gaps in its capabilities. At first analysis seemingly a rather harsh comment considering recent long term deployments in Afghanistan and Iraq of UK forces in US lead operations.
The UK is also building 2 new Queen Elizabeth class 65,000 tonnes aircraft carriers at £6 billion and counting to be equipped starting with a £1 billion order recently placed by the MOD for the first batch of JSF F-35 fighters. The 6 no. type 45 destroyers are now in service with anti-air destroyer capabilities. BAe and QinetiQ continue their defence research along with Rolls Royce and new UAV technologies are increasingly being developed so there's still plenty depth in UK defences.
The US has also been improving its diplomatic relations with France with a visit to the White House recently for François Holland, the French President. With Scotland perhaps splitting from the UK could that force the UK remainder to lose its permanent seat on the UN Security Council- would that explain the US cold shoulder and bonhomie with the French?
As a declining power is it taste of things to come or a bit rash as the French are hardly in a better position? It's worth noting the US and UK intelligence, GCHQ and NSA work closely, as recent spying scandals attest, and the UK is one of the 5 eyes. Therefore, any change to the UK's format and sovereignty will be surely be scrutinised in depth by close allies in various government departments and agencies.
My thoughts are the US is just hedging its bets with reliable or malleable long term allies such as France and the UK. However, what to do about an independent Scotland? Will it be reliable for US interests too?
So back to Grangemouth and Ineos, the plant's owner who briefly ordered the closure of the plant to the horror of the Scottish (and UK, maybe) government and shock to the workforce and Unite, the trade union, representing the workforce in negotiations over pay and pensions. Unite also became embroiled with the local Labour party constituency candidate selection argument/debacle. Where a Grangemouth employee and Unite shop steward was chairman of the local committee to which Ineos took a dim view of proceedings. To surmise the plant was re-opened with a last-minute deal with the workforce and commitment by Ineos to invest £300 million over 3 years (FT, 2013) in the plant to build a terminal to refine US shale oil for the Scottish and northern UK market.
Its temporary closure certainly scarred the workers and weakened the union's resolve. The sheer scale and importance of Grangemouth to the Scottish economy (Morris, BBC News, 2013) and northern UK fuel supplies (some 70% of Scottish fuel) evoked a massive and immediate high level UK wide political response. The outcome secures investment and employment and in the future helps keep Scotland reliant on US shale oil supplies (interesting to see the longevity of the supply contracts). So regardless if the 307 year Act of Union ends the US will have leverage over an independent Scotland to continue to be a reliable ally in its geo-political interests. Diplomatic and business interests will remain through all the usual channels to ensure no radical policies prevail and not to get overly friendly with Russians or other oil and gas producers.
Finally, the US has openly said it prefers a united Great Britain and for it to remain in the EU membership.
Intriguingly, The UK Defence ministry decided to keep ship building at BAe in Govan, Glasgow with future naval orders while reducing future orders for the Portsmouth ship-building facilities due to austerity measures and defence cuts. It's often been stated that an England without the Labour block of MPs from Scotland would allow the Conservatives to remain in power for much longer periods. Thus, is it cynical to judge not just the US are hedging their bets on the outcome. The English are too by statements and actions to support union like more naval orders for Scots' yards then refusing to support currency union which will drive undecided voters to vote yes?
So then Big Alec and his ministers need to be worldly wise what they sign Scotland up to if they win the referendum - conspiracy or what?
LDC
References and further reading
BBC News, website accessed 16th Feb. 2014 - www.bbc.co.uk/news/uk-scotland-23265886
Dickie, M (Oct. 2013) Financial Times Publications Ltd, London, UK. Website accessed 16th Feb. 2014 -www.ft.com/cms/s/0/ee3646be-3688-11e3-aaf1-00144feab7de.html#axzz2tWrJKy9Q
Gates, R. (2014) Duty, W.H Allen Publications, 2014.
Herald Scotland, Herald & Times Group, 2014. Website accessed 16th Feb. 2014 -www.heraldscotland.com/news/home-news/unite-seeking-unfair-dismissal-over-sacking-of-convenor-at-grangemouth-refinery.1392225486
Morris,B. (2013) BBC News and Business, website accessed 16th Feb. - www.bbc.co.uk/news/business-24624934
Royal Navy, MOD, 2014. Website accessed 16th Feb. 2014 - www.royalnavy.mod.uk/The-Fleet/Naval-Bases/Clyde