A crisis in the Crimea and growing volatility in the world's markets - it's been quite a 1st quarter for 2014.

by The Little Deal Clincher on March 31, 2014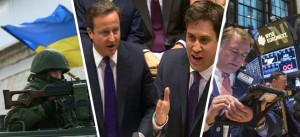 Back in January it was hoped that global equities may repeat some of 2013 rally. However, the US Federal Reserve increasing tendency to taper remains firmly part of the US financial agenda. China property bubbles and debt defaults have started to concern investors. Yet so far the Chinese authorities have bailed out government entities and kept a lid on a more general panic in view of the vast quantities of property related-debt. Vladimir Putin put on a good show with the Sochi Winter Olympics, where some of his now sanctioned oligarchs made a few (billion) now devalued roubles, while plotting and executing a, relatively harmless welcomed by many, annexation of the Crimean Peninsula.
The Western response, according to Malcolm Rifkin a former UK Foreign Secretary was "feeble", and although alarmed and displeased with Russian aggression. The IMF is only now organising financial aid of proportionate size to the Ukraine of about $15 billion (FT, March 26th).
From an investors' point of view these events have rather dampened the mood. Combined with tapering talk are interest rate cycles, with high debt levels remaining in developed economies, and lower than expected corporate earnings against long term high corporate margins, all providing a worrisome backdrop for equities to trade upwards. Should private investors climb the wall of worry or take some profits or even run for the hills?
All depends on individual investors' appetite to risk, asset allocation and alternatives. Personally, I received my cash and Verizon shares from the Vodafone demerger from its 45% Verizon Wireless stake of some $130 billion. I did consider selling especially in light of the threat to its business model from applications like WhatsApp for its text and next mobile call revenues. However, even smart applications need to use a mobile network too when not connected to a wi-fi. Vodafone is also building its interests in European cable companies like Kabel Deutschland and Ono in Spain. This does, however, make Vodafone less attractive to a bid from US telecoms giant AT&T. I've decided to hold them both.
I am becoming more concerned with UK energy suppliers continued use as political targets from opposing labour and conservative politicians over their prices and tariffs. Labour's Ed Miliband has threatened a 20 month price freeze from 2015 if labour wins the next election. UK supplier, SSE has pre-empted this political manoeuvre by announcing this week a price freeze until January 2016 knocking a £100 million of profits. It's also planning to shed 500 jobs and cut investment in off-shore wind farms (Chazan et al, 2014). This adds to concerns about brown-outs later this decade with lack of investment in UK infrastructure. I like the dividend SSE pays but with the dividend cover falling and political risks ascendant it's getting harder to hold.
The FTSE100 and S&P 500, currently at 6594 and 1849, still remain at the top end of a long rally with the Nikkei 225 index of its highs from last year only the Shanghai SE Composite index looks at multi-year lows. China, in my view as part of a long term regional growth story, seems "in interesting times" as the old Chinese proverb goes. I've bought a small consumer products manufacturer on London's Aim to see if I'm any good at timing. The Chinese economy needs to continue to steer away from investment led activities and promote growth in the consumer sector. Here's hoping my sports shoe company can fulfil its promise.
There is, of course, Russian opportunities after the recent war-footing sell off over the Ukraine and Crimea. But Russia really is for the brave and the bold - get it right and good returns are there but who knows how the Oligarchs and indeed the world markets will react to a raft of wide ranging influences and the sound of yet more gunfire.
Now, how do you spell Gazprom- "z" or an "s"……..just looking…?
LDC
Reference:
Spiegel, P and Buckley, N. (2014), "IMF rushes through $15bn Ukraine bailout," FT.com March 26, 2014 4:50 pm, Financial Times Publications Ltd, London.
Website accessed 28/3/2014: www.ft.com/cms/s/0/b4f80902-b502-11e3-91...
Chazan, G and Pickard,J. (2014), "Politicians clash as SSE freezes UK domestic energy prices", FT.com March 26, 2014 1:11 pm, Financial Times Publications Ltd, London.
Website accessed: www.ft.com/cms/s/0/82fe45ae-b4b9-11e3-91...
Disclosure: I am long VOD, SSEZF, VZ.