Scottish Independence Referendum 2014: Do You Want To Be a Foreigner in Berwick, Leeds or London?by LDC on August 31, 2014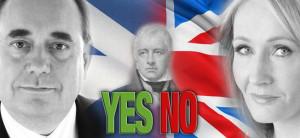 According to Albert Einstein "Nationalism is an infantile disease; it's the measles of mankind." I couldn't agree more.
The Scottish independence referendum 2014 has entered its final phase of campaigning with polling day on September 18th fast approaching.
The polls show the Better Together "No" campaign retaining their long held lead over the SNP led "Yes" campaign, yet the outcome remains far from certain as First Minister Alec Salmond is a strong finisher. The Second televised debate between him and Alastair Darling, former Labour Chancellor, and Better Together Campaign Leader was judged in the First Minister's favour this time round.
The quote above highlights my general aversion towards nationalistic politics. Nationalism can be defined as an extreme form of patriotism marked by a feeling of superiority over other countries or advocacy of political independence for a particular country to what extent in Scotland case does the former definition preside over the latter to those of a nationalist ideology? For me, patriotism can easily be manipulated towards intolerance even xenophobic behaviour.
Patriotism when supporting your football or rugby team is one expression of national loyalty. Yet rekindling a campaign to end the world's oldest political union using a Corries song, a rugby 6-nations Grand Slam in 1990, ironically captained by a "no" supporter, and a historically inaccurate Hollywood film about William Wallace is emotionally opportunistic and egotistic, in my opinion. It's also clever political manoeuvring by pro-independence supporters from the1990's.
As the referendum debate has intensified identity, our sense of self and history have become as important as our economic prospects within or without the Union, facts that Better Together has been slow to recognise.
Nationalism as a political concept has long historical roots where national self-determination allowed parliamentarians to release the grip of absolute monarchy. The English Glorious Revolution in 1688 was a potent exercise of government increasingly by the people. Less can be admired about Scots aristocratic-backed Jacobite rebellions of the Stuart dynasty which would have revived feudalism without any Union. Simon Schama's History of Britain series outlined that Scots in 1707 were offered a cash inducement to recoup losses from the Darrien disaster in 1698-1700 and access to the English and expanding colonial markets (BBC, 2000).
C.18-19th industrialisation gave to the rise Labour movement, with its international vision, eventually leading to the vote for all by 1918. In the C.20th extreme nationalism produced fascism and communism with its horrific consequences. Has that demon been exercised from modern national parties? The recent rise of Golden Dawn in Greece and a revived Marine Le Pen led Front National in France doesn't bode well. Scottish Nationalists with their socialist pedigree wouldn't, couldn't be considered in the same light. Scots are famed for their friendliness and tolerance. Since EU enlargement from 2004 immigration is an increasing potent politically issue. Shall Scots remain as tolerant as the years pass and numbers increase and how many think Scotland's already full?
Bearing in mind the English Defence League and the British National Party, although right-wing in their tendencies, attract mostly disaffected white working-class people as voters, a development UKIP is experiencing as it matures as a political party. This again is side of Nationalism that SNP supporters would vehemently deny any political connection or shared values.
The national press had on Thursday 28th July the story of Gordon Brown, former Labour Prime Minister, at an invite only Better Together meeting in Dundee being heckled by a badge wearing "Yes" voting Labour Party member shouting "absolute rubbish" and being removed from the room (Dundee Courier & Daily Mail, 2014). Both sides of the debate have had their share of internet trolls attacking views they dislike. However, the "Nasty Nats," as the pro-union press dubbed them, certainly gave author J.K Rowling bitter criticism for her support for Better Together along with Business woman Michelle Mone. Tolerance is a virtue that requires constant attention and diversity of opinion. I question the depth of tolerance to others and to different opinion from behind the front ranks of the nationalist movement.
The SNP claims, it's is more socially democratic, progressive and redistributive to provide a more equal society thus all persuasive for those of a socialist orientation with Liberals and left-of-centre capitalists swayed too. A recent letter of support from "Yes" voting business leaders, such as Jim McColl, this month suggests a degree of business enthusiasm exists. This was in reply to "No" voting businessmen, like Engineer's Weir Group's Keith Cochrane, who argue the case isn't proved and "uncertainty surrounds a number of vital issues" (Guardian, 2014).
Our largest trading partners the EU and the US indicated their preference for an intact United Kingdom. Access to regulated open markets remains as attractive today as they did in 1707. The EU and the Pope have also added their opinion.
In an ever interdependent world tolerance and cosmopolitism should be the political creed of a diverse world, through membership of the UN, the EU, the WTO and the UK. Can the SNP offer membership of any of these organisations once out of the UK?
EU membership negotiations will take years to complete, the UN and WTO will take time too and let's not underestimate the scale and ramifications from negotiating a "divorce" from the rest of the UK, the SNP proposed currency union being an example another is Scotland's share of national debt?
The world's oldest Union may well be lopsided, C.18th-19th writer and unionist Sir Walter Scott would be perturbed at this development. However, many modern writers and pundits already argue with a "No" vote the lasting legacy of the referendum should be a change to the Union's structure and a move towards devo-max for Scotland and a more federal set-up of government for all parts of the UK.
Like the outcome of a "Yes" vote details only to be fully discussed after the result. For me no answers gets a "No" vote.
LDC
PS: If you've already decided, then do what you must. For me being a UK citizen is being part of something bigger with a broad appeal. In short everything the EU wishes it could be.
References, quotes and further reading or viewing:
Andrews, K, (2014), "VIDEO: Gordon Brown heckled during Dundee speech with Alistair Darling," The Courier, D.C. Thomson Ltd 2014, Dundee. Website accessed 29th August 2014: http://www.thecourier.co.uk/news/local/dundee/video-gordon-brown-heckled-during-dundee-speech-with-alistair-darling-1.544899
BBC (2000), "A History of Britain of Britain by Simon Schama", BBC 2014 website accessed: 30th August 2014: http://www.bbc.co.uk/programmes/b008qpzn
McTague, T, (2014), (Dep. Political Ed) "Gordon Brown heckled by angry Scottish nationalist after riding to Alistair Darling's rescue following Monday's debate mauling," Mial Online, Associated Newspapers Ltd 2014. Website accessed 29th August 2014: http://www.dailymail.co.uk/news/article-2735769/Gordon-Brown-heckled-angry-Scottish-nationalist-riding-Alistair-Darling-s-rescue-following-Monday-s-debate-mauling.html
Williams, M, (2014), "Business leaders tell Scots to vote no in independence referendum," Guardian News and Media Limited. Website accessed 29th August 2014:http://www.theguardian.com/politics/2014/aug/27/business-leaders-scottish-independence-referendum