previous model indication
:
* cautiously
bullish
on the S&P 500 since 2009-08-21
current model indication
:
* the S&P 500 is
overbought
since 2009-09-09
(click
here
for my introduction to
basic geodesic concepts
)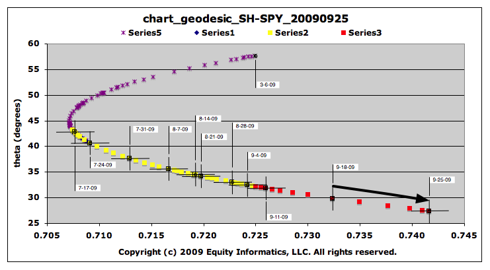 Click to enlarge
what a difference a week has made.  the coordinates of the model parameters have begun to show evidence the advance in the S&P 500 is slowing down, again.  looks as though on 9-18-09 the motion in the S&P peaked in momentum and has been slowing down almost in mirror fashion of the previous weeks acceleration.
the big arrow shows direction of motion of neutral weighted pairs of SH & SPY.  though the geodesic is a 2-D curved line, motion pointed in this direction along the curve always indicates the index is advancing upward.  the path resembles the trajectory of a comet in collision with the gravitational field of a planet.  the departure of my model from that analogy is the cycle is actually harmonic like the motion of a pendulum.  i've used red points to denote when the index vector-c surpassed it's magnitude at the bottom in early march.  so the indication on the status of the index is read to be overbought, moving slightly in the upward direction with decreasing momentum.
now, for an index that went from roughly neutral in mid-july to red-hot in roughly 1/2 the time it too to get from the bottom back to neutral is astounding.   the index has been extremely overbought for the last +2 weeks and the momentum upward is slowing, quickly.  this would definitely raise some eyebrows as to how much longer the index will keep going up.  these stages of small pullbacks in the index since the bottom in march have proven to be buy signals in equities.  will the same thing happen this week?  it's certainly possible.
from a technical perspective, there's not really much else i can say as to what might happen next.  prudence would certainly say prepare more for the downside and let the upside take care of itself whether the index continues to advance from here or not.  like a sea-saw out of balance because the fulcrum moved closer to one end, more weight biased to SH is needed to rebalance the sea-saw level.  by how much?  my model says 66% of SH to 34% SPY as of EOD 9-25-09.
dislosures:
  in my SH-SPY pairs trade, i am 66% SH & 34% SPY.  the pairs trade is counter-weighted by bond ETFs listed in my tags. still operating with 20% cash.  use of the information contained in my blog is at your own risk.  the data if for personal information purposes only and is not to be considered as financial advice.