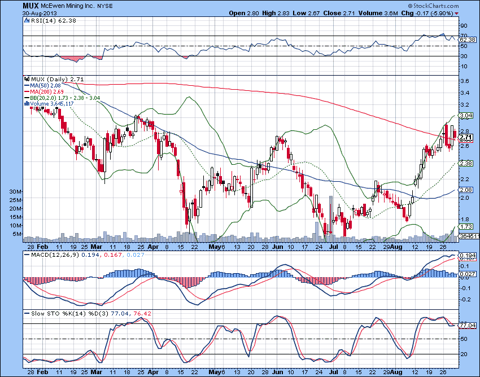 McEwen Mining has retested the MA200 after breakout and closed right above it on Friday. This week action will be very interesting.
We do not believe that this news was the reason behind The Double Volume spike in McEwen Mining on Thursday. We will continue to monitor the situation on who and why was covering short position or maybe even taking the new long position in this company.
McEwen Mining Up 11.7% On 7 Mil Shares, Trading Above 200MA $MUX, $TNR.v

"McEwen Mining is strongly Up today - more than 11% on 7 mil shares. With Gold and Silver markets down after recent breakout we can anticipate some news from the company. Rob McEwen was taking about upcoming Los Azules Copper PEA in September and M&A ideas to combine with another Gold Mining company to reach his goal of being included in S&P 500.
"TNR Gold provides even more risky and leveraged special situation play and now depends on Rob McEwen's Midas Touch - company holds 1 million shares of McEwen Mining and have back-in right into the part of Los Azules project. Insiders are accumulating the company shares, holding the majority stake in the company and provided long term debt which has financed Shotgun Gold project 43-101 resource estimate in Alaska this year."
Rob McEwen Shares his Views on Market Conditions and Future of McEwen Gold Mining Projects in Mexico, Argentina and Nevada MUX, TNR.v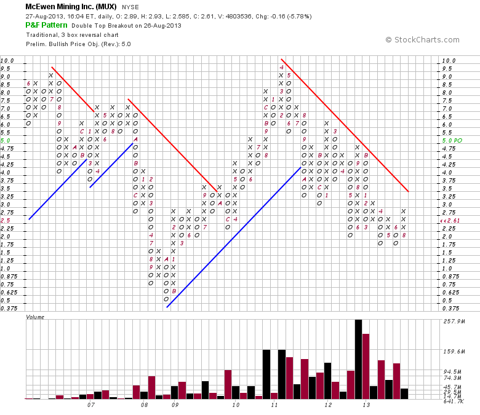 Update 27.08.2013 P&F McEwen Mining Chart has printed $5.00 target price after yesterday Double Top breakout.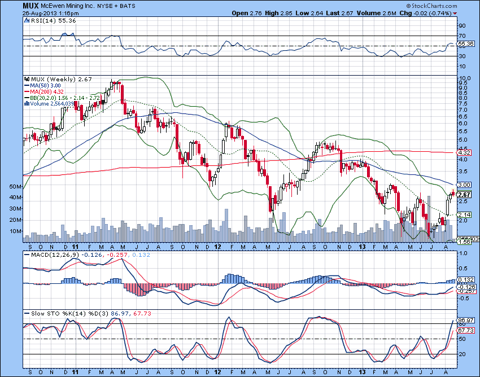 "The whole picture has been set up for the major move in Gold and Silver now. McEwen Mining will enjoy its high leverage to the Gold, Silver and Copper price. Rob McEwen is on the road telling his story and delivering results.
Shorts are busy now covering their 27 million shares Short Position in McEwen Mining as of August 15th, 2013 and it will provide the fuel for the upside breakout."
McEwen Mining Inc.: El Gallo Regional Exploration; Twin Domes Drilling Intersects Significant Near Surface Gold Mineralization MUX, TNR.v
McEwen Mining Q2 Operational Results, Record
Production at Lower Costs MUX, TNR.v
Don Coxe: "The Trend Has Shifted" For Commodities GDX, GDXJ, MUX, TNR.v

"His observations about the changing trend in the commodities are extremely important - he is widely followed by the institutional investment community and they can start to reallocate their assets accordingly. The help to the commodities markets came from the places least expected: China reviving growth and Europe coming out of recession.
This move will be highly beneficial for our darlings: McEwen Mining and TNR Gold with world class Los Azules copper deposit unlocking its value."
Eric Sprott: Gold and Silver Stocks Are In The Bull Market Again GDX, GDXJ, MUX, TNR.v
"Eric Sprott has spell it out for the rest of us: Gold and Silver Stocks Are In The Bull Market Again and Gold to follow. Eric Sprott calls this market situation as the most spectacular in his investment career. His Gold Bull margins calculations and projections for the share prices for Gold and Silver Stocks make our morning bright today."
Rick Rule On Gold & Resources: "The Stage Is Set For An Absolutely Dramatic Recovery" TNR.v, MUX
"To make this dramatic and pleasant for Survivors picture come true we need just one thing - Pros with the money coming into the market, without them it will always be only the wishful thinking. We can see them coming now."
McEwen Mining:
McEwen Mining Files NI 43-101 Technical Report on El Gallo Complex
08/30/2013
Download this Press Release (PDF 1.26 MB)
TORONTO, ONTARIO--(Marketwired - Aug. 30, 2013) - McEwen Mining Inc. (NYSE:MUX)(TSX:MUX) announces that the technical report titled "Resource Estimate for the El Gallo Complex, Sinaloa State, Mexico" dated June 30, 2013 has been filed under the company's profile on SEDAR (www.sedar.com) pursuant to the requirements of Canadian National Instrument 43-101 and is also available on the company's website - www.mcewenmining.com. The technical report, prepared byJohn Read, CPG, McEwen Mining's Senior Consultant, andLuke Willis, P.Geo, McEwen Mining's Director, Resource Modeling, includes the updated resource estimates previously announced by the company in a press release dated July 17, 2013 and August 7, 2013. Mr. Read and Mr. Willis are both Qualified Persons as defined in Canadian National Instrument 43-101 and have reviewed and approved the contents of this news release.
About McEwen Mining ( www.mcewenmining.com )
The goal of McEwen Mining is to qualify for inclusion in the S&P 500 by creating a high growth, profitable, gold producer focused in the Americas. McEwen Mining's principal assets consist of the San José mine in Santa Cruz, Argentina (49% interest); the El Gallo 1 mine and El Gallo 2 project in Sinaloa, Mexico; the Gold Bar project in Nevada, US; the Los Azules project in San Juan,Argentina and a large portfolio of exploration properties in Argentina, Mexico and Nevada.
McEwen Mining has 297,114,359 shares issued and outstanding at August 6, 2013.Rob McEwen, Chairman and Chief Owner, owns 25% of the shares of the Company.
CAUTION CONCERNING FORWARD-LOOKING STATEMENTS
This news release and documents referenced herein contain certain forward-looking statements and information, including "forward-looking statements" within the meaning of the Private Securities Litigation Reform Act of 1995. The forward-looking statements and information expressed, as at the date of this news release, McEwen Mining Inc.'s (the "Company") estimates, forecasts, projections, expectations or beliefs as to future events and results. Forward-looking statements and information are necessarily based upon a number of estimates and assumptions that, while considered reasonable by management, are inherently subject to significant business, economic and competitive uncertainties, risks and contingencies, and there can be no assurance that such statements and information will prove to be accurate. Therefore, actual results and future events could differ materially from those anticipated in such statements and information. Risks and uncertainties that could cause results or future events to differ materially from current expectations expressed or implied by the forward-looking statements and information include, but are not limited to, factors associated with fluctuations in the market price of precious metals, mining industry risks, political, economic, social and security risks associated with foreign operations, risks associated with the construction of mining operations and commencement of production and the projected costs thereof, risks related to litigation, the state of the capital markets, environmental risks and hazards, uncertainty as to accuracy of exploration results, calculation of mineral resources and reserves and other risks. Readers should not place undue reliance on forward-looking statements or information included herein, which speak only as of the date hereof. The Company undertakes no obligation to reissue or update forward-looking statements or information as a result of new information or events after the date hereof except as may be required by law. See McEwen Mining's Annual Report on Form 10-K for the fiscal year ended December 31, 2012 and other filings with the Securities and Exchange Commission, under the caption "Risk Factors", for additional information on risks, uncertainties and other factors relating to the forward-looking statements and information regarding the Company. All forward-looking statements and information made in this news release are qualified by this cautionary statement.
The NYSE and TSX have not reviewed and do not accept responsibility for the adequacy or accuracy of the contents of this news release, which has been prepared by management of McEwen Mining Inc.
Contact Information:
McEwen Mining Inc.Sheena ScotlandInvestor Relations
(647) 258-0395 ext 410 or Toll Free: (866) 441-0690
(647) 258-0408 (NYSEMKT:FAX)
McEwen Mining Inc.
Mailing Address
181 Bay Street Suite 4750
Toronto, ON M5J 2T3
PO box 792
info@mcewenmining.com
Facebook: facebook.com/mcewenrob
Twitter: twitter.com/mcewenmining"
Please Note our New Legal Disclaimer on the Blog, including, but Not limited to:
There are NO Qualified Persons among the authors of this blog as it is defined by NI 43-101, we were NOT able to verify and check any provided information in the articles, news releases or on the links embedded on this blog; you must NOT rely in any sense on any of this information in order to make any resource or value calculation, or attribute any particular value or Price Target to any discussed securities.
We Do Not own any content in the third parties' articles, news releases, videos or on the links embedded on this blog; any opinions - including, but not limited to the resource estimations, valuations, target prices and particular recommendations on any securities expressed there - are subject to the disclosure provided by those third parties and are NOT verified, approved or endorsed by the authors of this blog in any way.
Please, do not forget, that we own stocks we are writing about and have position in these companies. We are not providing any investment advice on this blog and there is no solicitation to buy or sell any particular company.