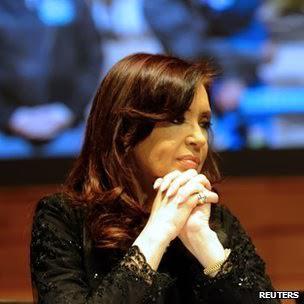 In these particular Investment Plays we are substituting geological risk with geopolitical. It is our Tenke 2.0 with Lukas Lundin all over again. Now the "Chief Owner" is Mr Gold Corp - Rob McEwen with his stake of 25% in McEwen Mining. At stake is Los Azules Copper project with its almost 20 B lb of Copper safely kept under the ground in the great country of Argentina.
Lumina Copper with its Taca Taca deposit in Argentina is in a break out mode with closing above CAD6.29 today and indicates that proud Argentines deserve a better economical life as well and we can witness return of very pragmatical political approach to the mining very soon now. Lets dig out what these Elections are actually all about.
Copper M&A: Minmetals To Bid For Glencore Xstrata's Las Bambas Copper Project Valued At About $5 billion LCC.v, MUX, TNR.v
(click to enlarge)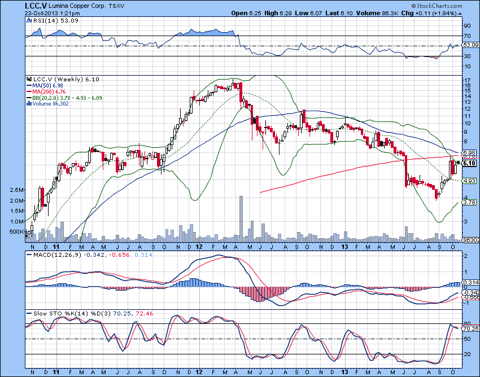 Click to enlarge
We have another confirmation in the report from Bloomberg on ongoing bidding and valuations of Las Bambas copper project in Peru. All this information must be confirmed by the official companies' releases, but we can get the big picture already. China is implementing its long term state level plan to secure strategic resources and diversify from US Dollar denominated assets.
Lumina Copper is trading above CAD6.00 again and the company talks about 9 companies visited the property during the DD stage. Company has risen from August low more than 60% on prospect of the potential sale this year to the Copper producer, according to the company presentation.
Investors of Lumina Copper, McEwen Mining and TNR Gold are watching closely the midterm elections due this weekend in Argentina. There is a hope that recent improved valuation of Lumina Copper is signalling the return of more pragmatic approach to the mining sector in Argentina.
(click to enlarge)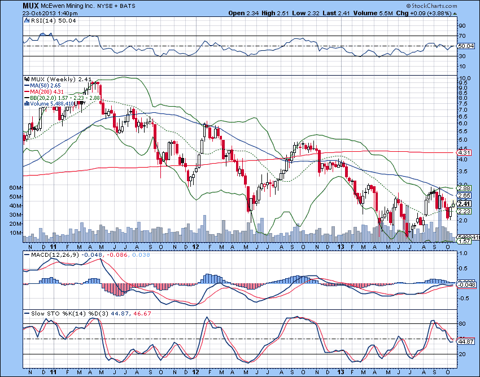 Click to enlarge
Mining And Argentina: 'Queen Cristina' facing the end of her reign LCC.v, MUX, TNR.v, ILC.v, RM.v

"Lumina Copper looks much more optimistic these days. Argentina was the place to go for mining 5 short years ago and the last two years it was crashed into the ground with the mining stocks operating there. Now we see a glimpse of hope and few deals are showing that the better future is to come for the proud people and the great country.
Companies to watch: McEwen Mining, TNR Gold, Lumina Copper, International Lithium, Rodinia Lithium."
TNR Gold says updated McEwen PEA on Los Azules shows enhanced economics TNR.v, MUX
(click to enlarge)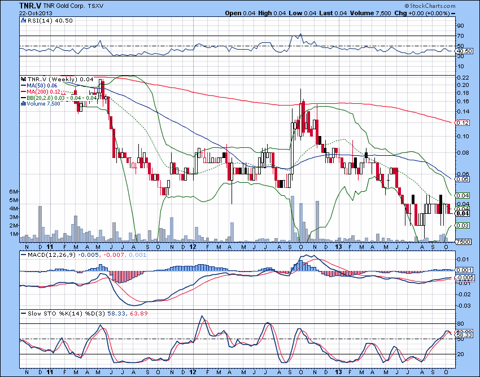 Click to enlarge
McEwen Mining & TNR Gold: Chinese giants poised to go head to head in battle for $5.9bn Las Bambas mine MUX, TNR.v
"We have more news coming out of London on the Las Bambas copper mine bidding war. More reports are coming out now with the positive outlook for copper as well, but the most important in any market is the money talk and now the real money has been put on the table. Only one buyer will be successful in this bidding war and it will bring industry attention to Los Azules copper project with the valuation catalyst for McEwen Mining and TNR Gold. Lumina Copper recent advance with its Taca Taca copper project also located in Argentina is the very good sign of things to come here."
Los Azules Copper, McEwen Mining and TNR Gold: Lumina Copper Surged 63% From August Low MUX, TNR.v, LCC.v, GDX

"Lumina Copper has become one of our main success stories this summer which we have shared with our fellow travelers. As you know, we are not giving any investment advice here and our observations of the markets and trends will stay only observations until Mr Market will make up his mind. Please read our full legal disclaimer.
With Lumina Copper we have noticed the catalyst when Ross Beaty has increased his 22% in the company and bought 1 million worth of shares this summer. For us it is our "Dream Team" with Tenke Mining all over again: one of the best mining leaders at the helm with his personal wealth at stake, goods are there - safely in the ground - and the valuation is extremely distorted by the political risk perception.
The dive in commodity prices did not help the valuation in the first half of the year either. The fear of dramatic slowdown in China was hanging over the market. Then we have news start to flow from Clencore:"
McEwen Mining & TNR Gold: CIBC Reiterates "Outperform" Rating for Lumina Copper MUX, TNR.v, LCC.v
(click to enlarge)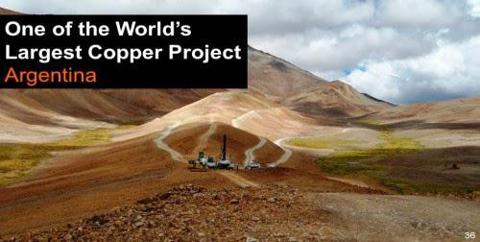 Click to enlarge
"Rob McEwen is taking Taca Taca Copper deposit as the proxy for valuation of Los Azules Copper deposit. After recently released by McEwen Mining updated PEA on Los Azules we found it interesting that CIBC has reaffirmed its stock rating for Lumina Copper with CAD15.00 target price. Lumina Copper is trading now at CAD5.00 and this target price will put the valuation of Taca Taca Copper deposit at $650 million. Now you can slice it and dice it with the Mr Market mood.
Any analyst valuation will be the the pie in the sky until Mr Market will confirm it, that is why for us is very important when Insiders are voting with their own money on the valuations. Ross Beaty bought 1 million worth of stock in Lumina Copper this summer.
We are expecting now that analysts will start to put valuations in their research notes on Los Azules Copper after the updated PEA."
(click to enlarge)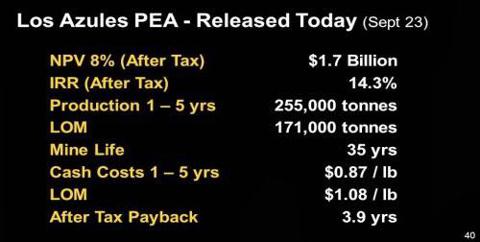 Click to enlarge
Rob McEwen - Argentina may lift mining currency restrictions MUX, TNR.v
(click to enlarge)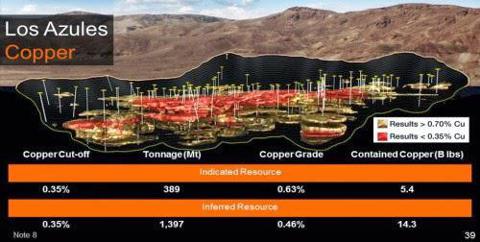 Click to enlarge
BBC:
Q&A: Argentina mid-term elections
Voters in Argentina go to the polls on 27 October in a key test for left-leaning President Cristina Fernandez de Kirchner.
These important mid-term elections will determine whether she will have the chance to run for re-election in two years' time.
The president herself is out of action during the campaign following emergency brain surgery earlier in October.
What is at stake?
The mid-term legislative elections are seen as the first step towards presidential polls in 2015. President Fernandez has never publicly confirmed she would like to seek a third term, though there have been public suggestions she might.
Currently, the constitution limits the number of consecutive presidential terms to two, and a two-thirds majority in both houses of parliament would be needed to amend it.
Should Ms Fernandez's Front for Victory (FPV) fare badly in the October polls, this may signal a coming end to more than a decade of Kirchner family rule in Argentina. Cristina Fernandez de Kirchner's late husband Nestor ran the country between 2003 and 2007, when he was succeeded as president by his wife. She was then elected for a second term in 2011.
What is the system?
Argentina's parliament, the National Congress, consists of two chambers: the Chamber of Deputies or lower house, and the Senate or upper house.
Members of the country's legislature are elected through proportional representation on party lists.
The October mid-term elections will choose 127 members of the 257-strong Chamber of Deputies and a third of the Senate's 72 members. Deputies will be elected for four years, and senators for six-year terms.
Argentines will be voting for lists selected in primaries held in August, where parties and alliances had to overcome a 1.5% threshold.
Voting is compulsory for Argentine citizens aged between 18 and 70. This is the first election where 16- and 17-year-olds can cast their votes, voluntarily.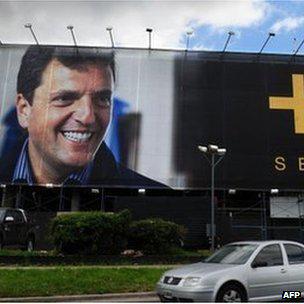 Opposition candidate Sergio Massa is widely expected to run for president in 2015
Who is running in the polls?
A large number of electoral alliances are fielding candidates. These alliances often include parties from diverse ends of the political spectrum, and their composition can vary from province to province.
The key race is expected in the country's largest electoral district, the province of Buenos Aires, which includes the Greater Buenos Aires metropolitan area of more than 10 million inhabitants. The province accounts for more than a third of the national electorate.
The frontrunner there is the Renewal Front, an alliance that includes the centre-right Republican Proposal (NYSE:PRO). Its list for the Chamber of Deputies is headed by the mayor of Tigre, Sergio Massa.
Mr Massa is a former ally of Nestor Kirchner, and served as the Cabinet of Ministers chief under President Fernandez in 2008-09. Mr Massa was elected mayor on the Kirchnerist Front for Victory ticket, but left the party in June 2013 to establish the Renewal Front. Mr Massa's alliance came first in the provincial primary held on 11 August.
Mr Massa is widely seen as a potential candidate for president in 2015.
Ms Fernandez's ruling Front for Victory is Mr Massa's main rival here. The FPV's list for Buenos Aires province is headed by Martin Insaurralde, mayor of Lomas de Zamora.
What's the impact of the president's health issues?
Ms Fernandez has been forced out of electioneering after undergoing surgery to remove a blood clot from her brain, believed to be a complication from a head injury she sustained in August.
Doctors released her from hospital on 13 October but ordered her to halt her congressional election campaign and rest for one month.
This was not her first health scare. In 2012, she had a thyroid gland removed after being misdiagnosed with cancer.
Sympathy for Ms Fernandez following her husband's death in 2010 is likely to have played a part in her re-election the following year. But recent opinion polls show that sympathy for the president's health is unlikely to affect her popularity ratings.
What else has affected the campaign?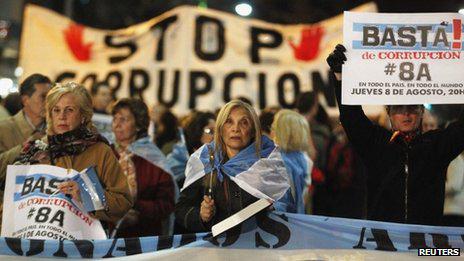 Argentina's government has faced protests over austerity measures and high inflation
The global economic downturn has taken a toll on Argentina's economy, and the government's austerity measures have done nothing to bolster its popularity.
The congressional election campaign is taking place against a background of foreign currency shortages, falling consumer and investor confidence and dissatisfaction with import restrictions, export duties and tight government controls on the economy.
Independent economists say inflation in Argentina is among the highest in the world at about 25%, which is more than double the official rate.
Who is likely to come out on top?
The August primaries indicated that Ms Fernandez may struggle to keep control of the National Congress, let alone build up a two-thirds majority.
Her Front for Victory won just 26% of the nationwide vote in the primaries, losing in the all-important Buenos Aires province to Mr Massa's list.
This level of performance is far below the 54% support that propelled Ms Fernandez into a second term in 2011. It may also not be enough for her to keep control of the country's legislature.
A recent poll shows Mr Massa's supporters leading over Martin Insaurralde's list, 40% to 33%, in Buenos Aires province.
But the ruling Front for Victory's chances are helped by the fact that most of the opposition's seats in parliament are up for renewal in the October elections.
Its own contested seats are also thought to be relatively safe. In the last election in 2009, the party managed to cling to them despite a sharp dip in the government's popularity over a rise in export duties on farming products."
Please Note our Legal Disclaimer on the Blog, including, but Not limited to:
There are NO Qualified Persons among the authors of this blog as it is defined by NI 43-101, we were NOT able to verify and check any provided information in the articles, news releases or on the links embedded on this blog; you must NOT rely in any sense on any of this information in order to make any resource or value calculation, or attribute any particular value or Price Target to any discussed securities.
We Do Not own any content in the third parties' articles, news releases, videos or on the links embedded on this blog; any opinions - including, but not limited to the resource estimations, valuations, target prices and particular recommendations on any securities expressed there - are subject to the disclosure provided by those third parties and are NOT verified, approved or endorsed by the authors of this blog in any way.
Please, do not forget, that we own stocks we are writing about and have position in these companies. We are not providing any investment advice on this blog and there is no solicitation to buy or sell any particular company.