Watch the video:
Ian Ball, President of McEwen Mining, Discusses The Company Q3 Results MUX, TNR.v, GDX
MUX Q3 Financials Discussion from McEwen Mining on Vimeo.
Brutal Past 24 Months For Precious Metals Investors, Nearing A Bottom - Rob McEwen MUX, TNR.v, GLD, GDX, SLV, CU
"Rob McEwen can not control Gold, Silver or Copper prices, but he can control the management of his company. McEwen Mining has delivered solid results in the very tough environment and shows very entrepreneurial approach to advance its business plan.
We would like to see the more aggressive approach in the promoting and marketing of Los Azules copper deposit in Argentina now. This is truly the world class asset, according to McEwen Mining and this project deserves the spotlights on the scene where Chinese companies are scooping all available resources now. After delivered PEA in September and recent elections in Argentina there is a window of opportunity to capitalise on the recovery - like Lumina Copper price action has demonstrated this year. Las Bambas copper project bidding war amongst Chinese conglomerates is just another reminder about the smart money actions in this market."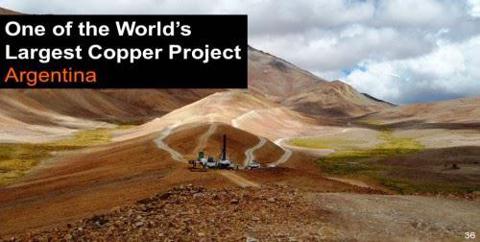 "Without the advance of Los Azules the dream about S&P 500 in 2015 will stay as a dream, but any development here will be the Catalyst for McEwen Mining and TNR Gold. McEwen Mining is very heavily shorted and it will provide the rocket fuel for the launch.
Among other positive developments we would like to mention ongoing exploration on a number of projects and combination of the McEwen Mining and Hochschild Mining properties around San Jose Mine in Argentina; received environmental permit for El Galo 2 in Mexico and 10 million in tax return from Mexico in addition to the reported cash position.
Very strict cost control in mining and production and, particularly, in the new projects development demonstrates the solid potential of Rob's team. Higher Gold and Silver prices will help to ignite this story again, but Los Azules development is potentially the most explosive value driver with the right amount of effort on its marketing now."
Rick Mills: Copper Catch Up MUX, TNR.v, LCC.v, CU, GDX
"Rick Mills has published a great article on Copper and its place in the development of human civilisation and the coming of the new transformation stage, when Global Urbanisation will have to deal with the finite supply of red metal."
Please Note our Legal Disclaimer on the Blog, including, but Not limited to:
There are NO Qualified Persons among the authors of this blog as it is defined by NI 43-101, we were NOT able to verify and check any provided information in the articles, news releases or on the links embedded on this blog; you must NOT rely in any sense on any of this information in order to make any resource or value calculation, or attribute any particular value or Price Target to any discussed securities.
We Do Not own any content in the third parties' articles, news releases, videos or on the links embedded on this blog; any opinions - including, but not limited to the resource estimations, valuations, target prices and particular recommendations on any securities expressed there - are subject to the disclosure provided by those third parties and are NOT verified, approved or endorsed by the authors of this blog in any way.
Please, do not forget, that we own stocks we are writing about and have position in these companies. We are not providing any investment advice on this blog and there is no solicitation to buy or sell any particular company.