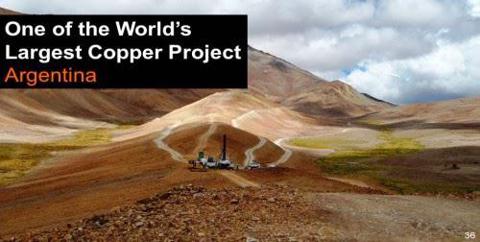 We have more positive news coming from Argentina. Business climate is changing to the more positive investment outlook after the recent elections in the country. It should be translated in higher valuations of Los Azules Copper project for McEwen Mining and TNR Gold now.
Rob McEwen's Presentation At Cowen & Company's Global Metals, Mining and Materials Conference MUX, TNR.v, GDX
Brutal Past 24 Months For Precious Metals Investors, Nearing A Bottom - Rob McEwen MUX, TNR.v, GLD, GDX, SLV, CU
"Rob McEwen can not control Gold, Silver or Copper prices, but he can control the management of his company. McEwen Mining has delivered solid results in the very tough environment and shows very entrepreneurial approach to advance its business plan.
We would like to see the more aggressive approach in the promoting and marketing of Los Azules copper deposit in Argentina now. This is truly the world class asset, according to McEwen Mining and this project deserves the spotlights on the scene where Chinese companies are scooping all available resources now. After delivered PEA in September and recent elections in Argentina there is a window of opportunity to capitalise on the recovery - like Lumina Copper price action has demonstrated this year. Las Bambas copper project bidding war amongst Chinese conglomerates is just another reminder about the smart money actions in this market.
Without the advance of Los Azules the dream about S&P 500 in 2015 will stay as a dream, but any development here will be the Catalyst for McEwen Mining and TNR Gold. McEwen Mining is very heavily shorted and it will provide the rocket fuel for the launch.
Among other positive developments we would like to mention ongoing exploration on a number of projects and combination of the McEwen Mining and Hochschild Mining properties around San Jose Mine in Argentina; received environmental permit for El Galo 2 in Mexico and 10 million in tax return from Mexico in addition to the reported cash position.
Very strict cost control in mining and production and, particularly, in the new projects development demonstrates the solid potential of Rob's team. Higher Gold and Silver prices will help to ignite this story again, but Los Azules development is potentially the most explosive value driver with the right amount of effort on its marketing now. Today's perception of country Risk can be the main valuation driver tomorrow."
'Argentina presents incredible long-term growth opportunities,' Fintech chief tells WSJ
TNR Gold: McEwen Mining Q3 2013 Results And Los Azules Copper Project 43-101 Report TNR.v, MUX, GDX

"McEwen Mining has published 43-101 report on Los Azules copper project in Argentina and now industry insiders will be busy crunching the numbers.
Copper M&A: Peru Officials Meeting Chinalco, Minmetals This Week on Las Bambas Bids MUX, TNR.v, LCC.v, CU, GDX
"With Chinese economy in the recovery mode quest by Chinese companies for the best mining assets is ongoing worldwide. Lumina Copper is getting some bids today again and Los Azules copper will be getting on the investors' radar screens with the changing political landscape in Argentina again."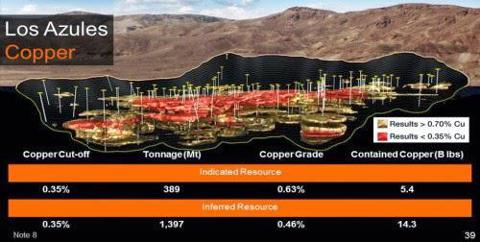 "Los Azules Copper Project, Argentina (100%)
In September, McEwen Mining announced an updated PEA for the Los Azules Copper project. The results from the PEA demonstrate that Los Azules has the potential to become one of the largest, lowest cost copper mines in the world. In addition, there remains excellent exploration potential to further expand the size of the existing mineral resource. Highlights from the PEA are shown below:
Pre-tax Net Present Value of $3.0 billion (8% discount rate) and an Internal Rate of Return of 17.7%.
Annual copper production during years 1-5 to average 258,000 tonnes (568 million lbs), which would have placed it in the top 3%1 of copper mines in the world during 2012. Life of mine annual copper production to average 171,000 tonnes (377 million lbs) over 35 years.
Indicated resource of 5.4 billion pounds of copper (grading 0.63% Cu) and 0.8 million ounces of gold (389 million tonnes with a cut-off grade of 0.35% Cu) and Inferred resource of 14.3 billion pounds of copper (grading 0.46%) and 2.6 million ounces of gold (1,397 million tonnes with a cut-off grade of 0.35% Cu).
Initial capital costs to construct the mine and process plant have been estimated at $3.9 billionwith a payback on a pre-tax basis has been estimated at 3.8 years at $3.00/lb copper and$1,300/oz gold.

1 Based on internal market data.
The PEA is preliminary in nature and includes inferred mineral resources that are considered too speculative geologically to have the economic considerations applied to them that would enable them to be categorized as mineral reserves, and there is no certainty that the PEA will be realized.
The PEA has been filed under the Company's profile on SEDAR (www.sedar.com) pursuant to the requirements of Canadian National Instrument 43-101 and is also available on the Company's website - www.mcewenmining.com."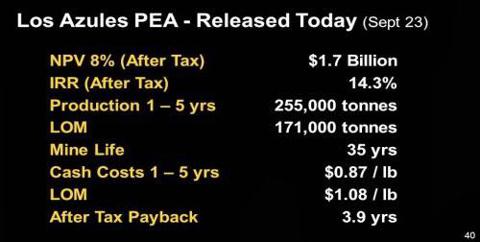 All slides are from McEwen Mining presentations.
Stockhouse:
Repsol (OTCQX:REPYY) shares soar on Argentina compensation news
MADRID, Spain _ Shares in Spanish oil company Repsol (OTO: REPYY, Stock Forum) are soaring following news it has struck a preliminary deal to receive compensation from Argentina for last year's expropriation of its YPF unit.
Repsol's shares rose by 4.2 per cent to 19.22 euros ($25.97) in early trading Tuesday in Madrid.
Repsol, YPF and Mexico's Pemex _ which holds a stake in Repsol _ said Monday they had agreed tentatively on a process for determining compensation. No further details were released.
Argentina expropriated Repsol's controlling 51-per cent stake in YPF in 2012, without payment. The seizure infuriated Spain and led to criticism by the European Union, the United States and some Latin American leaders.
The Spanish energy giant has demanded $10.5 billion in compensation.
The agreement must be ratified at a Repsol board meeting Wednesday."
SFGate:
Argentina offers Repsol $5B compensation for YPF
MADRID (NYSE:AP) - Spanish energy company Repsol would get $5 billion in compensation from Argentina for the expropriation last year of the firm's YPF unit and its vast holdings of unconventional oil and gas fields, a person with direct knowledge of the preliminary deal said Tuesday.
Under terms of the proposal to be considered Wednesday by Repsol's board, the Spanish company would get the money in Argentine bonds denominated in U.S. dollars. In return, it would drop legal action against Argentina for expropriating Repsol's controlling stake in YPF in 2012 without payment, said the person, who was not authorized to disclose details and spoke on condition of anonymity.
Investors on Tuesday cheered the news, sending Repsol shares up 4.28 percent to close at 19.24 euros ($26.03) in Madrid.
News of the deal came late Monday after Repsol executives met in Buenos Aires with government officials from Argentina and Spain and the chief executive of Mexico's state oil company, Petroleos Mexicanos, which holds a minority stake in YPF.
The deal could pave the way for Pemex to join the exploration of the vast Vaca Muerta oil deposit in Neuquen province, where YPF says 15 teams are already extracting more than 10,000 barrels a day.
Argentina's Economy Minister Axel Kicillof, the mastermind behind the YPF expropriation, remained coy about the compensation deal. "The agreement is somewhat confidential because you can't just go around carelessly throwing out values," said Kicillof, who is now leading Argentina's negotiations. "It could affect shareholders and affect the stocks."
Kicillof said that at the time of the takeover, Repsol was too hasty when it demanded $15 billion in compensation and later $10.5 billion.
"The Argentine state acted with a lot of prudence and sobriety," he said. "We're waiting to know more about the company to be able to give it a fair value, but I think Repsol acted rash by giving out just the numbers they wanted."
The values and instruments of the deal will remain secret until Repsol's board votes on the proposal on Wednesday, Kicillof said. He added that Argentina is satisfied with YPF's performance after it seized control of its leading oil company from Spanish hands.
"But we're now here to look forward," he said. "We want to finish determining these values to close this deal once and for all."
The seizure of YPF infuriated Spain and led to harsh criticism of Argentina by theEuropean Union, the United States and some Latin American leaders. Argentina had claimed Repsol SA was not investing enough in the South American country's oil industry - claims vigorously denied by Repsol.
The expropriation of Argentina's national oil company, which was privatized in the 1990s, was hugely popular among Argentines because many blame privatizations and other free-market policies of that decade for the country's economic crisis and debt default in 2001-2002.
Repsol had said its 51 percent stake in YPF was worth $10.5 billion in compensation and sued Argentina seeking payment.
The fight also strained ties between Spain and Argentina, and a statement released by Argentina's economy ministry said negotiators hoped the deal would "contribute to normalize and strengthen the historic ties between the three countries and their companies."
Argentina has the world's third-largest deposits of shale oil and gas, but needs international help to develop them. Only Chevron has so far made a commitment to help develop the fields, and it was subsequently sued by Repsol."
Please Note our Legal Disclaimer on the Blog, including, but Not limited to:
There are NO Qualified Persons among the authors of this blog as it is defined by NI 43-101, we were NOT able to verify and check any provided information in the articles, news releases or on the links embedded on this blog; you must NOT rely in any sense on any of this information in order to make any resource or value calculation, or attribute any particular value or Price Target to any discussed securities.
We Do Not own any content in the third parties' articles, news releases, videos or on the links embedded on this blog; any opinions - including, but not limited to the resource estimations, valuations, target prices and particular recommendations on any securities expressed there - are subject to the disclosure provided by those third parties and are NOT verified, approved or endorsed by the authors of this blog in any way.
Please, do not forget, that we own stocks we are writing about and have position in these companies. We are not providing any investment advice on this blog and there is no solicitation to buy or sell any particular company.