Watch The Video:
Jim Rickards: "The Fed Is Insolvent And Wants Gold To Rise Orderly" GLD, TNR.v, MUX, GDX
"In this January Matterhorn Interview , Jim Rickards talks to German investigative journalist Last Schall. Jim is the author of bestseller Currency Wars and soon to be released sequel The Death of Money.
The brilliant economist, lawyer and entrepreneur Jim Rickards is again at his best in this podcast as he discusses the failure of the Fed, as well as the Fed's suppression of gold. He explains why gold must rise to at least $7,000 - $10,000. Rickards also discusses China's gold purchases and that the people with the most gold will have the most say in regard to a new monetary system."
Jim Rickards discusses QE and FED 4 Trillion balance Sheet and its implications for the economy, US dollar and Gold. FED is insolvent if they mark to market their assets now. If economy is not so strong as they want us to believe FED will be tapering into the weakness with coming recession in 2014 as the result of it. It is possible that in this case FED will have to play down the Taper or ever increase QE again.
Today's action in the market is very interesting: Gold was Smashed-down from the all-important levels $1250 - $1270 after which Shorts will be burned, but Gold Stocks are not biting into this new attack and are holding well to the upside so far. It is the very important sign of the strength of the Gold market break out to the upside.
Bitcoin vs Gold Debate With James G. Rickards And Roman Skaskiw
"Jim Rickards debates Gold case vs Bitcoin. Can Bitcoin ever become the "Gold 2.0"?"
There Is No German Gold Left At The New York FED GLD, MUX, TNR.v, GDX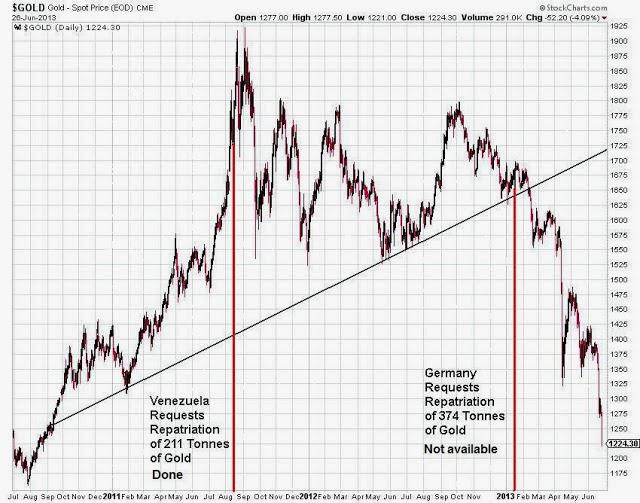 Die Welt has reported today the bombshell announcement for the Gold market. We have discussed before that only 37 t of Gold out of 674 t was delivered to Germany in 2013 and that the Gold bars were Melted. So not a single original German gold bar was returned to Germany so far!
ZeroHedge reports today that surprisingly only 5 t of gold has been delivered from the NY FED - the rest came from Paris. Now it is not the conspiracy theory any more that there is no German Gold left at the NY FED.
Now all the manipulations in the Gold market and constant smashing down the price in 2013 are coming into another perspective. Germany is very serious about the investigation of the manipulations in the Gold market - it was already reported thatprecious metals manipulation is worse than LIBOR scandal. This investigation has already claimed the first victim: Deutsche Bank to withdraw from Gold fix amid probe.
With the highest on record leverage at COMEX of 112 owners for every single ounce of Gold and record low COMEX registered Gold at 11 t we have the set up for the major blow out phase in the Gold market. Who in their mind will continue to hold Gold at LBMA any more? According to Eric Sprott, we can expect a failure to deliver Gold and lawsuits with deliveries last February from COMEX of 40 t and China buying at least 100 t of Gold every month on average now.
Once Gold will breach $1270 level Andrew Maguire's discussion about the massive short squeeze will become the reality and even if his predictions about $200 Up-days will not materialise, the move by Gold to the upside from the most oversold condition in history will be nothing less than spectacular.
Eric Sprott - Expect A Failure To Deliver Gold & Lawsuits.
Andrew Maguire: New Buyer To Create Massive Short Squeeze In Gold.