Copper M&A is heating up and we have the same familiar faces bidding for the best assets in the world. China is moving forward with its state-level strategy to secure supply of strategic commodities. You can follow their footsteps everywhere in Copper, Gold and Lithium.
Rumour Mill: "CITIC Buying Into Pascua Lama" - Can Argentina Mining Really Make Its Come Back? TNR.v MUX ABX LCC.v

"Is this rumour too good to be true for the proud people of Argentina? Can Argentina ever make its come back in mining? On the one hand we have still the very strong perception of the high political risk and on another hand we have reports from the ground about the changing environment in the country:
"Situation in Argentina is changing for the better with recent developments on Repsol compensation. Goldcorp was talking about "Argentina issues easing" and Pan American Silver CEO has recently sated:

"Meanwhile, when asked by an analyst to comment on the future of the Navidad project, PanAm CEO Geoff Burns said he sees signs of noted improvement "in our operating environment and in the attractiveness of making investments" in Argentina.

"There was a new chief of cabinet installed…now a couple of months ago," he observed. "And he certainly seems to be driving a more business-friendly environment, or at least, pushing for a more business-friendly environment."

"I was down there [in Argentina] just a couple of weeks ago, and I would say I am more optimistic than I have been in the last couple of years about the future of Argentina and the future of mining investment in Argentina," Burns advised."

Rob has mentioned as well that Argentina is changing for the better now: "Profits are coming out of the country now and political change will happen within next one and a half years. We have very large Los Azules Copper project in Argentina. Last year large projects went out of favour, we are sitting on it now. Copper prices are above 3 dollars now and we had the new PEA last Fall. It is our source of liquidity in the future."
The reports provided on the links below are suggesting that this particular move by Barrick Gold could not be so far fetched: company has confirmed that it is working on strategic partnerships on Pascua Lama and that partners from China are of a particular interest for the company. Argentinean government has even organised negotiations with Chile in order to bring Pascua Lama project back to life. We will not rush ahead to the conclusions and will wait for the official confirmations about these talks, but the trend is quite apparent for the industry insiders and we had discussed it before.
After the bidding war for Las Bambas Copper in Peru there are not so many world class copper assets left. M&A activity in Copper sector is heating up with ongoing deals on Glencore's Las Bambas, Hudbay's acquisition and OZ Minerals talks with potential partners. Now the projects like Los Azules copper will get more industry attention. We are following McEwen Mining and TNR Gold involved in this project, please read carefully all our disclaimers and do your own DD, as usual.
"TNR Gold is still the sleeping beauty: company holds shares in McEwen Mining after the settlement on Los Azules and Back-In right into Los Azules Copper project in Argentina. Among other assets TNR Gold holds 100% of Shotgun Gold project in Alaska with first resources announced last year and strategic stake in International Lithium."
TNR Gold Insiders report: CEO And CFO Buying Shares.
Among other beneficiaries of improved investment climate in Argentina we should name Lumina Copper with its Taca Taca copper deposit and International Lithium developing Mariana Lithium brine project with its strategic partner Ganfeng Lithium.
We will closely monitor the situation with these developments around Pascua Lama and you can find additional information for your research on the links below.
IKN
"Word on the Southern Cone jungledrums is that Chinese mining bigboy Citic is in negotiations to partner Barrick (NYSE:ABX) on its troubled Pascua Lama gold project on the Chile/Argentina border. The source, who to the amazement of all readers prefers to remain anonymous, says that ABX will retain operator status but the negotiations are now more about the size of percentage to flip out to Citic than whether or not there's a deal to be done. This news comes after Chile's parliament recently sided with ABX on whether it needed to completely re-start the environmental permitting process from scratch or not, a decision that's expected to influence the decision of the key EIA committee on Pascua Lama, who opened their case investigation yesterday. Assuming ABX doesn't need to start the permitting process from scratch, the Chinese cash will flow. So now you know as much as I do. Decent source, by the way."
Barrick Exploring Strategic Partnerships, Royalty Agreements For Pascua Lama
Argentina Lobbies To Overturn Barrick's Pascua Lama Freeze In Chile
Barrick Is Seeking A Chinese Partner To Revive Pascua Lama Project
Rob McEwen: Presenting McEwen Mining At BMO Capital Markets MUX TNR.v GDX
"Los Azules Copper Project, Argentina (100%)
In September, McEwen Mining announced an updated PEA for the Los Azules Copper project. The results from the PEA demonstrate that Los Azules has the potential to become one of the largest, lowest cost copper mines in the world. In addition, there remains excellent exploration potential to further expand the size of the existing mineral resource. Highlights from the PEA are shown below:
Pre-tax Net Present Value of $3.0 billion (8% discount rate) and an Internal Rate of Return of 17.7%.
Annual copper production during years 1-5 to average 258,000 tonnes (568 million lbs), which would have placed it in the top 3%1 of copper mines in the world during 2012. Life of mine annual copper production to average 171,000 tonnes (377 million lbs) over 35 years.
Indicated resource of 5.4 billion pounds of copper (grading 0.63% Cu) and 0.8 million ounces of gold (389 million tonnes with a cut-off grade of 0.35% Cu) and Inferred resource of 14.3 billion pounds of copper (grading 0.46%) and 2.6 million ounces of gold (1,397 million tonnes with a cut-off grade of 0.35% Cu).
Initial capital costs to construct the mine and process plant have been estimated at $3.9 billionwith a payback on a pre-tax basis has been estimated at 3.8 years at $3.00/lb copper and$1,300/oz gold.

1 Based on internal market data.
The PEA is preliminary in nature and includes inferred mineral resources that are considered too speculative geologically to have the economic considerations applied to them that would enable them to be categorized as mineral reserves, and there is no certainty that the PEA will be realized.
The PEA has been filed under the Company's profile on SEDAR (www.sedar.com) pursuant to the requirements of Canadian National Instrument 43-101 and is also available on the Company's website - www.mcewenmining.com."
All slides are from McEwen Mining presentations.
Bloomberg:
Glencore Sees No Roadblock in $5 Billion Mine-Sale Talks
Glencore Xstrata Plc (GLEN) Chief Executive Officer Ivan Glasenberg said the world's fourth-biggest mining company remains in talks with a Chinese bidder for an asset that's been valued at more than $5 billion.
"There's no roadblock in the talks," the 57-year-old billionaire said in a phone interview in London, referring to a copper mine in Peru that Glencore put up for sale last year. "We are in discussions with a potential buyer and if we can get the right price we will go ahead and sell it."
A group led by China Minmetals Corp. is nearing an agreement to purchase Las Bambas for more than $5 billion, people with knowledge of the matter said last month. Proceeds from the sale may be returned to shareholders, Chief Financial Officer Steve Kalmin told reporters in September. Glencore today reported pro-forma adjusted net income of $4.58 billion.
"We continue to think the company could receive a good price for this asset," Paul Gait, a mining analyst at Sanford C. Bernstein, wrote in a report. "We see short-term upside to the stock from the potential for Glencore to report a successful sale of this asset. We were, however, slightly disappointed this was not announced today."
Glencore rose for the first time in nine days in London trading, advancing as much as 3.5 percent, and gained 2.4 percent to 334.20 pence at 9:27 a.m. The FTSE 350 Mining Index was 0.9 percent higher.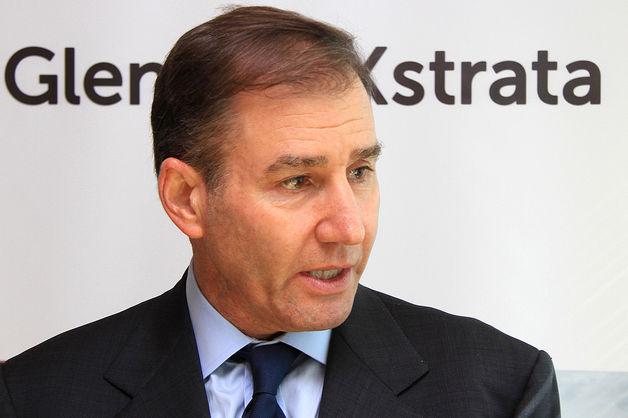 Source: Capitalvoice via Bloomberg
Glencore Xstrata Plc Chief Executive Officer Ivan Glasenberg said, "We are in... Read More
'NO SECRET'

Las Bambas is "a good asset, we still feel very comfortable with the asset," Glasenberg said. "There is a leading bidder, the Chinese, that's no secret, so we are continuing to have discussions with them."
Glencore is selling the Las Bambas mine as part of an agreement to win Chinese regulatory authorization for its $29 billion takeover of Xstrata Plc last year.
The leading Chinese group includes Citic Metal Co., a unit of state-controlled conglomerate Citic Group Corp., and China Reform Holding Corp., an investment company backed by the country's state assets regulator, the people said.
"We expect at least a portion of what should be about $5 billion of proceeds from a Las Bambas sale to be returned to shareholders via a special dividend," Chris LaFemina, an analyst at Jefferies LLC, wrote in a report.
About $3 billion has been spent on the project so far. It is estimated to cost about $5.9 billion to complete, Glencore's Kalmin said in September.
BMO Capital Markets Ltd. and Credit Suisse Group AG are advising Glencore on the sale. Bank of America Corp., Citigroup Inc. and Deutsche Bank AG are working with the Minmetals-led group, according to the people.
The company is also in talks with Rio Tinto Group for a possible coal mining venture in Australia's Hunter Valley coal region, Glasenberg said today. It remains in negotiations with Brazil's Vale SA (NYSE:VALE) on combining nickel operations inCanada's Sudbury basin, he said.
Peter Grauer, the chairman of Bloomberg LP, the parent of Bloomberg News, is a non-executive director of Glencore Xstrata.
To contact the reporter on this story: Jesse Riseborough in London atjriseborough@bloomberg.net
To contact the editor responsible for this story: John Viljoen atjviljoen@bloomberg.net"
Please Note our Legal Disclaimer on the Blog, including, but Not limited to:
There are NO Qualified Persons among the authors of this blog as it is defined by NI 43-101, we were NOT able to verify and check any provided information in the articles, news releases or on the links embedded on this blog; you must NOT rely in any sense on any of this information in order to make any resource or value calculation, or attribute any particular value or Price Target to any discussed securities.
We Do Not own any content in the third parties' articles, news releases, videos or on the links embedded on this blog; any opinions - including, but not limited to the resource estimations, valuations, target prices and particular recommendations on any securities expressed there - are subject to the disclosure provided by those third parties and are NOT verified, approved or endorsed by the authors of this blog in any way.
Please, do not forget, that we own stocks we are writing about and have position in these companies. We are not providing any investment advice on this blog and there is no solicitation to buy or sell any particular company.