Watch the video:
Peter Schiff and GATA's Bill Murthy: The Real Value of Gold TNR.v MUX GDX GLD RGLD NG.to ABX
It is time to listen and remind ourselves about the real value of Gold and what is coming next with all geopolitical games unfolding at the crucial levels for US Dollar and Gold markets. China is the major subject of conversation here again and Russia is already talking about the asymmetrical retaliation to the imposed by the West sanctions around the Ukraine situation. Gold manipulation can not go foreverwith China buying the record amount of Gold officially and who knows what are the real numbers in its state-level military plan to accumulate Gold for the De-Dollarisation reset?
Peter Schiff's question about China buying more Gold companies could be answered very soon if the rumours about CITIC being involved in talks with Barrick Gold about Pascua Lama will be confirmed. This huge mine is located on the border of Argentina and Chile, it is in the very advance development stage and China will be just the right partner for Barrick over there.
China has mastered "The Art Of War" to the perfection in its long-term strategic plans to secure the critical materials and metals. China's control of the crucial REE market for the high end technological applications is well known already and its participation in establishing of the world class Lithium Industry and accumulation Lithium assets around the world deserves the attention of the market as well.
Rumour Mill: "CITIC Buying Into Pascua Lama" - Can Argentina Mining Really Make Its Come Back? TNR.v MUX ABX LCC.v
Koos Jansen: China's Road To Secret Gold Accumulation TNR.v MUX GLD GDX ABX NG.to RGLD
(click to enlarge)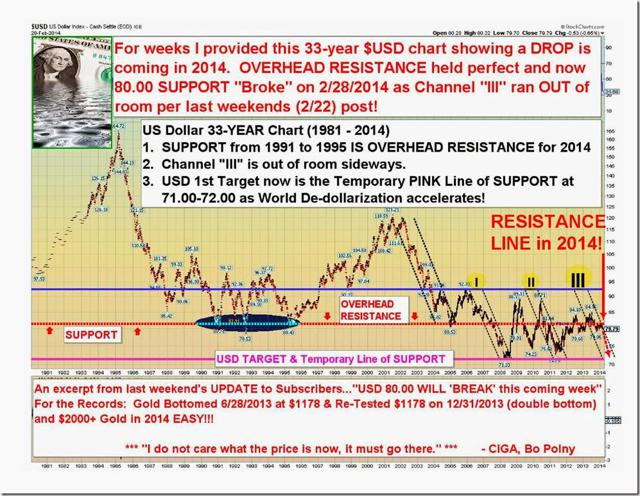 Click to enlarge
"Koos Jansen research provides more confirmation of the state-level military plan implemented by China in order to accumulate Gold under the radar screen of the market observers. Explosive situation around Ukraine will ignite further catalyst for De-Dollarisation and China and Russia maybe already much better prepared for it than a lot of Western policy makers really understand. The Financial War could have been already won long time ago. We are due for a lot of surprises in the Gold and Currency markets coming out in the next few weeks."
(click to enlarge)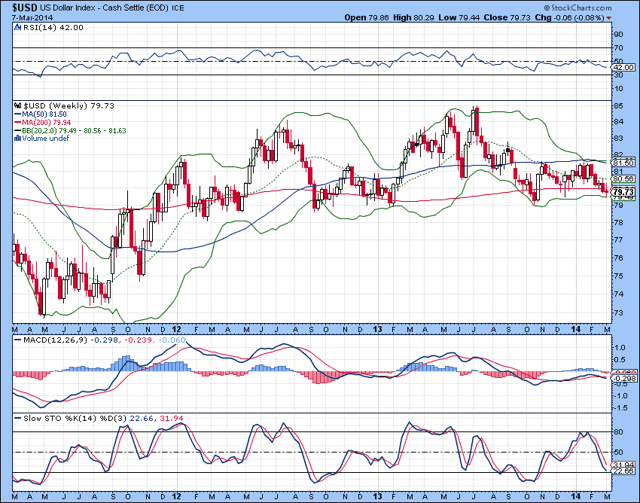 Click to enlarge
US Dollar Slides To The New Low 79.51 As Ukraine Situation Moves To Economic Warfare
"US Military Complex can not be challenged by anyone in the open conflict, but once things are moving into the field of asymmetric economic warfare tactics of Financial Wars U.S. has a problem. Economy can not really handle any external shocks now, Bubble in the equity markets is not translating into the healthy growth so far. Any serious correction in the market can bring very weak economic data further in the proximity of potential recession. And this is where Ukraine situation is coming so handily to the FED's rescue out of Taper. Do you really think that the banks want the tigthening of the money supply now? FED wants Weak US Dollar, FED wants Inflation and FED is ready to pause Taper at any excuse now. Further escalation around Ukraine situation will provide this excuse right in time when the economic data will be turning even weaker than now."
(click to enlarge)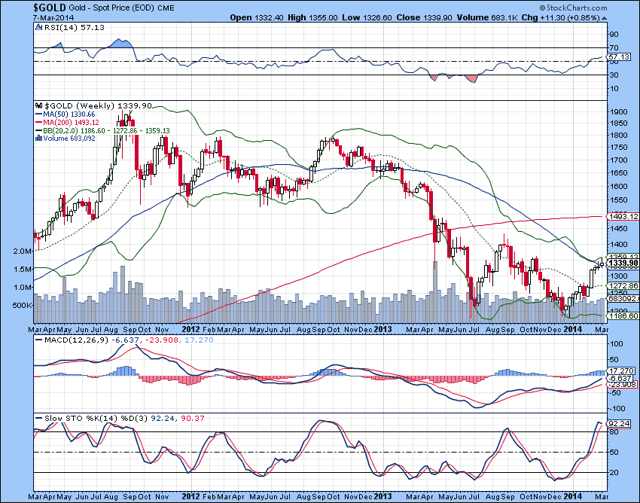 Click to enlarge
Dollar Crashed Below 80.00 What Is Next For Gold, Copper And Lithium? TNR.v MUX ILC.v GDX
"In a few words: they all are going much higher now. Let's discuss why we think it is going to be the case. What is coming next for stocks and commodities? The concept of Great Inflation in 2014 was first introduced here by Toby Connor article and so far the market was unfolding as he has predicted. The most important observation here is that not only we are seeing the first signs of increased money velocity and unfolding Inflation in the different Commodities Breakouts, but that FED is actively looking forward to create Inflation. Janet Yellen statements about desired level of Inflation were quite a revelation for the Central Banker to say the least. Never fight the FED and with the help of Russia and China US dollar will slide down even more and Inflation will be coming not only onto your grocery bills, where it was never gone, but even into the massaged government statistic reports."