(click to enlarge)

Click to enlarge
We can see more concrete steps implemented in China towards cleaner economy and electrification of transportation. New Energy Cars is one of the strategic industries and Chinese government provides full support to the domestic companies in order to secure strategic commodities like Lithium and technology for this transformation.
Strategic Partner, Ganfeng Lithium, Receives Approval to Purchase Interest in International Lithium's Mariana Brine Project, Argentina ILC.v TNR.v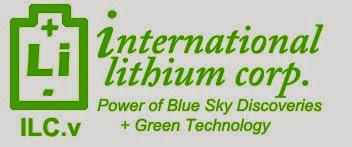 International Lithium: Ganfeng Lithium Is Halted Pending Major Acquisition ILC.v TNR.v LIT TSLA KNDI

"We are following International Lithium here with its strategic partner from China Ganfeng Lithium. Elon Musk with his Tesla Gigafactory has brought a lot of attention to the Lithium strategic commodity story and Asian companies are coming into the spotlight as well now. LG Chem is talking about building major Lithium battery plant in China and Lithium Materials Industry is getting the green light from the Chinese government in its efforts to curb the horrible pollution.
"Kirill Klip, president of International Lithium (TSXV:ILC), views the announcement of Tesla's Gigafactory as a "groundbreaking development."

Tesla "brought attention to what Elon Musk has accomplished," Klip told Lithium Investing News. "He showed to everyone that electric cars are not toys anymore - they are for real."
International Lithium's Strategic Partner, Ganfeng Lithium, Takes Large Stake in Mariana and a $10 million Option on the Blackstairs Projects ILC.v TNR.v LIT
"Mar 19, 2014 (ACCESSWIRE via COMTEX) -- Vancouver, B.C. / ACCESSWIRE / March - 2014 / International Lithium Corp. (the "Company" or "ILC") announces several major transactions with strategic partner GFL International Co., Ltd. ("Ganfeng Lithium" or "GFL")."
Bloomberg:
China Considers More Electric-Car Incentives: Official
China may exempt electric-car buyers from paying purchase taxes as part of expanded state measures to bolster sales of such vehicles after past incentives failed to spur demand, Vice Premier Ma Kai said.
The government may cut or waive the 10 percent auto-purchase tax for new-energy vehicles -- China's term for electric cars, plug-in hybrids and fuel-cell vehicles -- and slow down the reduction of government subsidies beyond 2015, according to comments from Vice Premier Ma Kai posted on the Chinaev.org website. Ma also urged local governments to help companies develop electric-car rental services.
Shares of BYD Co. (1211), China's biggest maker of electric cars, rose in Hong Kong trading amid mounting signs the government is stepping up efforts to fight the thickening pollution that's choking its people. Last month, Premier Li Keqiangdeclared war on smog and Hangzhou became the sixth Chinese city to impose restrictions on cars.
"New-energy vehicles are important for China's energy dependency, so the government will devote more resources into promoting them," said Harry Chen, a Shenzhen-based analyst with Guotai Junan Securities Co. "Reducing or exempting the purchase tax will certainly give buyers more reason to buy such cars as it's quite a lot of money."
Photographer: Jerome Favre/Bloomberg
New-energy vehicle sales in China are lagging behind the central government's target to...Read More
BYD, KANDI

BYD, maker of the all-electric E6 car and K9 bus, rose 1.7 percent to HK$49.30 in Hong Kong trading, outperforming the benchmark Hang Seng Index.
Kandi Technologies Group (NASDAQ:KNDI) Inc., which offers electric-vehicle rental services with Geely Automobile (175)Holdings Ltd. in Hangzhou, rose 4.9 percent today in New York. The shares have risen 41 percent in Nasdaq trading this year after nearly tripling in 2013.
Five years after China began promoting new-energy vehicles, fewer than 70,000 are on its roads, lagging behind the central government's target of reaching 500,000 by 2015. Ma blamed the wavering commitment of local authorities and slow pace of building charging stations, according to the statement. The development of such vehicles carries grave importance for helping ease China's energy dependency, combating air pollution and nurturing the local auto industry, he said.
Other measures under study include using proceeds from emissions surcharges toward financing electric vehicles, and continuing to pay public-transportation companies fuel subsidies even after they switch to hybrid buses, Ma said.
His comments elaborate on past comments made by the government. In February, China said it would extend more subsidies for electric vehicles than previously announced.
Subsidies for 2014 will be cut by 5 percent, instead of the previously planned 10 percent, and decreased by 10 percent in 2015, instead of 20 percent, according to the latest government announcement in February. Funding will continue beyond Dec. 31, 2015, with details to be announced, according to the statement."