Watch the video:
Powered By Lithium: BMW Bets On Electric Cars In China ILC.v TNR.v LIT
Now we can see that BMW is following the trend and will make Electric Cars in J/V with Chinese automaker. China is opening its largest auto-market in the world for Electric Cars and pushing the world's major automakers to share their technology in J/V enterprises. All government incentives for Electric Cars in China are applicable only to the EVs produced in China.
International Lithium: Moving Forward With Strategic Partner Ganfeng Lithium ILC.v TNR.v LIT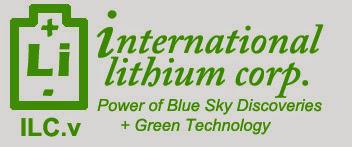 International Lithium has issued the newsletter covering the latest transactions with its strategic partner Ganfeng Lithium from China.
International Lithium: Ganfeng Lithium Is Halted Pending Major Acquisition ILC.v TNR.v LIT TSLA KNDI

"We are following International Lithium here with its strategic partner from China Ganfeng Lithium. Elon Musk with his Tesla Gigafactory has brought a lot of attention to the Lithium strategic commodity story and Asian companies are coming into the spotlight as well now. LG Chem is talking about building major Lithium battery plant in China and Lithium Materials Industry is getting the green light from the Chinese government in its efforts to curb the horrible pollution.
"Kirill Klip, president of International Lithium (TSXV:ILC), views the announcement of Tesla's Gigafactory as a "groundbreaking development."

Tesla "brought attention to what Elon Musk has accomplished," Klip told Lithium Investing News. "He showed to everyone that electric cars are not toys anymore - they are for real."
International Lithium's Strategic Partner, Ganfeng Lithium, Takes Large Stake in Mariana and a $10 million Option on the Blackstairs Projects ILC.v TNR.v LIT

"Mar 19, 2014 (ACCESSWIRE via COMTEX) -- Vancouver, B.C. / ACCESSWIRE / March - 2014 / International Lithium Corp. (the "Company" or "ILC") announces several major transactions with strategic partner GFL International Co., Ltd. ("Ganfeng Lithium" or "GFL")."
Powered By Lithium: Audi And FAW To Launch A6 E-Tron In China $ILC.v $TNR.v $LIT $RM.v
'AutoBlogGreen reports that Audi is moving into China with its partner FAW to produce Plug-In Hybrids. We are not surprised as all Volkswagen Group is betting on China now in order to stage the come back in the Electric space. What will be the better place than the largest auto-market in the world?"