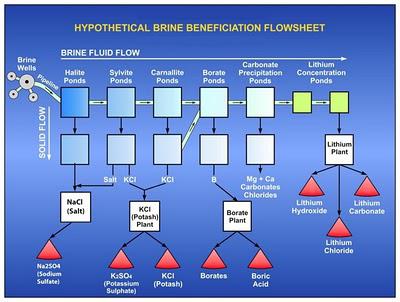 Extensive High-Grade Potash Discovery at International Lithium's Mariana Brine Project ILC.v, TNR.v
"Vancouver B.C.: International Lithium Corp. ("ILC" or the "Company") is very pleased to announce the discovery, through drilling, of the extensive distribution of high grade potash at its 100% owned, Mariana brine project located at Salar de Llullaillaco in the province of Salta, northwestern Argentina. The results demonstrate significant, consistent grades of potassium, with strong lithium and boron upside potential, remaining open at depth, in all four holes drilled.
Key Highlights:
The highest grades of potash reported in an Argentine Salar;
High potash values continue from surface to bottom in all holes;
Potash, lithium and boron grades are open at depth.

"We are very encouraged with the results from the Phase 1 resource delineation drilling at Mariana that confirmed our belief in the potential of this multi-commodity potash-lithium-boron brine project. The observed extent of high grade potash brine encountered provides ILC the support and confidence to continue to advance our plans towards development. The objective for the next stage of exploration is to complete the remaining 10 to 12 holes needed for delineation drilling in conjunction with hydrogeological testing required to produce a reportable resource. Drilling will be designed to test structures that may control higher grade potash, lithium or boron zones" states Kirill Klip, President of the Company."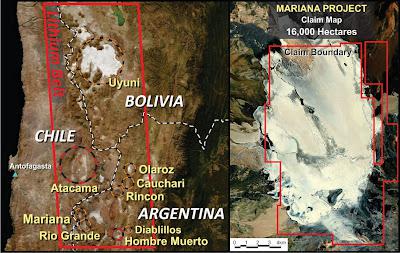 It is time for us to look more closely at the Lithium and Potash brine production from Salars in South America. We will put together some initial information for your personal entertainment. Rick Mills will be the very good start. He is one of the pioneers covering strategic commodities: Lithium, REE, Graphite and Potash.
Brine Mining the Puna for Potash and Lithium.
Potash And Agriculture Investments: Potassium Fertiliser Production and Technology
Good overview of the world wide 58 million tons and 30 billion dollars in sales Potash market from Potash Corp.
Goldman Sachs Sixteenth Annual Global Agriculture Biotech Forum
Our five primary global markets - China, India, other Asia, Latin America and North America - combine to account for nearly three-quarters of the world's population and roughly 80 percent of total fertilizer consumption.
Most of the growth in the fertilizer industry is occurring in these markets, with the exception of the more agriculturally-advanced North American market where sales are historically more stable. Consumption has increased by 83 percent in China, India, other Asia and Latin America over the past 20 years, closely matching food production trends in that time.
MARKET FAST FACTSChina
Population 1.4 billion
Uses more fertilizer than any country accounting for 30 percent of world consumption
Per capita renewable water resources are well below global average levels
Has an increasing urban population with a rising standard of living
Domestic consumption of meat has risen nearly seven-fold in 30 years, while fruit and vegetable consumption is nearly 10 times what it was 30 years ago
Government has targeted improved agricultural productivity by modernizing equipment and practices, increasing farmer subsidies, allowing transfer of land-use rights, and raising minimum prices for key commodities
Imports approximately 80 percent of its soybean requirements, a factor driving growth in Brazil and US production
Limited domestic potash production capability - historically 75 percent of potash is imported
Population 1.2 billion
18 percent of world population but only 11 percent of its arable land
Second largest fertilizer consuming country with around 16 percent of world use
Annual fertilizer consumption growth of 4.8 percent this decade
Government heavily subsidizes fertilizer for farmers to stimulate yield improvements
Yields typically 20-50 percent of those on equivalent US cropland
Government has set an agricultural sector growth target of 4 percent per year until at least 2012
Per capita renewable water resources are well below global average levels and farmers are heavily reliant on seasonal monsoon rains to support crop production
Has no indigenous potash
Very poor nutrient balances in India's soils, insufficient potash applied relative to nitrogen and phosphate, and more than 70 percent of soils have low to medium potassium content
Population 1.6 billion (combined)
Account for approximately 12 percent of world fertilizer consumption
World's leading producer of oil palm, rubber and a major producer of rice
Abundant water resources but limited per capita arable land
Indonesia and Malaysia have more than doubled palm oil production in 10 years
Has no indigenous potash
Population 596 million
Account for approximately 12 percent of world fertilizer consumption
Abundant land, water and labor make it an agricultural superpower
Produces about 60 percent of global coffee supply and approximately half of the world's soybeans and sugar
Corn is also grown for export and to feed domestic livestock industry
Soils in Brazil are naturally deficient in potassium and require potash to remain productive
Limited domestic potash production capability - approximately 80 percent of potash is imported
Population 347 million (combined)
Account for approximately 14 percent of world fertilizer consumption
Major suppliers of food and fiber
US accounts for about more than one-third total global trade in wheat, corn, soybeans and cotton
Both countries are among the world's most efficient agricultural producers
Rising global food demand and domestic biofuel mandates have created competition for limited farmland
SQM is one of the Big Four in Lithium production and the largest producer of Lithium and Potash from brines in the world.
"CITI SQM - Soc. Quimica y Minera de Chile (NYSE:SQM)
Potash Fundamentals Remain Attractive LT - With grain prices showing solid gains YTD (soybeans +13%, corn +4%), 2012 is expected to be the 2nd most profitable year for farmers (after 2011) - positive for fertilizer application as farmers look to maximize yields. While potash demand experienced a slowdown in 2H11, increased supply discipline in 1Q12 has begun to balance the market. Evidence of better potash fundamentals should arise from current Chinese contract negotiations (no settlement reached yet), which will provide a floor and certainty to buyers in Asia, Brazil and India."
FMC is another one from Big Four Lithium producers - producers Lithium and Potash from Hombre Muerto in Argentina.
Please, do not forget, that we own stocks we are writing about and have position in these companies. We are not providing any investment advise on this blog and there is no solicitation to buy or sell any particular company here. Always consult with your qualified financial adviser before making any investment decisions.
Lithium developers we are following here.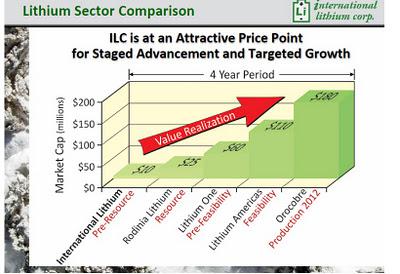 Chinese Ganfeng Lithium - strategic partner with ILC - owns 15% of the company now, results were just released from its Phase 1 resource delineation drilling program at Mariana salar in Argentina.
International Lithium Corporate presentation.
Chinese Shanshan is among the investors in Rodinia Lithium.
Rodinia Lithium Corporate presentation.
Lithium One is being bought out by Galaxy Resources now.
Consolidation Potential for Lithium Juniors GXY.ax, LI.v, ILC.v, ORE.ax, RM.v
Lithium One Corporate presentation.
Japanese Toyota Tsusho is strategic investor in Orocobre.