I think a larger screen in the next generation iPhone is a foregone conclusion. I would like to first say that to Apple's (NASDAQ:AAPL) credit, its products have stayed true to the four consumer favorites, they are easy to use because users don't have to read any instructions; and they always can count on something do with the product; they are mechanically strong; they are beautiful; and they are very dependable. However, I noticed there is a lot of discussion by engineers and investor analysts who are clearly overlooking the fueling possibilities that Apple's Ecosystem provides. This is the thing that a lot of pundits writing about Apple's doom and gloom are missing. Once you are are user of Apple's ecosystem, it's hard to leave.
(click to enlarge): Source Apples Ecosystem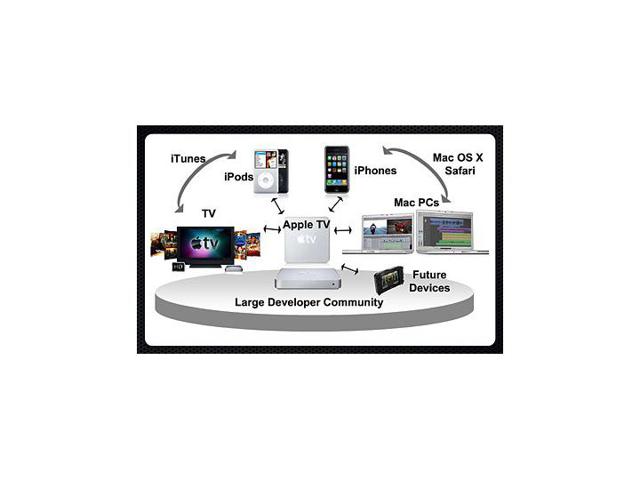 Apple's iTunes store is an important part of the Ecosystem design in the years to come. In February, 2013, Apple reported 25B downloads from more than 315 million customers using Apple devices. The software to hardware interface is easy to use and reliable. The ecosystem is more important than the hardware, as Apple learned in the 1980's when competitors ate its lunch by being able to clone hardware. Google (NASDAQ:GOOG) is learning that it's not easy to develop an ecosystem or applications that can compete with Apple. Apple's CEO Tim Cook needs to stick to Steve Jobs inspiring and oft quoted "simplicity" mantra:
"That's been one of my mantras - focus and simplicity. Simple can be harder than complex: You have to work hard to get your thinking clean to make it simple. But it's worth it in the end because once you get there, you can move mountains."
Needless to say, Apple must keep the ecosystem Steve Jobs built simple. Investors learned when Apple introduced the iPhone 5S that Apple was getting hardware ready for some greater ecosystem advancements. How did we learn this from 5S? AAPL's 5S has a 64-bit application processor, which I believe will be used this year to better implement fingerprint security encryption technology, to make purchases from AAPL and other retailers very secure and trustworthy. The fingerprint technology is actually made possible by a tiny M7 co-processor chip from NXP Semiconductor (NASDAQ:NXPI):
(click to enlarge) Source: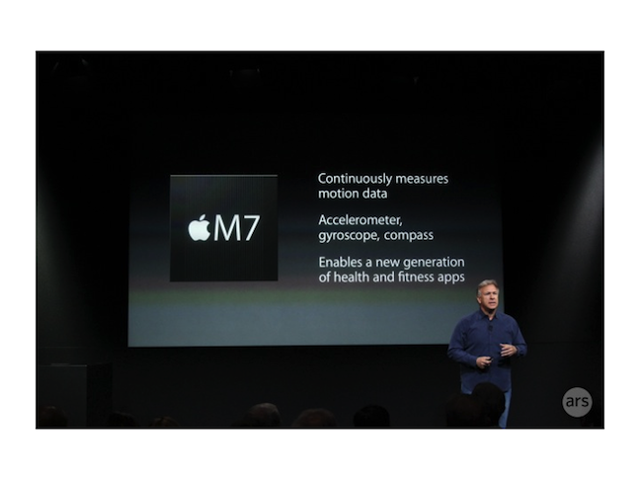 My focus is on the introduction of AAPL's tiny M7 co-processor, which is really a sensor hub, and this is where the iPhone and Apple's products will get really interesting in the future. However, the M7 sensor hub will meet some stiff competition from Google, Samsung (OTC:SSNLF), Nokia (NYSE:NOK), Hewlett-Packard (NYSE:HPQ), HTC (OTC:OTC:HTCKF), Kyocera (NYSE:KYO), Huawei, ZTE (OTCPK:OTCPK:ZTCOY) and Sony (NYSE:SNE) who are expected to adopt a new first-ever patent pending ultra low power in-system reprogrammable sensor hub chip manufactured by QUICKLOGIC (NASDAQ:QUIK) that I wrote about in a previous article. Sensor hubs are tiny and must consume less than 1% of battery power to be useful in small always-on devices. The M7 opens the door for a huge market in "wearable" devices and we will see mobile OEMs leverage their respective ecosystems using sensor hub technologies. AAPL's M7 positions the hardware in the middle of the sensor application and sensor fusion paradigm shift we are entering this year. Google's Android smartphones should also be able to leverage the fingerprint technology using the QUIK reprogrammable sensor hub that cleverly uses Complex Instruction Set Computing (OTC:CISC) Arithmetic Logic Unit technology. The coming wave of mobile smartphone, tablet and wearable devices will be able to use written applications to control the tiny sensor hub that continuously communicates with smartphones and other devices to perform functions that previously could only be imagined. OEM's want the flexibility to reprogram and open source software development for these sensor hubs because they continue to develop and improve powerful written functions for their ecosystems, as a means of making their products more desirable and productive for consumers.
In the beginning, investors expect that the sensor hub, using finger print technology, will allow AAPL to establish a payment processing business and take away some business from PayPal. I believe we will see AAPL's simple ecosystem penetrate further into the television strategy started with Apple TV's hockey puck that some consumers use, in content delivery, which can make other industries vulnerable to AAPL's and other OEM mobile manufactures ecosystem reach. Shortly, I expect that these new sensor technologies will give more competition to companies traditionally in direct contact with consumers and their wallets, like Amazon (NASDAQ:AMZN), Sony, Microsoft (NASDAQ:MSFT), MasterCard (NYSE:MA), and Netflix (NASDAQ:NFLX). Heck, I believe they might even be able to put a tiny electronic patch on your skin to monitor your vitals, and encroach on your doctors turf, by helping him better understand, monitor and treat your medical condition. The emerging Internet of Things (NYSEMKT:IOT) is based on the simplicity of the sensor technology being integrated into the ecosystem of mobile devices and other consumer electronic networks. The three Titans of mobile computing will be the first to market. AAPL, Google, and Samsung will be incorporating sensor hubs (co-processors) to manage the ecosystem they are now developing. Sensors make it simple, efficient and possible for smart communication devices to continue to be in contact with the ecosystem, even when the main applications processor is sleeping. We should see new products, applications and communications devices being developed in the very near future. Apple will lead the way, as the first mover with the M7 sensor hub and the 64-bit processor.
Bottom Line Analysis
At the end of 2013, AAPL closed the year with a staggering $170 billion in cash and long-term investments. AAPL's market cap is currently approximately $475 billion. APPL's ecosystem and mobile designs will continue to evolve with the M7 sensor hub designed to take AAPL's ecosystem to the next level with wearable devices and new functions that previously were not thought possible. APPL should be able to return to growth as the ecosystem built by Steve Jobs amazes consumers with advancements in sensor hub technologies and applications. I believe there are still some compelling reasons to be invested in AAPL's stock.
Disclosure: I am long AAPL, QUIK, GOOG. I wrote this article myself, and it expresses my own opinions. I am not receiving compensation for it. I have no business relationship with any company whose stock is mentioned in this article.