To deeper value & income investors, mortgage REITs and their high dividend yields can often times look too good to be true. Due diligence, as always, is extremely important in trying to understand what it is you are actually investing in when it comes to mREITs. Though it was the substantial dividend yield that would initially draw our attention to Annaly Capital Management (NYSE:NLY) we found no better time to pop the hood as we roll into their Q2 Earnings on August 6th.
As complicated as mREITs can be it is important to understand how they actually make money. The most common tool for both income and financing comes from repurchase agreements, or repos. A mortgage REIT will sell short-term debt, in this case collateralized by mortgages, with the agreement to buy it back at a slightly higher price. In the meantime, the REIT will put that money towards buying more mortgage backed securities, earning the spread between the S-T rate and the L-T rate. It is extremely common for them to use leverage in order to boost returns. NLY has pledged a leverage limit of 12:1 (debt-to-equity), which is more conservative than some newer, riskier mREITs. As of March 31 their D/E ratio was closer to 5:1. Though they deal almost entirely with very safe investments (agency bonds), they have kept their ratio low in order to play it safe while they wait for fresh news from the Fed.
Now, things have been quiet on NLY's side, but let's take a look at their performance in recent quarters.
In 1Q2014 Earnings NLY posted a $203M loss, primarily due to unrealized losses on the interest rate swaps and derivatives that they use to hedge their portfolio. The fair value of the swaps was primarily attributable to the downtrend in forward interest rates. As of March 31, 2014 interest rate swaps totaled $1,272,616 making up around 2% of their total liabilities. We see here that the management team continues to be thoughtful when it comes to the risk of rising interest rates and is willing to take large losses like this one in Q1 in order protect the long-term wellbeing of their investors.
Before investing in a business whose revenues can be inversely affected by a rise in rates, it is extremely important to assess the state of our interest rate environment and the stance of the Federal Reserve. Below we can look at interest rate trends, as well as management's projections of what effect a change in interest rates will have on the NAV of their portfolio.
Interest Rate Effect on II and NAV
Change in Interest Rate

 

Projected Percentage

Change in Economic Net

Interest Income(1)

 
 

Change in Portfolio Value,

with Effect of Interest Rate

Swaps

 
 

Estimated

Change as a

% on NAV(2)

 

-75 Basis Points

 
 

(21.4%)

 
 
 

0.4%

 
 
 

2.4%

 

-50 Basis Points

 
 

(16.0%)

 
 
 

0.4%

 
 
 

2.4%

 

-25 Basis Points

 
 

(7.7%)

 
 
 

0.2%

 
 
 

1.6%

 

Base Interest Rate

 
 

-

 
 
 

-

 
 
 

-

 

+25 Basis Points

 
 

4.9%

 
 
 

(0.3%)

 
 
 

(2.2%)

 

+50 Basis Points

 
 

10.2%

 
 
 

(0.7%)

 
 
 

(4.7%)

 

+75 Basis Points

 
 

14.7%

 
 
 

(1.1%)

 
 
 

(7.5%)

 
(from 10-Q)
Short Term Interest Rates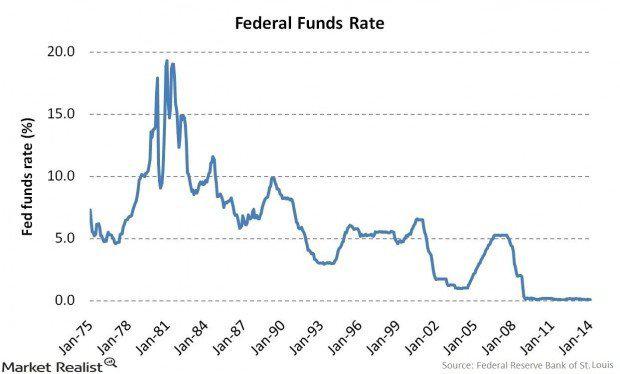 Long-Term Interest Rates
Though the Fed continues to scale back QE, it remains clear that S-T interest rates are still at 0, while L-T rates (10-Yr, 30-Yr treasury) have not skyrocketed, as they are at 2.47 and 3.25 respectively. Yellen has made it clear that rates will remain stable for the foreseeable future, so as long as this spread between short/long term rates remains fairly large, NLY will be able to maintain sizeable profit margins.
With the Fed decision to leave short term rates untouched for the time being, it is important to be wary of the effect an increase in rates could have. With repurchase agreements totaling $64.5 billion (~92% of total liabilities), an increase in S-T rates could pose a major issue as they would be obligated to buy back large amounts of securities for more than they sold them for. The following table shows the varying maturities for the $64.5B of repos that NLY has on their balance sheet.

(from 10-Q)
As seen above, the bulk of the repos mature in 60 days or less, so NLY management has taken steps to hedge against IR risk by using derivatives as mentioned earlier. As a whole, while S-T rates remain low, NLY has a very cheap source to fund their large balance sheet.
Taking a look at NLY's recent performance, we can see that the stock took a major dip in mid to late 2013 as the Fed continued to announce reduction in its QE. However the stock has been a slow climb in tandem with news that there interest rates will not be affected until economic stability is up to Yellen's standards. With job growth cooling and unemployment hovering at 6.2% as of 8/1/14, it is clear the Fed will not hike rates until around Q2 2015. This gives NLY ample time to prepare for the possible scenarios that may unfold in the not-too-distant future. With a Free Cash Flow/Interest Expense of 3.8 and EBITDA/Interest Expense of 5.7, NLY is a solvent company and should remain that way even as rates rise.
Where is NLY headed?
NLY has been around since 1997, and is the largest mREIT to date. Management consists of seasoned veterans in the MBS and REIT space. The current ZIRP environment has led to higher liquidity in the repo market. Much of Annaly's Operating Cash Flows comes from wholly owned subsidiary RCap Securities, a broker-dealer specializing in repo trading. As of Q1 filings, RCap was able to increase net inflow from repos by $6 billion, while cutting their losses on reverse repos by around $2 billion. With impending interest rises, NLY is expanding into the equity side by building a triple net lease portfolio with the help of Inland Real Estate Group, a leading provider of commercial real estate services. What we love about NLY is that by expanding into real assets, they are diversifying their portfolio and transitioning into a hybrid REIT. By establishing the triple net lease partnership, NLY will be able to combat the inherent interest rate risk of repos and reduce their reliance on hedging with derivatives, which was their principal source of losses. This is a big step looking towards the future for NLY as they will start to stabilize cash flows, which will not only increase dividend payments but company growth as well.
Looking at the fundamentals you can the company is trading at lower earnings, book and sales multiples than the three comparable companies:

(via Thomson One)
Low P/E and P/B combined with a low beta makes NLY an attractive play from a fundamental stance.
With a little technical analysis it is clear that as NLY approaches the lower bound of its Bollinger Band, signaling the stock has been oversold in the last few months as the threat of rising interest rates has scared some investors away. While this risk is not something to disregard, it can be gathered from our analysis that this risk is already fairly baked into the price, so it can be implied that the stock is undervalued at its current price.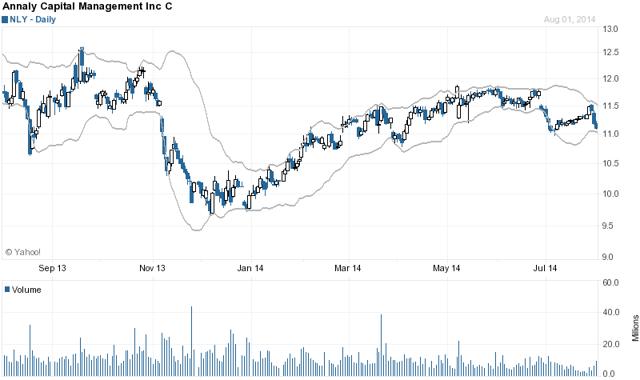 Summary
Though mortgage REITs can be a tricky and unpredictable area to invest in, we think NLY can be a lucrative investment. The bottom line is that…
The company has attractive multiples when compared to the others in the space. Low P/E and P/B show that this company can still be viewed as a bargain at $11.19 (as of 8/1/14).
The company is staying solvent even as management has made expanding into real assets a priority; we believe that this effort will help weather the storm caused by impending interest rate hikes and actually lead to more stable cash flows to the company and to investors.
The company currently has at 10.81% dividend yield, with the potential for a bump as noted in the Q1 2014 earnings call.
With this analysis in mind, we think that NLY can provide great cash flow for income players, while allowing the investor to sleep well at night knowing that the management team has a strong plan in store to keep Annaly on course as the inevitable IR storm finally hits.
Disclosure: The author has no positions in any stocks mentioned, but may initiate a long position in NLY over the next 72 hours. The author wrote this article themselves, and it expresses their own opinions. The author is not receiving compensation for it (other than from Seeking Alpha). The author has no business relationship with any company whose stock is mentioned in this article.