Modern Medicine has been making huge progress over our lifetime, but today it's about to take a giant leap forward and surpass even our greatest expectations with advances in regenerative medicine that had only been dreamed about. After decades of trial and error, landmark results from stem cell clinical trials are finally arriving. One such study came on January 21st when TotipotentRX/ThermoGenesis (NASDAQ:KOOL) announced what appears to be historic results with the data from their Critical Limb Ischemia trial. With dozens of other exciting stem cell trials underway by leaders in the field, there is a great deal of new data scheduled to be released throughout the remainder of this year. Stem cell therapy is quickly proving itself to be an advanced medicine that promises to cure more effectively, more safely and more cheaply.
Unlike drug therapy that delivers chemical compounds with compromising side effects or radical surgery that is risky and difficult to recover from, stem cell therapy that is safe and simple harvests stem cells from bone marrow, blood, or fat and transplants them into the patient to harness the natural healing and regenerative power of the body. Clinical trial results using stem cell therapy are demonstrating the profound ability to regenerate a damaged or failing heart after a heart attack back into a functioning heart enabling a return to a standard quality of life. Stem cell therapy can actually regrow new blood vessels in arms or legs that were threatened with amputation. It can heal open wounds that refuse to heal and unite broken bones that wouldn't join. Trials are underway to show that it can cure osteoarthritis, heal spinal cord injuries, treat Crohn's disease, treat diabetic macular edema, and so much more. Recent clinical trials are finally vindicating all of the effort going into developing stem cell therapy and highlighting its exceptional performance as the solution for the ailing healthcare system. Regenerative medicine using cellular therapy is about to transform medicine into a new era that we haven't seen since the discovery of antibiotics.
There are several companies doing outstanding work in this area, but there is only enough time to cover a few in this article, so only the ones with the most promising clinical trial results will be highlighted. That is not to say that these are the only best-performing trials, but they are the best that could be found in a limited amount of time. It will be greatly appreciated if readers knowing about other exceptionally successful stem cell trials would post them in the comments section below. More will be discussed in future articles, but for now here are a few examples of results that promise to change medicine.
TotipotentRX/ThermoGenesis recently announced landmark results from their Critical Limb Ischemia Trial. Results were so spectacular they caused shares to rise sharply on 50 million shares just in the first two days. That was over 3 times the 16.7 million total outstanding company shares and more than 300 times the average daily volume of 80,000 shares for the previous 90 days.
The trial was an open label study of 17 patients whose condition was so advanced there was no option for treatment. All 17 patients were scheduled for limb amputation. The patients were treated with an autologous bone marrow procedure using proprietary procedures and equipment. The procedure was performed at the bedside and took less than 60 minutes.
Highlights from CLI trial
Before treatment, 100% of patients required amputation
12 months after treatment, 82.4% of patients had no amputation
Pain level before treatment on a scale of 0 to 10 was severe at 7.8
Pain level 12 months after treatment was almost non existent at0.2
6-minute walking distance before treatment was 14.5 meters
6-minute walking distance 12 months after treatment was 157meters
Before treatment, 11 patients had gangrene with or without ulceration
12 months after treatment 0 patients had gangrene or ulceration
New blood vessels were regenerated after treatment.
There were no serious adverse side effects.
The Phase Ib trial was conducted at Fortis Escorts Heart Institute in New Delhi. Fortis is recognized the world over as a center of excellence providing the latest technology in Cardiac Bypass Surgery, Interventional Cardiology, Non-invasive Cardiology, Pediatric Cardiology, and Pediatric Cardiac Surgery. Dr. Suhail Bukari, Department Head, Senior Consultant and Vascular Surgeon serving as the primary investigator, noted, "this is a significant breakthrough for medicine as all the patients enrolled were scheduled for amputation of their afflicted limb prior to consenting to the stem cell intervention." He further noted, "the simple kit process will enable any surgeon treating peripheral vascular disease to have a readily available safe and autologous therapeutic to reverse this debilitating disease."
Dr. Venkatesh Ponemone, PhD, Executive Director of Clinical Affairs for TotipotentRX and scientific investigator for the study, commented that this is the first known study to provide statistically significant angiographic quantitative and qualitative evidence of limb revascularization as independently verified by a core radiology lab.
More evidence of the extreme success of this CLI trial is that a search of CLI trials on ClinicalTrials.gov reveals 157 clinical trials to date and not one single trial has data nearly as impressive as the results from this autologous bone marrow transplant by TotiPotentRX/ThermoGenesis. In fact, most trial data on CLI was so disappointing that it was not even posted. This CLI trial appears to be a major milestone in advanced medicine.
TotipotentRX and Thermogenesis announced a merger agreementthat is pending shareholder ratification. The newly merged stem cell therapeutics company will be called CESCA Therapeutics.
Their current pipeline is broad, covering 8 common indications: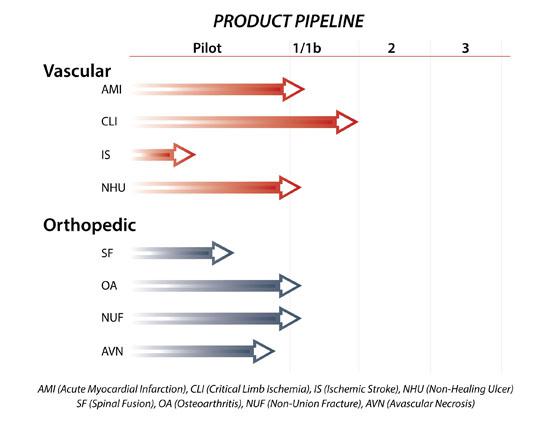 The company believes their extraordinary success is due to a number of factors. First, they use autologous stem cells that are harvested from the patient's own bone marrow. Autologous cells come from the patient's own body and therefore have the least risk of adverse immune response. Second, the stem cells are separated from the bone marrow right at the patient's bedside and transplanted back into the patient within 60 minutes. Third, they use proprietary equipment and procedures to harvest, process, and transplant stem cells.
Cost is minimized because there is no need for a GMP lab for any processing, and there is no need for cryogenic storage and handling or enzymes to separate the stem cells. Management's focus is clearly on the end result of commercialization. TotipotentRX/ThermoGenesis believes they are the only company offering a fully integrated solution because they offer the physician everything required for the procedure in one small box. TotipotentRX CEO, Ken Harris says, "We anticipate offering this treatment at a significantly lower cost than non-bedside treatments." The therapy will be submitted for the pivotal trial phase pending regulatory approval.
ThermoGenesis has already treated over 20,000 patients with their equipment and technology, and TotipotentRX has already treated close to 650 patients. The company enjoys sales of about $18 million and reported cash and receivables of about $10 million at September 30, 2013. ThermoGenesis recently announced a raise of over $6 million scheduled to close about January 30, 2014.
Athersys (NASDAQ:ATHX)
After completing their phase I trial for MultiStem in Acute Myocardial Infarction (heart attack), Athersys released one-year follow-up results that demonstrated significant longer-term benefits that are not possible from traditional medicine. Twenty-five heart attack patients were treated with Athersys' MultiStem cell therapy.
Highlights from 12-month follow-up of AMI MultiStem trial:
The mean left ventricular ejection fraction, LVEF, or pumping ability of the heart of treated patients, was substantially higher at twelve months than at baseline with an increase of 11.3% (4.6 absolute percentage points) from baseline over the twelve-month period for all treated patients pooled, as compared to 3.2% (1.3 absolute percentage points) for the registry group. Treated patients' stroke volume and wall motion, two additional parameters of heart function, were substantially better than baseline at twelve months and also improved from the four-month evaluation. Mean stroke volume and wall motion improved 24.3%and 10.2%, respectively, from baseline over the twelve-month period, while registry patients improved only 7.7% and 5.8% over the period.
Among those patients with more severe heart attacks (i.e. LVEF ≤ 45%) where twelve-month data were available, the MultiStem treated patients demonstrated a 19.9% improvement in mean LVEF over the period, compared to 6.2% for the registry patients.
Athersys also announced positive results of their MultiStem Clinical Trial for Hematopoietic Stem Cell Transplant Support and Prevention of Graft-Versus-Host Disease. Any advancements in the field of bone marrow transplants are desperately needed since so many patients are unable to receive this life-saving treatment due to donor matching.
In 2009, Athersys entered into a collaboration agreement with Pfizer Inc. (NYSE:PFE) to develop and commercialize MultiStem for the treatment of inflammatory bowel disease. In 2011, enrollment commenced in aPhase 2 clinical study being conducted with Pfizer to administer MultiStem to patients suffering from Ulcerative Colitis.
Athersys is developing a formidable pipeline for the following 11 indications: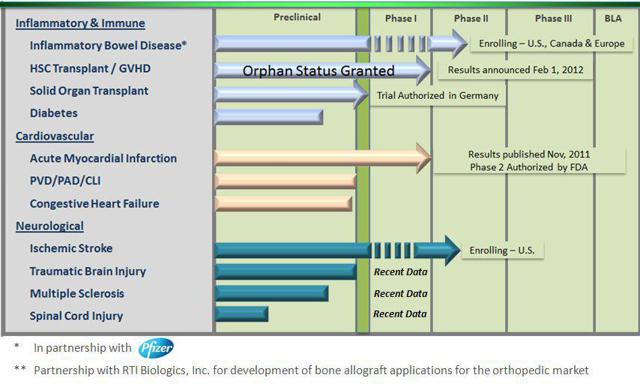 Athersys uses allogenic stem cells derived from donor's bone marrow and then processed for multiplication of the cells and then frozen until used in a procedure. Athersys MultiStem is a bottle off the shelf approach as opposed to using the patient's own stem cells. Prior clinical trial results have been good but not as outstanding as the TotiPotentRX/ThermoGenesis CLI results above. The company reported about $18 million cash as of September 30, 2013, and enjoys revenues of about $9 million. Athersys recently announced plans to raise about $20 million in shares of stock.
Baxter International (NYSE:BAX)
Baxter initiated a Phase III adult stem cell clinical trial for chronic cardiac condition called Chronic myocardial ischemia. CMI is one of the most severe forms of coronary artery disease, causing significant long-term damage to the heart muscle and disability to the patient. It is often diagnosed based on symptoms of severe refractory angina, which is severe chest discomfort that does not respond to conventional medical management or surgical interventions.
"The prospect of using a person's own adult stem cells to restore and repair blood flow in CMI is a very exciting concept based on a biological regenerative approach," said Norbert Riedel, Ph.D., Baxter's chief science and innovation officer. "The goals of this phase III trial are aligned with Baxter's overall mission to develop life-saving and life-sustaining therapies, and it will help us determine if the therapy can make a meaningful difference for CMI patients."
The trial will enroll approximately 450 patients across 50 clinical sites in the United States and is being initiated based on the phase II data, which indicated that injections of patients' own CD34+ stem cells may improve exercise capacity and reduce reports of angina episodes in patients with chronic, severe refractory angina.
As of September 30, 2013, Baxter reported cash of about $2.4 billion and 9 month sales of about $12 billion.
Osiris Therapeutics (NASDAQ:OSIR)
Breakthrough results were announced with overwhelming efficacy in their clinical trial using Grafix to heal diabetic foot ulcers. Dr. Larry Lavery, Principal Investigator and Professor of Plastic Surgery at the University of Texas Southwestern Medical Center said, "Compared to other similarly designed studies, this trial demonstrates, by far, the largest relative improvement in complete wound closure. This is great news for our patients with diabetic foot ulcers that are at such high risk of losing their legs." Grafix is a human cellular repair matrix that provides a source of living mesenchymal stem cells. It is a flexible, conforming membrane that is applied directly to acute and chronic wounds.
Grafix trial results
A total of 131 patients were enrolled with the interim analysis being conducted on the first 97 to complete the trial. For the primary endpoint, 62% of patients receiving Grafix had complete wound closure compared to only 21% (p < 0.0001) of patients who received conventional treatment for their wounds, a relative improvement of 191% and the largest ever reported from such a study.
As of September 30, 2013, Osiris had cash and equivalents of about $35 million and sales of about $16 million for the nine months ending September 30, 2013.
Conclusion
With the recent landmark CLI trial, the Grafix trial and the many other very promising trial results, it is clear that cellular therapy is leading the way for advanced healthcare to treat and cure illness more safely, more effectively, and more cheaply than drug and radical surgery therapies. Big pharma has been patiently watching stem cell progress for decades and up until now has been only mildly involved. However, with the paradigm-shifting CLI trial results announced by TotipotentRX/Thermogenesis, the Grafix results, and the MultiStem GVHD opportunity, big pharma is almost certain to turn up the heat on the few companies well positioned to become leaders. Judging by trading activity, it seems that investors and traders are already discovering this space knowing that it will likely become red hot as further trial results and other developments become known.
Athersys , Aastrom (ASTM), Cytori (NASDAQ:CYTX), Osiris , and ThermoGenesis, , soon to be named Cesca Therapeutics, are all active in stem cell therapy and are all buys. However, with the unprecedented recent CLI trial results, ThermoGenesis is exceptionally attractive and appears highly undervalued compared to comparative companies.