In mid-July, our return forecast for the S&P 500 turned from positive to negative (-1%). This had significant implications for our recommended Tactical Strategy portfolios.
Our tactical strategies are based on forecasting of near-term returns using our quantitative forecasting model (the PAR Model™). The model includes fundamental-type explanatory factors categorized into Valuation, Macro-Economic, and Market factor groups.
According to the model, the negative return forecast was mainly the result of the negative contribution of valuation factors - earnings and price-to-book ratios were pulling down the return forecasts. The contributions of valuation factors to the return forecast had turned from positive to negative back in February 2013. The effects of these factors on the forecast continued to grow more negative as the S&P rallied very strongly, while earnings entered a slow-growth phase.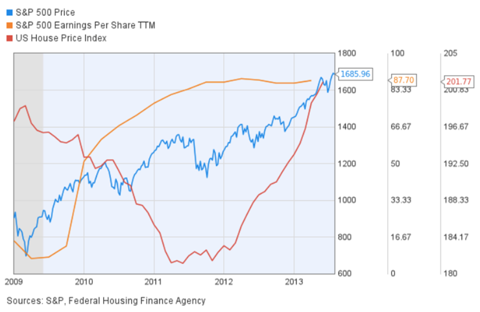 Market factors also contributed negatively to the return forecast. Individual investors turned more bullish as concerns about the Fed's tapering subsided and equities reached a new all-time high. Crude oil price rallied in July, negatively affecting the equity market return forecast.
Conversely, economic factors had a positive effect on the return forecast. Among these factors, housing indicators were the main positive driver. However, the positive effect of economic factors was not strong enough to completely offset the negative factors above.
Given the negative 6-month return forecast, equities were expected to underperform fixed income while having higher risk. The corresponding optimal risk-return allocation was clearly in favor of fixed-income. Accordingly, we changed our recommended Stocks-Bonds allocation from 60% stocks to 100% fixed income.
For more details on the latest return forecast and the current tactical strategy allocations, please sign up for a free trial of our U.S. Tactical Strategies research service for investment managers.