It's been a over a week since my last blog entry on Jan. 30th. In that pre-market post the Q4 GDP numbers had just been released, with a negative print, and I wondered if the correction I had been looking for might be imminent. That turned out to be a down day on the SPX, but the next session bounced off the 9 day EMA to close out the month. We sat tight in a 100% long position in the SPX strategy, and were rewarded with a few more points to the upside.
Since then we've had quite a bit of churn in the market, with the SPX mostly moving sideways, with a slight upward bias. However market internals have been weakening, we've seen some industry groups show cracks, and there has been a somewhat defensive rotation. Friday (Feb. 8th) the SPX made a new high for the move on lighter volume, after the dollar index popped higher, and T-bond yields pulled back.
My read is that it's probably time to take some money off the table. The plan is to look for a good point Monday to sell out of half the position (unless I see trading action to change my mind). What I expect is a move up at the open and a lower close. We'll see how it goes.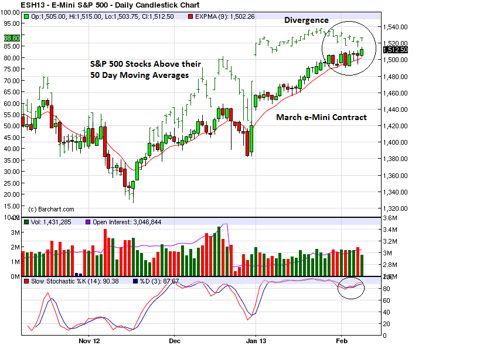 In other areas of the market, here is what I am seeing:
After last week's sharp move up, the dollar index closed right on its 200 day EMA. If it can stay above that mark, look for a run toward 81.50.
The 10 year T-note is back under 2%, which seems to be a resistance level; the long bond is finding resistance at 3.2%. There has been ongoing negativity toward bonds, but prices may have found a short term floor. Long suffering bond shorts who finally got onto the right side of the trade may want to think about banking those gains.
There is a bit of divergence in the Dow; the transports followed most of the major indices in making a new high Friday, but the industrials did not.
We have a recent bearish 50/200 day EMA cross on gold. The metal repeatedly challenged those levels last week, and failed to close above either of them on any trading day.
For trading positions, here are a few items that are attracting my attention:
That's it for this weekend, good luck and happy trading everyone.
Disclosure: I am long PFE.